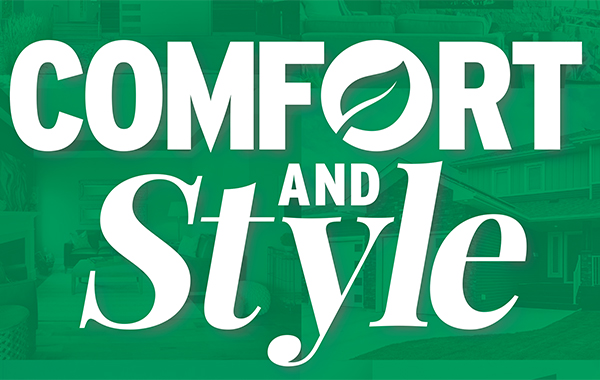 These six companies are building high-end, net zero homes across the country.
By Allan Britnell
Beauty doesn't have to be only skin deep. Builders across Canada, including De Waal Developments in Edmonton, Falcon Heights Contracting in Victoria, MCL Construction in Quispamsis, N.B., North Ridge Developments in Regina and Saskatoon, RND Construction in Ottawa, and Sifton Properties in London are constructing gorgeous homes that are rated Net Zero, so they produce more energy than they consume. Now that's just beautiful. Here, in their own words, the builders describe the process, benefits, and key steps in achieving Net Zero.
---
De Waal Developments
Builder: De Waal Developments
Project location: Edmonton, Alta.
Project size: 3,903-sq.ft.
CHBA qualification: Net Zero
Website: DeWaalDevelopments.ca
One of the biggest misperceptions is that building a Net Zero home is drastically different from conventional construction. There are just a couple of guidelines that are to be used through the design and construction phase of the home. You want to put the windows in the right place, insulate a bit better, build airtight, use a higher efficiency mechanical system, and verify that there is sufficient roof space to put enough solar panels.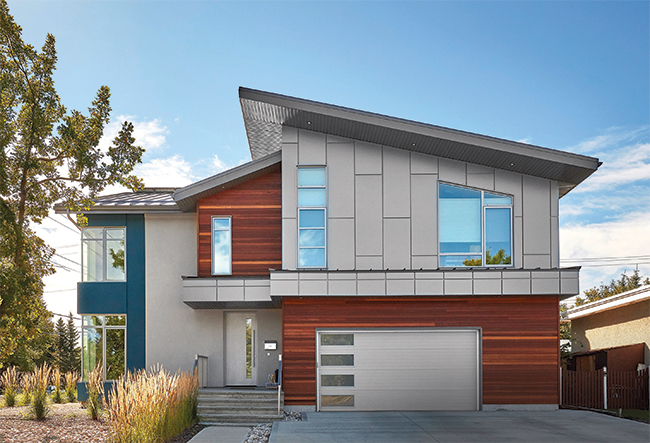 This home is our office and show home. When we meet potential clients that are interested in a Net Zero home we can show them exactly what they will get, we can tell them about living in a Net Zero home. We talk the talk, and we walk the walk. When potential clients are presented with one option for a "good quality home" and one option to upgrade to Net Zero the reaction usually is, "Is that all?" Clients do see there are not only environmental benefits but if you start to look at your monthly operating cost for your home, the Net Zero home wins every time.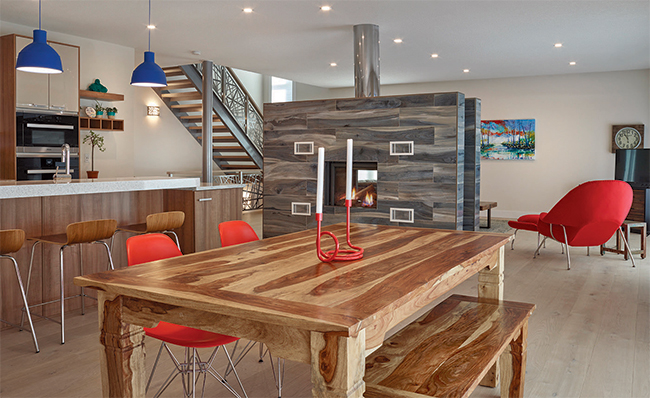 We see several other factors working in favour of Net Zero homes: increased awareness of environmental issues, carbon levies, the rising cost of fossil fuels, and the dramatic drop in the cost of solar energy over the last decade.
---
Falson Heights Contracting
Builder: Falcon Heights Contracting
Project location: Victoria, B.C.
Project size: 4,500-sq.ft.
CHBA qualification: Net Zero
Website: FalconHeights.ca
It was very important for the owners to minimize exposure for the solar panels on the roof. The designer configured a combination of flat and curved roof for maximum solar production and minimum view of the panels. The mechanical components on the roof cannot be seen from most angles and distances.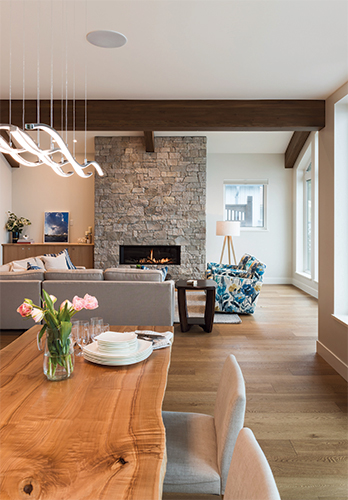 Our biggest takeaway is the importance of putting together the whole team of trades at the design stage. Significant planning and collaboration with the designer, energy consultant, and trades at the modelling stage of a project ensures commitment of the trades, a clear scope of work, budget accuracy, and a final cohesive project.
We have come to the conclusion that Net Zero homes are an incredible option in making a home very healthy and comfortable, offering the highest rate of energy efficiency without the compromises involved in other green building techniques which can limit glazing options. A Net Zero home can take full advantage of orientation for views of the surroundings.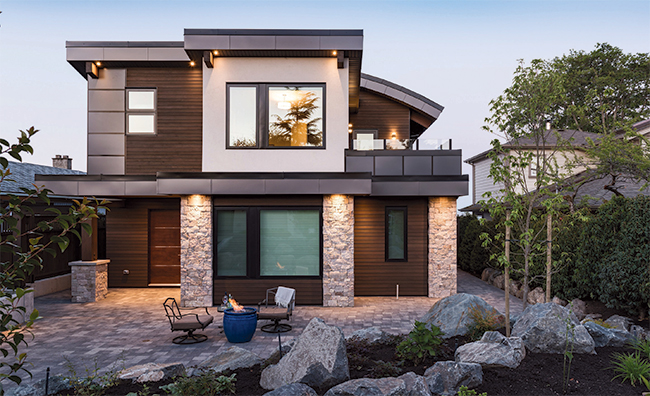 A Net Zero home can be built very similarly to our other quality green builds. A well designed Net Zero project includes components that make the building envelope and the mechanical systems increase the overall performance and comfort of a home.
---
MCL Construction
Builder: MCL Construction
Project location: Quispamsis, N.B.
Project size: 3,000-sq.ft.
CHBA qualification: Net Zero
Website: MCLConstruction.ca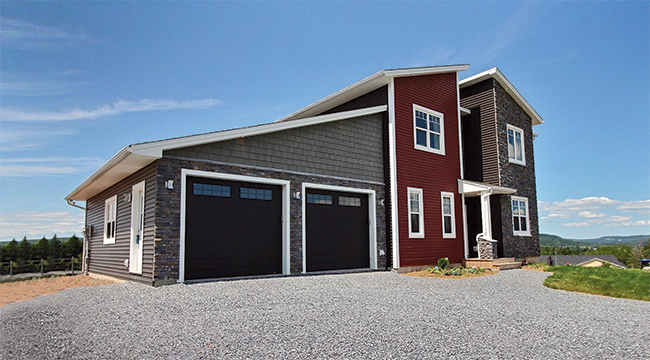 When building a Net Zero home you need to think of ways to construct the home to consume the least amount of energy. You can do this with the HOT2000 program to see what can be done during the build to reduce the amount of renewables needed to meet Net Zero. These homes are far above code built (conventional) homes, so being able to go above and beyond is key. Investing in more efficient building assemblies will help reduce the size of the mechanical systems, which in some instances can be cost neutral. There is an increase in cost for Net Zero, but the long-term energy savings, healthy living, and reduced maintenance on the home provide a great return on investment.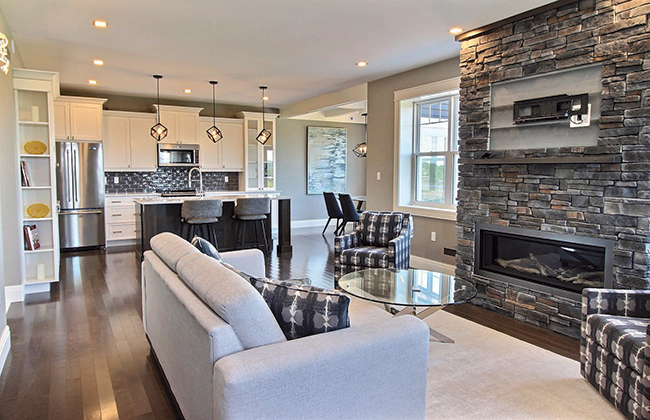 It really isn't difficult to get to Net Zero. You have to be more diligent on the design and products used, but also understanding building science goes a long way. Energy efficiency has always been a key factor for our company, and now seeing simple and cost-effective steps that can be done either in a new home or existing home, we will be able to provide long-term results for our clients on their biggest investments.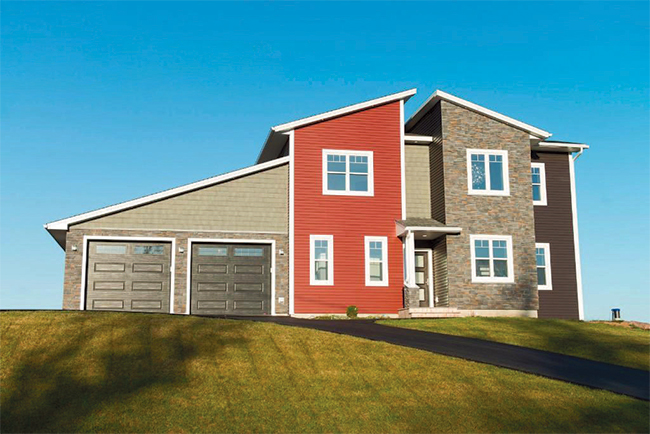 ---
North Ridge Developments
Builder: North Ridge Developments
Project location: Martensville, Sask.
CHBA qualification: Net Zero
Project size: 2,166-sq.ft.
Website: NorthRidge.sk.ca
The main differences between building a Net Zero home and a conventional home are the building envelope and the mechanical systems. We used a conventional foundation and wrapped it with Styrofoam, including under the basement floor. On the interior of the foundation we created a 10" space around the exterior with 2×4 framing and a 6½" gap and blew the cavity full with WallBar insulation.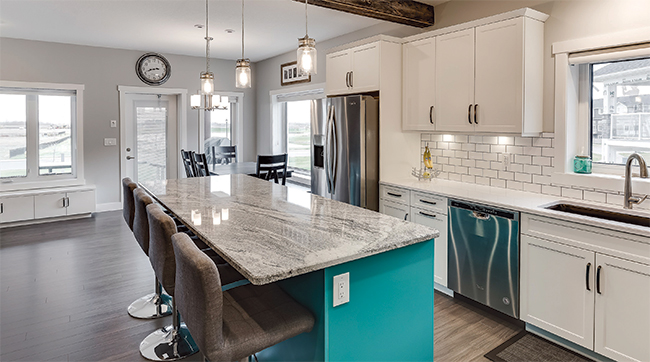 The difference on the main and second floor framing was the double-wall system we used. The two walls were held together on the top with ¾" plywood which also served to contain the blown-in insulation.
The mechanical system was very different than a standard system. We used the Dettson low-velocity small duct system that can operate on electricity – in which case it gets its heating and cooling from the air source heat pump we installed – or from the gas supply if the temperature dipped below -25 degrees Celsius. The water heater was a Rheem on-demand electric heater.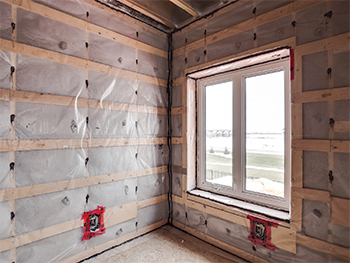 The biggest takeaway from this project was that it is not that difficult to build a Net Zero home. Saskatchewan is one of the toughest spots in Canada to build a Net Zero home and we made it even more difficult by building a fairly large 2,166-sq.ft., two-storey walkout. A substantial part of the cost is the solar panels to produce the energy for the home to make it Net Zero.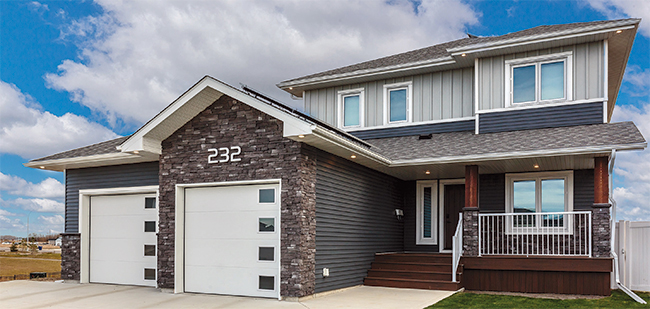 We found that even though there were fairly minor changes from a conventional home we did need to educate and stay on top of the trades involved. As expected the home is very inexpensive to operate, quiet, comfortable throughout and, other than the solar panels and wider windowsills, it looks like a conventional home.
---
RND Construction
Builder: RND Construction
Project location: Ottawa, Ont.
Project size: 4,600-sq.ft.
CHBA qualification: Net Zero Ready
Website: RNDConstruction.ca
For us, our conventional home is R2000; taking the leap from those requirements to Net Zero had a minimal impact in our day-to-day endeavours. Our main focus was and will always be building smart; where we provide sustainability with style.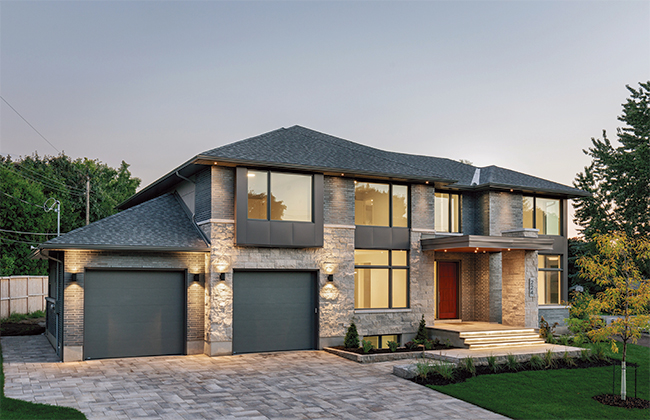 Living in an area where modernity and green technology is slowly becoming popular, the design needed to reflect what is seen as familiar for the neighbourhood and city. This home was built to sell, which meant that curb appeal was a huge factor in the construction and layout. As a result, the roof had the commonly used traditional pitch, but with cleaner lines, upgraded finishes, and modern colours.
Our biggest takeaway is how important it was to educate the public on what we are trying to achieve with this house. There is a stereotype surrounding "green" homes that they are ugly and expensive. As leaders in building energy-efficient and environmentally friendly homes, we were determined to change that stigma while providing the highest quality in services and materials, including technologies that are low maintenance.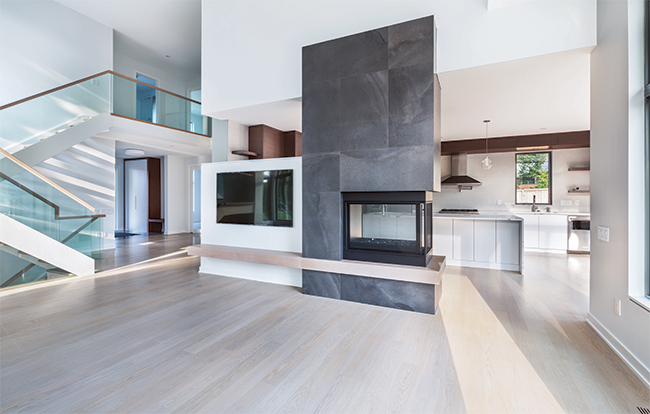 Net Zero is still fairly new, and that can be intimidating to buyers. We want them to see the possibilities in going green while still maintaining all the luxuries of a modern lifestyle. We now have images, pamphlets on what to expect, plus new ideas on technologies, materials, designs, and marketing to include next time we build a Net Zero home.
---
Sifton Properties
Builder: Sifton Properties
Project location: London, Ont.
Project Size: 1,913-sq.-ft.
CHBA qualification: Net Zero
Website: Sifton.com
Prior to the CHBA Net Zero Home Labelling Program, all of our homes were built Energy Star as standard, so the jump to Net Zero was not a huge one. We had to work through the construction details of the wall and roof assemblies that would allow us to add the additional required insulation, and we had to cost each assembly to determine what would provide what we needed, but was still economically feasible. Working through the financial details was key if what we were building was going to be economical and attractive to the potential purchaser. Secondly we had to pay close attention to our air sealing details. We used an exterior air barrier system and then performed a blower door test to locate problem areas before the drywall went on.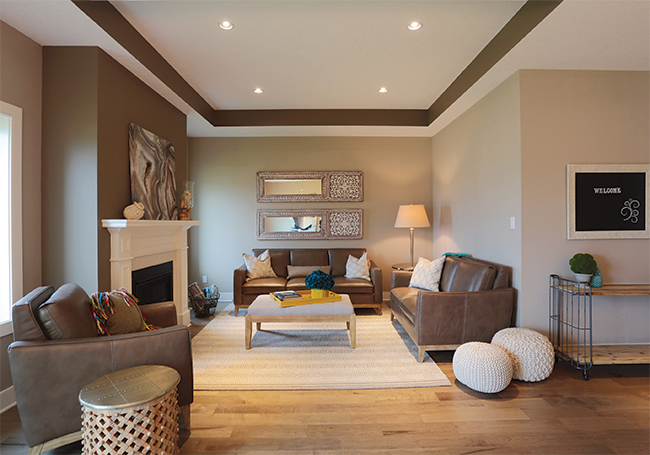 The home is heated and cooled with an air source heat pump. Air exchange is provided with an ERV and water is also heated with an air source heat pump.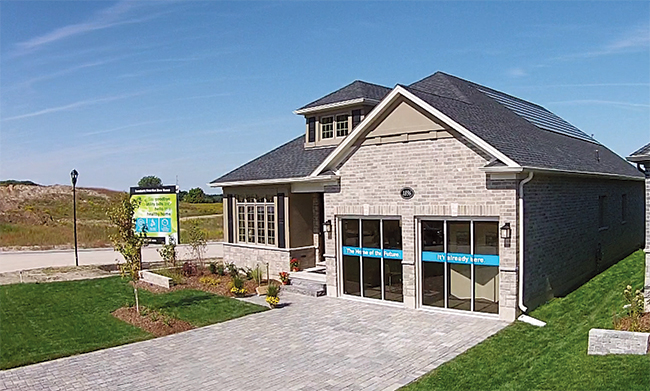 The biggest learning curve was definitely on the solar side. We installed a 9.8 kW system utilizing integrated shingles, rather than conventional panels for a more ascetically pleasing look, and two 5 kW inverters. Probably the biggest difference between a Net Zero home and a conventionally built home is the amount of education required for the purchaser on all of the high tech equipment. Overall the learning curve is steep on the first home, but it becomes much easier once you worked through and establish your construction and mechanical system details.