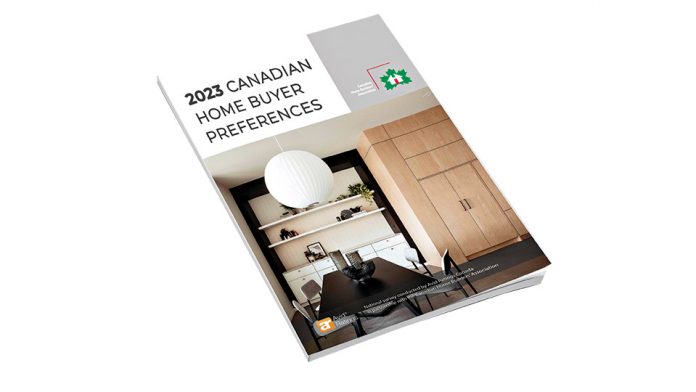 By Natasha Rombough, Director of Marketing and Communications, CHBA
If you haven't yet explored the insights coming out of this year's CHBA Home Buyer Preference Survey, this article will give you a sample of what you can find in the final report. Each year, CHBA conducts Canada's largest nationwide market research study for new-home buyer preferences. The study is powered by Avid Ratings Canada, a proud member of CHBA and part of CHBA's Alliance Network. The study just completed its eight year, and more than 20,000 recent new-home buyers across six provinces were surveyed on more than 50 in-depth areas of home design, building features, buying preferences and demographics.
Every year, people are eager to see what made the list of Top 10 features. This year, storage remains a key priority for Canadians, with closet and garage space taking four of the top spots. Energy efficiency features continue to feature strongly as well, also accounting for four of the 10. Large windows dropped out of the top 10 this year into eleventh spot. Not far behind was hardwood or wood-look floors in the kitchen, and Wi-Fi thermostats. Kitchens are the heart of the home, and kitchen features always trend high in this survey. This year's respondents put kitchen islands and open-concept kitchens in the Top 10.
Top 10 Most Desired Features
• Walk-in closets (primary suite)
• Kitchen island
• Energy-efficient appliances
• Overall energy-efficient home
• High efficientcy windows
• Walk-in closets (interior of home)
• 2-car garage
• HRV/ERV air exchange system
• Linen closets
• Kitchen: open concept
Decision-making in a post-pandemic world
With all of the closures and physical distancing requirements during the pandemic, buyers had no choice but to rely on the Internet and digital resources to find a builder and make their purchasing decisions. Many builders improved their online presence and virtual experience for clients out of necessity. But now that we're out of the pandemic, how are buyers finding a builder or new communities to live in? The CHBA Home Buyer Preference Survey gives us some insight.
The top preferred resource for finding a builder is still by visiting model homes and sales centres. It's also how most people began their search for a new home, well ahead of Internet searches. The second most preferred method is taking a drive through the community. That said, it's no surprise internet and builder websites are also very important resources for finding a home, even if they're not the most popular way to start the search with most people. After all, most people feel like they have to know what they're looking for to begin an search. Interestingly, using real estate agents had one of the largest gains in score this year, increasing by 2.1 points. But it was virtual tours of model homes that saw an even bigger jump – perhaps an indicator of shifting preferences due to the pandemic, or just a sign of the times changing.
When it comes to making a final purchase decision, pricing information remains the top-rated preferred resource for homebuyers, as it has every year of the study. Floorplan drawings are the second highest rated preferred resource, followed closely by model homes.
Future buyers and what they'll want
What will buyers want next year? What about in five years? This survey asks recent buyers what they'd want if they were to be in the market again. Coming from recent buyers who just went through the process, their preferences are valuable information.
The average homeowner moves five times in their lives, and nearly 40 per cent of respondents believe they'll be making their next home purchase within five years, with more than 60 per cent intending on buying a new construction home at that time.
Smaller homes are in favour, with 63.2 per cent expecting their next home to be under 2,400 sq. ft., with the most anticipated size being 1,800 to 2,100 sq. ft. Boomers and Pre-Boomers want even smaller, with more than 30 per cent preferring a home between 1,201 and 1,500 sq. ft. That said, they want a lot of bedrooms in those smaller homes; a four-bedroom home is most in demand, followed by three bedrooms. And when it comes to bathrooms, one-and-a-half baths doesn't cut it anymore, with less than two per cent of respondents saying they'd be satisfied. Most are looking for at least 2.5 baths.
One of the more interesting question the survey asks is what recent new-home buyers would be willing to accept to make their next home more affordable. This question forces respondents to prioritize what's most important to them. The most popular answer was a smaller home, followed closely by being located farther from work or amenities. Very few people were willing to compromise on construction material quality or the energy efficiency of the home.
A newer question in the survey asks about legal secondary suites. Interestingly, more than half of respondents said they'd want one, for either their children or aging family members, or for rental. Almost 15 per cent are interested in using a secondary suite as a long-term rental.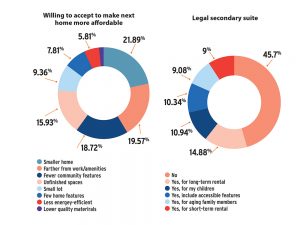 Prioritizing spending
Who doesn't want an extra $10,000? We asked recent buyers to pick one place to put that extra money, and almost a quarter of respondents selected they'd upgrade interior finishes and options. About 16 per cent said they'd invest in energy-efficiency features for the home, which is up from last year but consistent with the year before. And though settling for a smaller home was the top thing people would give up to make their home more affordable, if they had they money, buying a larger home is the third most appealing upgrade.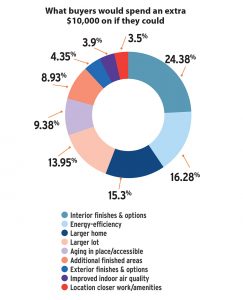 Free member access
Find out more on what homebuyers really want, and what they're willing to trade to get it, by downloading your copy of the study. Full survey results are free for CHBA members (value of $495) at chba.ca/buyersurvey.