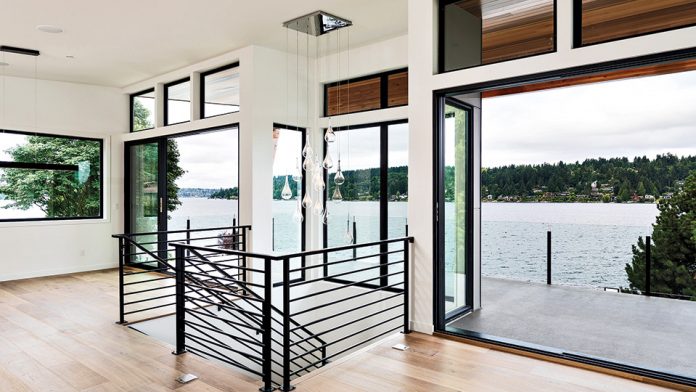 By Wayne Karl
If, as the saying goes, the kitchen is the heart of the home, what does that make the windows? Be it allowing natural light, boosting curb appeal, acting as an essential Green feature or simply affording stunning views, a property's windows are every bit as essential.
And in 2023, following the challenges of the pandemic, supply chain issues, technological trends and growing consumer demands, windows are even more front and centre when it comes to new home design and function.
More than ever, homebuyers are spending more time at home, and they want their homes to be bright, clean and comfortable spaces – and windows are a key contributor.
Indeed, according to CHBA's 2023 Canadian Home Buyer Preference Survey, high-efficiency windows ranked as among the most desired features (number five) in a home.
More than 57 per cent of respondents indicated that an overall energy efficient home was a "must-have" for them. And, of course, high-efficiency windows are a huge part of that, with more than 60 per cent of respondents saying they were a "must-have," and another 26 per cent saying they "really want" them.
"Eco-conscious consumers continue to request sustainable and recyclable options," says Shane Powell, marketing director, Canada, for JELD-WEN Of Canada Ltd. in Woodbridge, Ont. "Our products focus on energy efficiency, with options like Energy Star 'most efficient' certification, triple-pane windows, and patio doors with higher energy efficiency and sound reduction."
To that end, and to educate and help customers choose the most energy-efficient windows and doors, JELD-WEN has even created a buying guide on its website (inspiration.jeldwen.ca).
Energy efficiency
These days, especially with rising utilities costs, homeowners' desire for clean and healthy living and other concerns, energy-efficiency is paramount when it comes to windows.
Energy-Star-certified windows are tested and verified to meet strict specifications for energy performance. The pinnacle is triple-paned units – which are said to be up to 50-per-cent more energy-efficient than double-pane units (though also more expensive). Advanced Low-E coatings (low emissivity) and Argon gas fill balance for heat retention and UV protection are also among the key common features.
Another consideration, Powell says, is increasingly stringent guidelines for manufacturers, since Energy Star is changing its max U-Factor (a window insulation rating) target to 1.05 or ER 40 by 2025, in order for a manufacturer to be registered with Natural Resources Canada as Energy Star-certified.
While better-performing windows obviously benefit homeowners, it's a challenge for manufacturers to meet such new standards, since, as Kyle Cartwright, technical manager of Westeck Windows & Doors, Chilliwack, BC, says, consumers still expect reasonably-priced products while pursuing a lower carbon footprint.
Among other initiatives, Westeck has been utilizing non-metallic fibreglass reinforcing in nearly all its products, to enhance the thermal performance by limiting thermal bridging by removing highly conductive mullion and frame reinforcing.
Latest trends
Powell at JELD-WEN also sees a trend toward black and nature-inspired colours that help homes blend into their natural surroundings, while select homeowners choose bold colours for trim and accent features, to make a statement.
And, of course, bigger glass areas are always desired to let in more light through larger windows, window walls, direct sets and transoms, bi-fold patio doors and bigger panels. Even arched windows and doors are becoming more common, to add differentiation and boost curb appeal.
Future watch
Let's take a look at some of the leading-edge offerings from some of the major manufacturers.
Canadian Choice draftLOCK Series
Energy efficiency and home comfort are the name of the game at Canadian Choice, punctuated by the company's draftLOCK series. The draftLOCK Plus Slim Contour Series is the company's triple-glazed window solution, with the same slimmer frames and mullions as its draftLOCK Slim Contoured Series, though with reinforced and superior weight bearing features for greater durability and long-term performance. Canadian Choice says it's a top Energy Star performer with an industry record R-value. windowscanada.com
Marvin Canada Signature Ultimate Collection
Marvin's Ultimate product line features stunning design, craftsman-quality manufacturing, and a wide range of shapes, styles, sizes and possibilities. Ultimate windows can be incorporated in a variety of projects, including classic, contemporary, transitional, historic and artisan, thanks to broad customization options and versatility across architectural styles. Similarly, the Marvin Modern collection offers minimalist hardware, narrow sightlines and careful attention to every detail, to allow homeowners to fully appreciate the modern design aesthetic. marvincanada.com