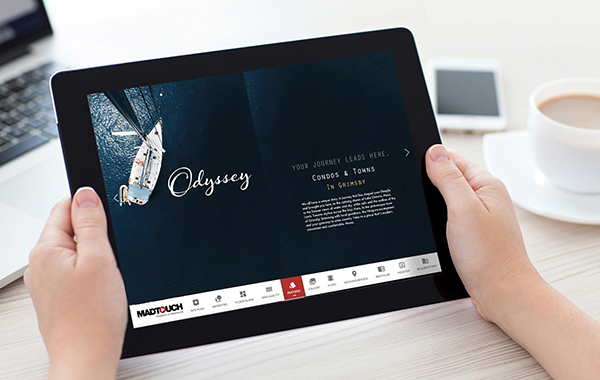 Building better experiences
By Tami Kenwell
Madhouse Advertising
What an exciting time it is to be a marketer! Today we have access to the most advanced digital tools and platforms that allow us to create amazing customer experiences, from presentation, right through to sales and beyond. And it couldn't come at a better time. The market has clearly changed and buyers are in limbo wondering what will happen next, so we're encouraging all of our clients to embrace new technologies.
Take a page out of the automobile playbook for example, where online and instore experiences are incredibly interactive and engaging with beautifully executed user interface (UI) and user experience (UX). A customer can build, customize and price their car online, then sign the paperwork at the dealership. If the car guys can do it, we can too, especially with how empowering websites have become and the recent influx of emerging suppliers driving down the price of software and hardware.
Today's savvy buyers are becoming increasingly dependent on digital experiences to enhance their lifestyles. From communication, getting around and ordering food to scheduling meetings, booking travel, banking and controlling your home, almost everything is done online and usually from the palm of your hand. Did you know over 60 per cent of prospective customers will register for your next project on their mobile device or that 78 per cent of Canadians have a social media presence? All signs point to utilizing digital marketing to not only give your customers a better experience, but to increase the quality of prospective buyer databases, boost sales, increase brand reach and give you the ability to improve your digital campaign in real time based on comprehensive metrics. ROI never looked so good.
Some of the new technologies we're seeing and using are so amazing. Things like AI-powered chat bots on conversational websites, proximity-based sensors to activate content on screens and site-plan tables, voice command touch screens, the automated delivery of custom content based on user behaviour, plus immersive virtual reality (VR) and augmented reality (AR). With these tools, we're creating some of the most strategic and dynamic marketing campaigns that are sure to help our clients' stand out from their competition.
Lastly, we're encouraging our clients to look at the incorporation of digital from a holistic perspective and not simply project to project. Each buyer has true lifetime value and, as we all know, one of the best brand ambassadors is referrals and repeat customers. Creating an interactive, memorable and streamlined digital experience is one of the most important aspects of brand building, brand reach and nurturing lasting relationships with your valued customers.
Tami Kenwell is the president of Madhouse Advertising.