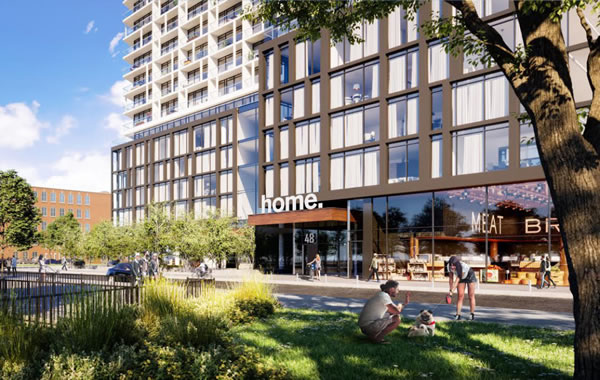 by Adam Savoni, Community
If Apple were to launch a condo tomorrow, you can rest assured that their corporate branding will be merged into building – let's call it iCondo.
Bringing a new community to life is a long process that takes years of permitting, surveying and negotiating. But as far as new homebuyers are concerned, it all starts with the brand.
So why do so many good brands vanish a day after the hoarding comes down? Creating a lasting brand identity will go a long way towards enhancing your corporate branding. You can leverage the success of your past projects to forge new partnerships with industry-leading developers, brokers, architects and designers. Most importantly, it will strengthen your presence in the real estate market among consumers, leading to stronger sales in future launches.
A powerful corporate brand will ensure that your company's name is synonymous with buying a new home so that when the time comes, it will be at the tip of their tongue when dialing their real estate agent.
If Apple were to launch a condo tomorrow, you can rest assured that that their corporate branding will be merged into the design and architecture of the building – let's call it iCondo – so that buyers know exactly who built it and what they can expect from their next launch.
Our industry builds beautiful, well-crafted, high-investment environments that all have specific tones, manners and personalities. These qualities need to be reflected in their branding while preserving the corporate identity of the company that brings it all to life.
An integral part of developing a genuine, long-lasting brand is collaboration. Sit down with your marketing agency, interior designer and architect at the very start of the project to see how they can all work together to create something fresh, genuine and exciting. Merging skill and passion is the recipe to developing a credible brand that will resonate with consumers and stand the test of time. A project's brand should influence or, at the very least, merge with the design of the building both inside and out. It will ensure that your development's brand identity – one that you've invested a lot in – lives on for year to come. This is the foundation to building long-term corporate equity.
Once the foundation is in place, there is no shortage of creative ways to prevent your project from becoming just another numbered address – one that won't blend into the background and get lost over time. After all, a project should develop its own DNA and personality so it can grow to become an iconic community over time.
Some of the more obvious ways of preserving your project's branding includes merging it with the exterior design of the building. It's a great way to bring the personality of the building to the streets. There are a number of innovative ways to execute this but, at the very minimum, you should be using the brand's logo as the marker on the exterior.
Wayfinding is another simple yet effective way to use the brand to enhance the personality of the building. The interior is the heart of the building as residents see it daily and should reflect the personality of the brand. It's natural that the spaces within the community, such as suites and amenities, serve as extensions of the brand narrative. Every touchpoint of the building should be considered, even the underground parking experience.
There are many ways to do this, ranging from simple directional signage to something a lot more unique – something I like to keep close to the chest. Talk to your agency about how you can use branding to tell an inspiring tale while navigating through the development.
In a hot real estate market, you can always put up a sign with a logo, rendering and airbrushed picture of a model, but if you want to build a brand that is meaningful, inspiring and serves a purpose, it needs to be genuine and have an environment to thrive in. Talk to your marketing agency about your long-term goals so they can develop a comprehensive strategy that can help your project flourish while enhancing your corporate brand equity for future success.
| | |
| --- | --- |
| | Adam Savoni is the vice president, real estate marketing for Community. |
---