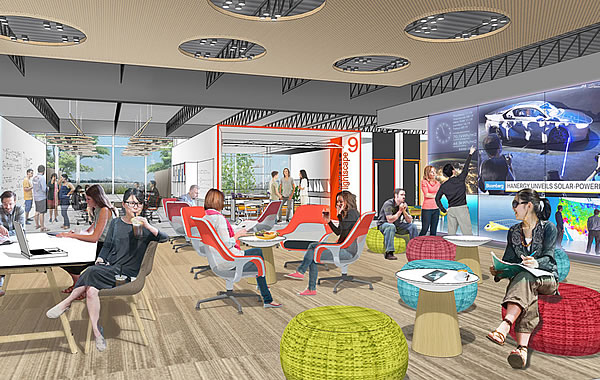 by Richard Williams
Stantec
Design spaces that benefit our minds, our bodies and our planet.
As recently as 10 years ago, sustainability was defined by building metrics. Increasingly, the conversation and innovative thinking around long-term sustainability has expanded to consider human health and wellness. Really, it's about how people engage positively with the spaces they're using and how we as designers should creatively support this outcome in our solutions.
One of Stantec's newest projects is Evolv1, a 100,000-square-foot, multi-tenant office building situated in the Waterloo technology community, within the David Johnston Research & Technology Park. Evolv1 is poised to become the first building of its kind in Canada to be awarded Zero Carbon Design certification from the Canada Green Building Council (CaGBC). Scheduled to open later this year, Evolv1 is Canada's first commercially- driven, net-positive, zero-carbon building. Simply put, it produces more energy than it consumes, while producing no carbon emissions.
While I'm extremely proud of these groundbreaking sustainable features within a commercially viable building, I'd like to highlight the social aspects within the sustainability triangle of environment/economy/society. These ultimately bring to life the full opportunities of a space founded on innovation and community.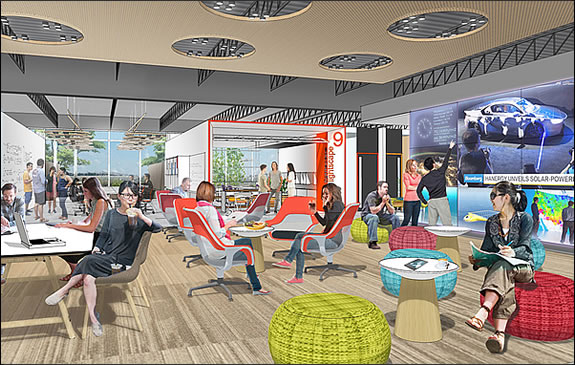 Daylighting and access to outdoor views
Daylight is fundamental to a healthy work environment. Good, usable daylighting has been proven through repeated studies to increase productivity and satisfaction in the workplace.
In addition to access to daylight, access to views to the outside is also important. This provides connections to surrounding natural elements in the adjacent parks, a connection to the weather outside and helps support healthy circadian rhythms in our increasingly interior-focused lifestyles. To accomplish this in Evolv1, we have shaped and oriented a shallower floorplate to increase access to daylight for all occupants, included continuous bands of high performance glass and provided solar shading to manage unwanted glare in the summer months.
A living wall
Our living wall, literally a three-story vertical garden, can also improve people's feelings of wellbeing and connection with nature through a strategy called biophilic design where we incorporate natural elements into an indoor environment. This design feature satisfies our fundamental need as humans to connect with nature, and it can encourage creativity while reducing stress.
In Evolv1, the green wall plays a prominent role in the lobby area — the heart of the building. It will give tenants an indoor connection to nature. With its central location, the green wall will be visible as tenants head to meetings within the collaborative space or grab a coffee at the café.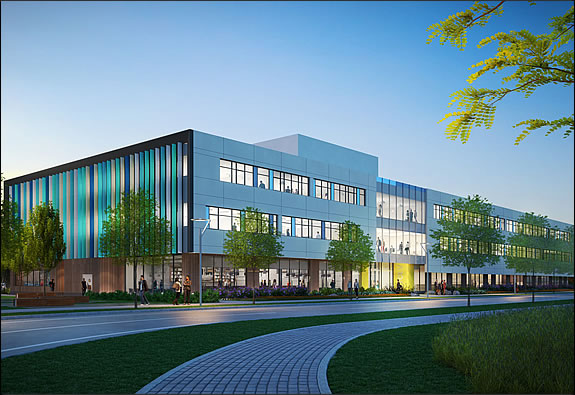 Spaces for interaction
In contemporary workspace design, incorporating space for social and business interaction is key. While the design of a typical multi-tenant building typically does not provide for these interaction opportunities within the base building, at Evolv1 the atrium space and adjacent collaboration space and café provide the ideal setting for these interactions.
These spaces give occupants and visitors the chance for unplanned, accidental, and frequently synergistic connections, associating their places of work with positive, creative and energizing experiences. This type of space is ideal for the tenant mix that will range from leading-edge consulting firms to more edgy start-ups and incubators that feed on this type of collaborative opportunity.
For Evolv1, we prioritized the need for an atrium space — something that is rare for commercial buildings of this type. The iconic main stairway, elevator landings, the café and collaborative space all participate in this social atrium space.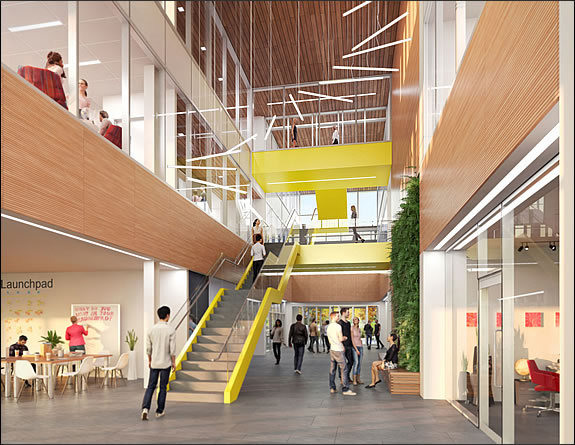 A convenient and healthy commute
A key aspect of sustainability and a healthy workplace is giving people a variety of transportation options for their daily trip to the office. Evolv1 provides convenient connection to the new Waterloo Region light rapid transit (LRT) system, connection to the pedestrian and cycling pathway network throughout the Research & Technology Park and adjunct campus and parkland, as well as providing ample bicycle parking.
For Evolv1, we were very fortunate to have our site directly adjacent to the new LRT line. Employees can exit the LRT and reach their workspaces within minutes, freeing up time for their families, hobbies or jobs.
Sustainability: zero carbon and more
So, while we're extremely proud of Evolv1's zero-carbon certification and net-positive energy status, that's just one piece of a larger story. We're really making a difference in how buildings support our communities and human wellness — something we believe is essential for a sustainable future.
| | |
| --- | --- |
| | Richard Williams is a principal at Stantec. |
---