Sponsored Content
When we set out to create BLACKLINE, we envisioned the powerful collision of real estate and technology. We used our extensive experience, gained over the last 12 years working on some of Toronto's most successful condominium launches, to create a 360-degree platform that takes the entire sales process online. We envisioned the future of real estate, empowering purchasers, developers and brokers in a more fluid, more dynamic, more responsive sales cycle. But what we couldn't have envisioned was how our platform would become a pivotal tool during a global pandemic, setting new industry precedents for sales during COVID-19.
BLACKLINE has been around since early 2019, slowly building a reputation among the industry's leading brokers, agents, and developers as the best sales tool on the market, but the current global climate of lockdowns and physical distancing has accelerated our growth. We've seen a massive increase in developers and sales and marketing agencies reaching out to book demos and to learn more about the best way to launch and sell a project during COVID. Since the start of the pandemic we've had more than 50 new clients, from across North America get in touch, all looking for advice to help them navigate this unprecedented situation, and they've come to us for our industry-leading expertise.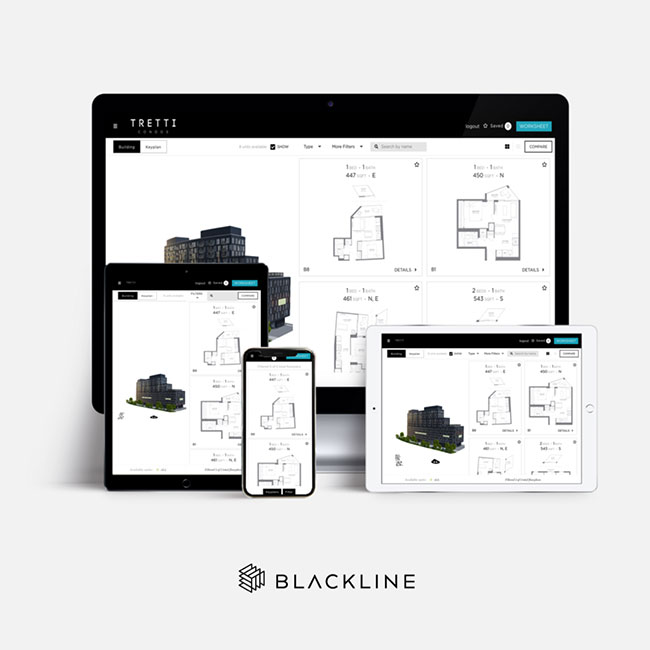 All-in-one solution
BLACKLINE is truly the only platform of its kind. Where other companies have digitized one or maybe two components of the sales process, BLACKLINE offers a complete, all-in-one solution that empowers every link in the sales chain. From the initial presentation, to unit allocation, analytics, and even closing the sale, BLACKLINE does it all.
The platform consolidates all project information into one location, accessed through a simple URL. Potential purchasers can view all relevant project materials, from 3D building models to brochures, pricing, amenities, virtual tours, and the complete rendering package, all online. Smart search options include advanced filters such as finding the closest schools and grocery stores. Floorplans can be viewed side-by-side for easy comparison. The result is educated buyers with a deeper understanding of a potential new home.
For brokers and developers, the benefits are equally appealing. Agents can now share key information and present to their clients, even from afar. They can electronically complete and submit worksheets, with instant distribution. Developers can allocate specific units to specific brokers and agents at any time, providing exclusive access for VIP phases and events. They can access real-time information on availability, allocations, analytics and sales, and even finalize contracts online.
Successful projects
In a year where the market has been plagued by uncertainty, BLACKLINE has been instrumental in supporting the launches of some of the most successful projects of the last six months, including Quay House from Empire Communities, Edenshaw Developments' Westport project, and GWL Realty Advisors' purpose-built rental, Livmore High Park. Those teams have named BLACKLINE as a major factor in achieving sales velocity, volume and even sell-out during these unprecedented times. It's the platform that lets you sell anywhere, anytime, even during a global pandemic.
Moving forward, the "new normal" may see most sales happen without a purchaser ever stepping foot into a sales centre. Be ready with BLACKLINE. Book a demo today at blacklineapp.com