BY Natasha Rombough, Director of Marketing and Communications, CHBA
What's it like to build the tallest condominium tower in a city? At 29-storeys, Azure is a landmark in London, Ont. Built by The Tricar Group, the residential tower with blue LED lighting at its summit won the award for Best Mid- to Highrise Building (Completed) in last year's CHBA National Awards for Housing Excellence competition. We caught up with the Tricar team to talk about their company and what it took to build an award-winning project.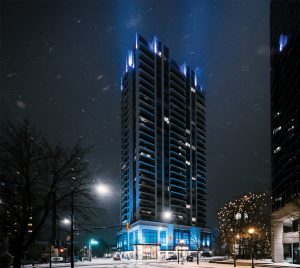 "Tricar was established in 1986 by my father, Joe Carapella," says Adam Carapella, vice-president. "The company started as a rental apartment builder in London. Tricar has since grown to produce more than 8,000 apartment rentals and condominiums throughout southwestern Ontario."
These days, Tricar is a leader in the development of high- and midrise condominiums throughout southwestern Ontario. In recent years, the company has focused on large multi-phase mid- and highrise community developments as well as intensification projects (both brownfield and greyfield) within downtown cores, including a large presence in the city centres of both London and Guelph.
The company has seen some changes since the early days of the business. "Compared to 15 to 20 years ago, the development and construction process has changed significantly. With so many stakeholders having input, and with projects becoming more and more complex, project approval timelines have extended considerably," notes Chris Leigh, Tricar's director of construction and development. With two to four projects typically underway at once, he says it's critical to take extended timelines into account when staging projects in their development timeline.
That planning skill is all the more impressive given the challenges the industry faced during the pandemic. To date, Tricar has not had to move occupancy dates. Leigh credits the feat to the strong network of trades and suppliers that Tricar has aligned with and have been using for many years, as well as the great work by the whole team.
AZURE – AN AWARD-WINNING PROJECT
Azure is a 29-storey condominium with units ranging from 740 to 2,790 sq. ft. in the heart of downtown London. It's got an impressive walk score of 95 to nearby amenities, and is also close to public transit and a VIA Rail station. For those with their own transportation (four wheels and two) there is secured underground parking and bike storage, as well as electric vehicle charging stations.
A number of cultural elements were integrated into the development, including an outdoor heritage courtyard at grade as well as a dramatic public art installation. But it was the design choice to have the shared amenities on the 29th floor rooftop that is the showstopper for many residents. The building's outdoor terrace, as well as all the indoor amenities that include a Billiards Room and Lounge, Library, Party Room, Fitness Centre, and Golf Simulator – are all on the building's uppermost floor.
"While we could have located suites on the top floor that would have demanded a premium, by choosing to locate the amenities there instead, we created a great place for all Azure condominium owners to enjoy and allowed everyone the opportunity to take in the breathtaking panoramic views of the downtown and the Thames River that winds through the City," says Leigh.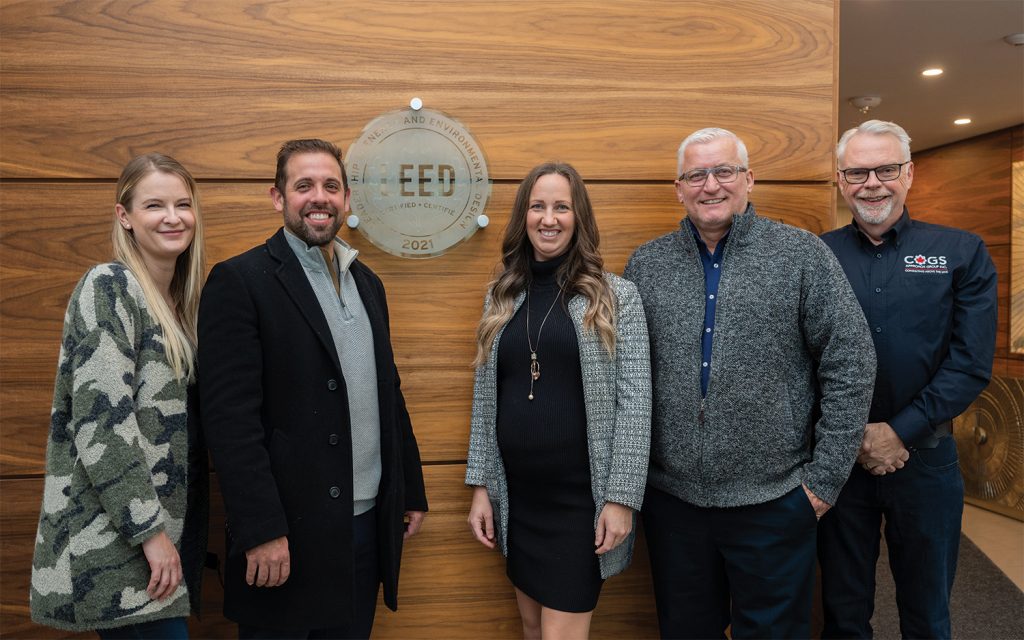 CONSTRUCTION DETAILS
Land acquisition for the project took place from 2014 to 2015 and was a consolidation of four separate parcels – all with existing leases to commercial tenants. Tricar relocated one of the tenants (a large London tech company) into a post and beam loft-style adaptive reuse project they undertook just a few blocks away. They received planning committee and final council approval in the fall of 2015, and excavation took place early 2016.
The efforts to plan and execute the large raft slab pour in May 2016 stands out for Michael Pereira, Azure project manager. "Significant time and coordination were invested in acquiring approvals and permits to shut down multiple intersections, and to efficiently redirect traffic in the city's downtown core on the day of the actual raft pour," he remembers. "Moreover, considerable time was spent leading up to this event to organize the efforts of multiple concrete suppliers to ensure the efficient execution of a 3,500-cubic-metre concrete pour in under 12 hours."
For perspective, that's the equivalent of pouring 95 single-family house foundations, or completing all the foundations for a 25-acre single-family subdivision in one day. It took 400 loads of concrete from three concrete suppliers sourcing from five different concrete batching plants, 65 trucks in continuous operation, four pumps with the ability to reach 200 ft., and 140 people to get the job done.
An additional challenge to construction was the fact that the footprint of the building occupied virtually the entire site plan. As a result, the temporary lease of portions of adjacent lands was required to establish a single and compact staging area that could diminish any impact on surrounding traffic.
The building's height required daily transportation of materials and personnel up to the roof in a timely manner and impacted scheduling and production. To help, a construction hoist was set up along the exterior of the building to supplement the function of the tower crane. And those 29th floor amenities? Tricar's goal was to provide early occupants of the building with access to those facilities so residents wouldn't have to wait until the completion of the project. As a result, construction of the 29th floor amenities space was undertaken at the same time that all finishing work was initiated at the lowest residential floors – which created a physical "gap" in all of the intermediate floors. Significant effort and coordination were required to balance the workflow and eventual tie-in of infrastructure, scheduling, and inspections of these spaces.
Azure is also LEED certified. The company has always looked for ways to lessen its environmental footprint both at the time of construction and for the long-term operation of their development. "We have had projects connected to District Energy systems and have enrolled projects in the Energy Star for high-rise pilot program as well. We felt a LEED certified project would only strengthen this environmental commitment," says Pereira. "It was a valuable process, and we are happy that the Azure condo owners can benefit from the reduced energy usage and reduced energy costs."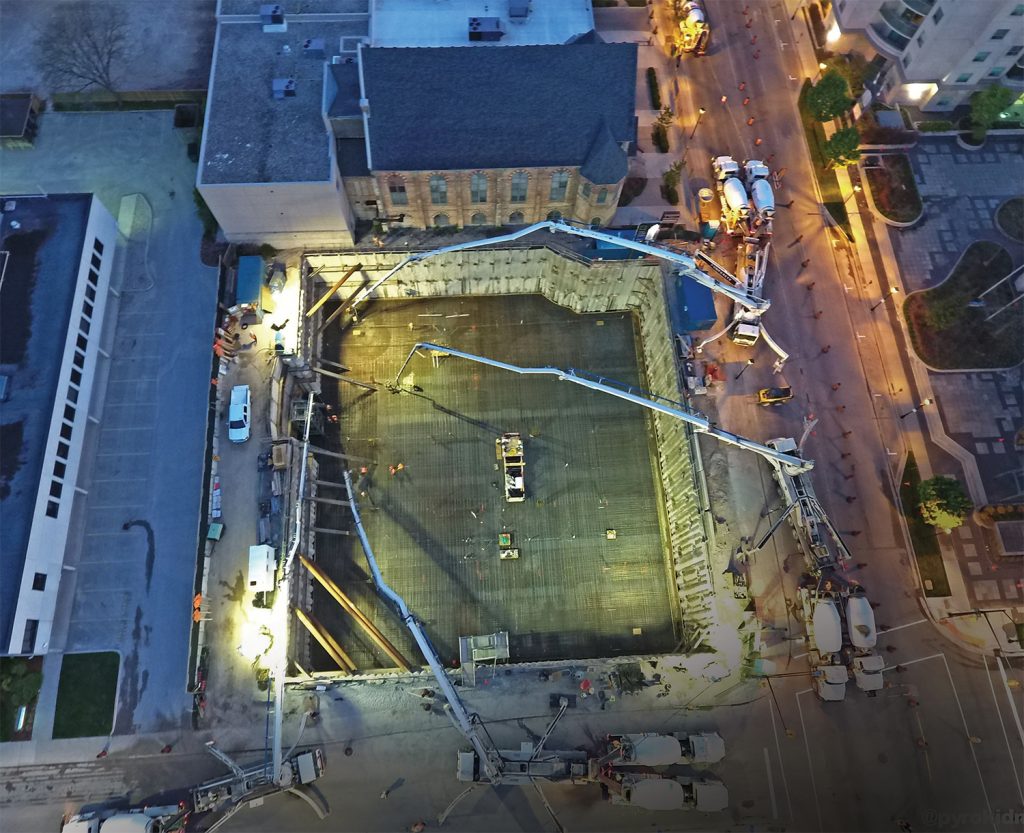 NEW PROJECTS ON THE HORIZON
The Azure project took a total of 4.5 years to create, from its initial inception to the final unit closing in early 2020. And there's plenty on the horizon for The Tricar Group. The company currently has 14-storey condominium developments underway at Gordon Square in south Guelph and Edgewater in downtown Guelph.
Two 10-storey condominiums are underway at NorthLink in north London, and Tracer has just broken ground on a four-storey boutique condominium project in London's west end.
It couldn't happen without a great group of people, and Carapella is proud of the team the company has built. "We have an excellent team comprised of several different departments including project managers, project coordinators, site supervisors, construction personnel, and client relations teams – to name a few," he says. "This team was added to slowly over the years and has enabled us to become a fully integrated development firm right from site acquisition, through to approvals, sales, construction, and client relations. This means that we have an entire group within the company that is committed to delivering a premier product in the market and providing best-in-class customer service to our homeowners."