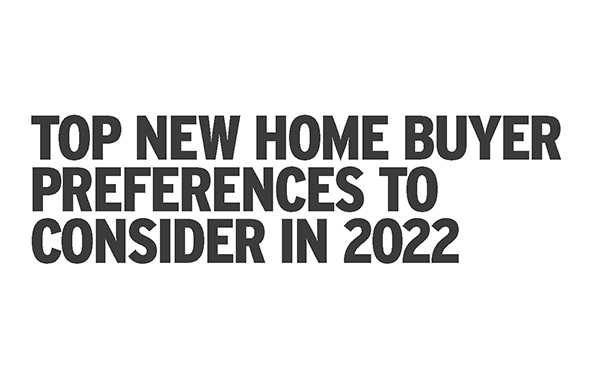 By Emily Fielden, CHBA Communications and Social Media Officer
The results from the 2021 CHBA Home Buyer Preference Survey – Canada's largest nationwide market research study for new home buyer preferences – are in! Now in its seventh year, the study, which is powered by Avid Ratings Canada, surveyed 18,838 new home buyers. Canadians who recently purchased a new home answered questions on more than 50 in-depth areas of home design, building features, and more. Here's a list of the top ten desired home features home buyers said their looking for going into 2022.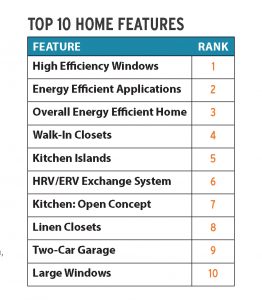 ---
Energy efficiency and sustainability
Energy Efficiency and Sustainability Energy effciency features have increasingly gained traction in the top ten list over the last several years. In 2021, energy effcient features accounted for four of the top ten slots, with high effciency windows taking the top spot, up from fourth in 2020. Energy effcient appliances subsequently trended down in 2021, though still ranked a very close second overall. The desire for an overall energy effcient home was listed as a "must-have" by nearly 60% of respondents, while an HRV/ERV air exchange system ranked number six on the top ten list with a rating of 85.2. But respondents had different expectations for how much they'd be willing to spend to achieve that added energy effciency. While most respondents in the 2021 survey indicated that they were willing to spend at least an extra $3,000 on energy effcient features to reduce their home's utility costs, those amounts varied, and only 8% said they'd spend more than $10,000. Just over 45% of respondents said their top motivator for spending extra to install energy effcient features would be to lower their monthly utility bill. Environmental protection was also a strong motivator.

---
Storage galore
Canadians are looking for space to keep their belongings organized both inside and outside of the home. Three of the top ten spots include maximized storage space – walk-in closets, linen closets, and double-car garages. Over 60% of respondents said walk-in closets and two-car garages were "musthaves" in their home, while 51.84% said linen closets were also a highly important feature.

Kitchen features
Kitchen features have remained popular throughout the seven years of CHBA's Home Buyer Preference Survey, so it's no surprise that two of the most desired home features in this year's Top 10 are in the heart of the home. The kitchen island maintained its position of fifth on the list with nearly 85% of respondents saying an island is a "must-have" or feature they "really want" in their home. The desire for an open-concept kitchen dropped from the sixth to seventh slot, but it's still a very widely popular option with 59.72% of respondents also listing it as a "must-have."

---
Let the light shine
In Finally, large windows continue to make the list of the most desired home features in Canada, with 80.85% of respondents saying they "must have" or "really want" them in their home. And with over 86% of home buyers saying they also want those windows to be energy effcient, builders may want to ensure the big, bright windows they select for their homes are also high effciency.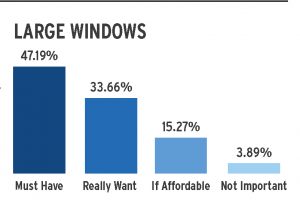 ---
Free Access the Full Survey Results for Members Find out more on what home buyers really want, and what they're willing to trade to get it, by downloading your copy of the study today. Full survey results are free for CHBA members (a value of $495) at chba.ca/survey.