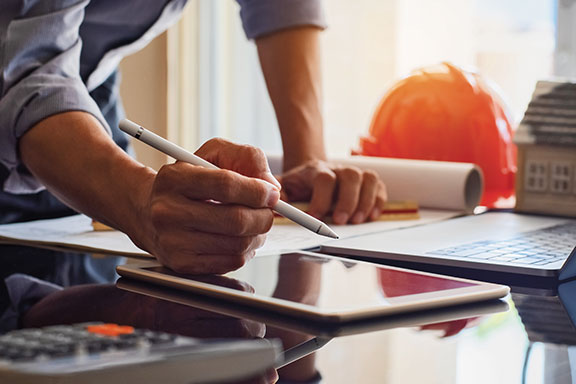 By Soumyah Ghosh
Director at MNP Digital
From the outside, it's easy to think homebuilding, construction and renovation companies have little need to use digital technologies in their everyday operations. But if you own or manage a business in this industry, you know differently – digital transformation can increase revenue and create efficiencies at all levels.
Digital transformation impacts every industry in Canada; customers, clients and even employees expect you to leverage technology to create smoother and simpler experiences for all.
That's why the Canadian government has created a funding program – the Canadian Digital Adoption Program (CDAP) – to stimulate more digital investment across the country.

How CDAP can help businesses in the residential construction industry
CDAP allows companies that may not have otherwise invested in technology to assess their needs and plan their digital transformation journey, at essentially no cost. For example, one of the programs under CDAP – the Boost Your Business Technology Grant – covers up to 90 per cent of the cost to retain a digital advisor to help kick-start your digital transformation.
After the assessment phase, if you decide to embrace the digital transformation plan you created, you can receive an interest-free loan of up to $100,000 to purchase software and hardware, train employees and make your plan a reality.
CDAP presents a unique opportunity for homebuilders to expand and grow sustainably. It lowers the financial burdens and risks associated with digital transformation without lowering the potential rewards.
Why invest in digital transformation
Homebuilders and renovators are being hit hard by various economic challenges such as rising costs and supply constraints. While a digital silver bullet solution may not exist, technology can help alleviate many of your pain points.
Digital tools can support your business all along the value chain. Whether you're procuring materials or paying employees after a project is done, technology can lead to higher revenue and increased efficiency.
Consider the following examples:

Back office
• Client retention and follow-up: Digital customer relationship management (CRM) tools are becoming smarter and more capable. Smarter CRM software can lead to higher profitability and sales volumes as you use it to optimize your communication and follow-up with clients.
• Payroll: Digital technologies can automate routine tasks in payroll and enable your staff to focus on more specialized tasks.
• Data analytics: Whether you realize it or not, your business is likely collecting a myriad of data that can improve the decision-making process. Proper data analytics software can help you see how effective your marketing efforts are, how economic trends impact your business, and much more.
• Bid management: Your business can leverage digital tools that help you create bid packages and standardize the process on a single platform. They can also help reduce friction and boost revenue as you search for the strongest bids and convert them into contracts.
On the job site
• Reducing waste: Want to reduce the time and energy wasted as employees move around the job site, looking for a certain tool or moving materials from place to place? How about all your material that gets thrown away? Digital technologies can help you track movement on the job site, and spot inefficient processes and practices, leading to reduced costs and better margins.
• Workplace safety: Safety is always a priority in your industry, but not all companies invest in it the same way. Digital technologies such as Augmented Reality (AR) or Virtual Reality (VR) could help train employees without exposing them to real dangers. Sensors that track noise levels, airborne particles or temperature could reduce safety risks as well.
• Automation: While you will always need top-level talent to produce quality work, consider the potential of technologies, such as 3D printing and drones to automate certain tasks on the job site.
Getting started
The opportunities for digital transformation in the homebuilding and construction industry are immense. Businesses are encouraged to apply soon, as only a fixed amount of funding will be available through CDAP nationwide.
CHBA and MNP jointly hosted a webinar for CHBA members on Nov. 3 that goes into detail on how your company can use CDAP, including timelines for qualifying, how long you'd have to use the funding, and what types of digital transformations your advisor might suggest. To watch the recorded webinar, which includes dozens of questions from attendees being answered live, CHBA members can visit chba.ca/webinars.
To learn more about the CDAP program, visit mnpdigital.ca/cdap or contact CDAPsupport@mnp.ca