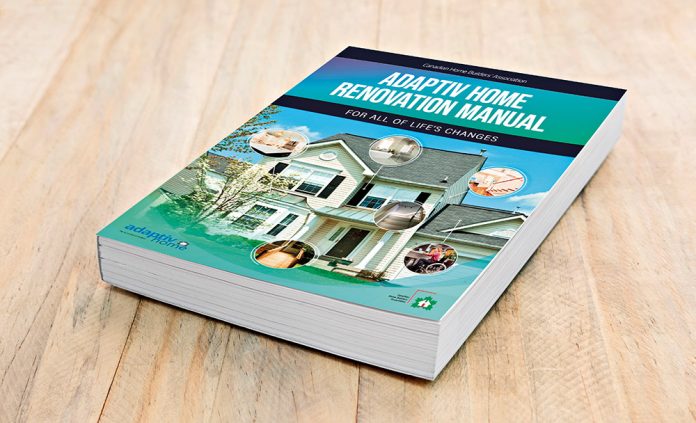 By Natasha Rombough, Director, Marketing and Communications, CHBA
It was an enthusiastic room at George Brown College in Toronto on April 22. A variety of professionals gathered for two full days of learning as part of CHBA's Adaptiv Home Renovation Course, hosted in conjunction with BILD (GTA). Aimed at renovators, designers and other professionals who want to learn more about offering services to homeowners who want to live in their home safely and comfortably for as long as possible regardless of age, ability, size or circumstance, the course is being delivered through CHBA in partnership with local homebuilders' associations across the country.
The course uses CHBA's recently published Adaptiv Home Renovation Manual, which was written in consultation with industry professionals who are very familiar with the demands of designing and renovating for those who require customizations to their home to accommodate their needs. The manual is included with the course, or can be purchased separately at a discounted price for CHBA members.
Informative and interesting
"The manual that was sent out was fantastic," says Lesya Dyk, course attendee and a registered occupational therapist and President of Lesya Dyk O.T. Services Inc. in Hamilton, Ont. "Well laid out, with many diagrams and pictures, it was easy to do the pre-reading. In fact, many people who took the course said they read the whole manual before the course – it was both informative and interesting."
The course was originally going to be a Canadianized version of the American Certified Aging-in-Place Specialist (CAPS) course, called C-CAPs during its pilot. But initial feedback from CHBA members who took the course said there was still not enough Canadian content, and that they wanted many more specifics regarding the details of the renovation options themselves. Thus, the course was completely rebuilt from scratch by Canadian experts across the field, and now the newly minted Adaptiv Home Renovation Course covers material not only for those looking to age in place, but for many other types of accommodations needed by Canadians.
"The best thing about the course was the case studies and the rich discussion with all the attendees – contractors, interior designers, vendors and an occupational therapist. There were many people present with many years of experience, and even they felt that this course was well worth it. I would highly recommend this course to anyone who works in this space already, or who wants to get into modifying homes as a part of their business offerings," says Dyk.
Several years of collaboration
Course delivery has evolved to include 2.5 hours of pre-coursework done at home, followed by two days of focused learning. In Toronto, the course was held on a weekend to not interfere with those running their businesses during the work week. There is a final evaluation written online on the last day of the course.
CHBA's Director of Operations, Leah Nord, has been overseeing the course delivery this spring, which included a virtual delivery in Alberta and Atlantic Canada in addition to the in-person course in Toronto. She says it's been rewarding seeing several years of collaboration and work come together to serve members interested in working in this growing niche.
"With almost 16 per cent of the population in Canada living with some form of disability, and most Canadians wanting to live at home as long as they can into their golden years, this renovation expertise is very much needed, and that need will continue to grow as baby boomers age," Nord says. "This course has been developed to help CHBA renovator members be on the leading edge of renovations for persons with disabilities, so that members can establish themselves in a growing market."
The course includes information on communicating with clients, professional partnerships, empathy and legal considerations, and of course a wide variety of design solutions and building knowledge specific to living in place, including ramps, lighting, lifting systems, home automation, specific rooms, and much more. It's the important first step to becoming part of a network of professionals who want to help Canadians live at home for as long as possible.
Members who successfully complete the course will be listed on CHBA's website as part of a directory of Adaptiv Home professionals and will be promoted to Canadians looking for assistance.
For more information, visit chba.ca/adaptivhome.