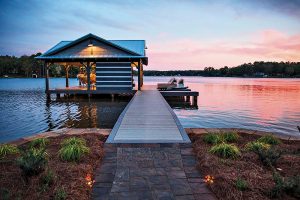 So, yet another year where most of the country seemed to go directly from toques and parkas, snowmobiles and shinny, straight into summer. The times, they are a changing. But what won't change is Canadians' passionate desire to get the most out of the warm months whenever they arrive.
Here is our latest collection of items your clients will be looking to add to their exteriors and outdoor living spaces. Plus, some tools to help you get the job done.
Composite control
Composite decking options have come a long way from when they were first introduced to the market in the 1980s. No more saggy, plastic-looking planks that could scorch your feet on a sunny day. Today's offerings are available in an array of splinter-free, realistic colours and textures.
Moisture Shield's Vision lineup, for example, is made with 95-per-cent recycled material, comes with a 50-year structural warranty and can be installed at grade or even underwater without compromising the structural integrity. The manufacturer also claims it reduces heat absorption by up to 35 per cent compared to competitors. moistureshield.com
On trend
Nothing screams cookie cutter like an entire neighbourhood of identical houses clad in identical exterior finishes. Which is why the mix-and-match esthetic continues to be popular in the custom home market. The mixing can come in terms of materials with, for example, as masonry base layer, EIFS across the upper levels and some wooden posts and beams for balance. Another option is to pair different tones: Say, a mostly light-coloured exterior with sharply contrasting black trim and window frames.
Below deck
A two-storey deck offers the best of both worlds: Full exposure to the elements when it's nice, and a shelter from the storm when it's not. That's only if it's built properly. There are a number of options on the market to properly create a shelter below the deck, including Trex's RainEscape. Trex's easy to install system goes over the joists, provides 100-per-cent coverage, has optional soffit LED lights and comes with a 25-year warranty. trexrainescape.com

Stone works
Masonry is the original homebuilding material in Canada.
It's durable, and most masonry products require little to no ongoing maintenance.
One made-in-Canada option is the newly rebranded Shouldice Stone (formerly Shouldice Designer Stone). Located in Shallow Lake, Ont., at the base of the Bruce Peninsula, the company literally sits on top of ancient deposits of the aggregate they use in their stone and brick products.
The company also has a line of mechanically fastened thin stone veneers – Fusion Stone – that are easy enough to install for a DIYer, meaning you won't have to wait around for your mason to be available to tackle the installation.  shouldice.ca
Outdoor living
Weatherproof chesterfield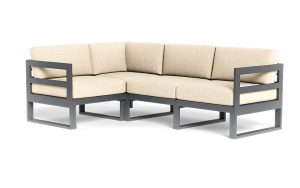 If you're old enough (or have English relatives), you'll recognize the brand name, Chesterfield, as a synonym for sofa or couch. If you're young enough (or are a regular podcast listener), you'll be familiar with Cozey as a made-in-Canada series of modular sofas and sectionals. The company now has a lineup of outdoor furniture called Mistral. The aluminum-framed pieces are easy to assemble and disassemble, offering a great solution for clients with limited offseason storage. Both their indoor and outdoor furniture comes with a five-year warranty and a 30-day risk-free trial period.  cozey.ca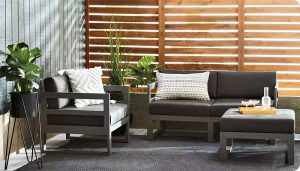 Seeking shelter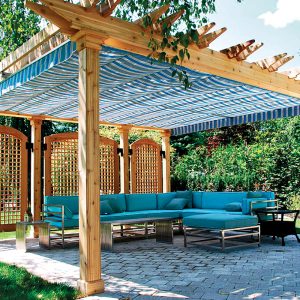 As much as we crave the sun's warmth, we usually need some respite. A retractable canopy offers the perfect hybrid solution. Ontario-based Shade FX has created custom, retractable canopies for high-end hotels, restaurants and event spaces across the country. The company also works directly with homeowners and contractors to create one-of-a-kind options for backyards. shadefxcanopies.com

One smart call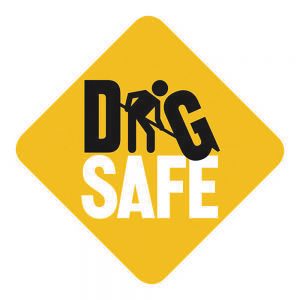 Properties across the country are criss-crossed with a network buried power, water, sewer, telecom lines and more. Severing any of this infrastructure can be costly – and potentially even deadly. So, before you do any excavation work, you need to find out if there are any buried utilities below the surface. Luckily, you can take care of it all with one call or click to the provincial body that coordinates "locates" with the various utilities. Visit clickbeforeyoudig.com for links to the organization to contact where you're working.
Modular living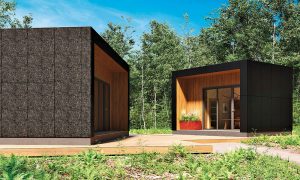 Looking for an instant, made in Canada, Net Zero solution for an outdoor living space? Consider the Powerhouse, by Toronto-based Mitrex. They are available in three sizes. The Mini is 16 by 16 ft., the Midi is 16 by 20 ft. and, wait for it, the Maxi is 16 by 30 ft. With R-36 walls, each can be tied into the grid if available, or operate completely off-grid with solar panels. The Mini features 140 sq. ft. of interior space. The Midi is 180 sq. ft. and includes a two-piece bathroom, as does the 280-sq.-ft. Maxi. mitrex.com/powerhouse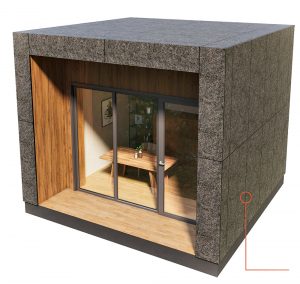 Lighting with gas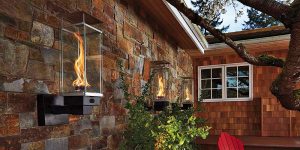 Starting back in the early 1800s, cities around the world illuminated their streets with gas-fuelled lights. You could even get a job as a lamplighter going around manually lighting each one with a wick on a stick. Electric lighting eventually replaced gas fixtures in all but a few historic tourist areas. But they're making a comeback as a charming, flickering alternative to electric lights in upscale backyards. Tempest Torches, by U.S.-based Travis Industries, feature all-season, stainless-steel frames that can be powered by natural gas or liquified petroleum gas. firegardenoutdoors.com
Yard work

Cordless chainsaws
Gone are the days of dealing with stale fuel, gummed up carburetors and obnoxious fumes from gas-powered chainsaws. Continue your transition to cordless tools with a chainsaw. Milwaukee Tool has a variety of cordless chainsaws ranging from a compact, six-in. pruning saw up to a 16-in. model. Powered by the company's M18 battery, the 16-in. chainsaw features a variable speed throttle and the ability to make up to 150 cuts in six-by-six cedar on one charge, while doing so faster than a 40cc gas model.  milwaukeetool.ca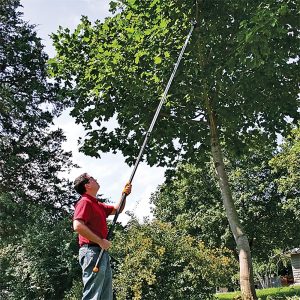 Telescoping pruners
Trees growing too close to the house can lead to a number of issues, including causing damage to the siding or eaves if branches rub up against them and providing a highway for insects to get into the home. Rather than risking your neck climbing a ladder awkwardly leaning against a tree trunk, do the job from the safety of solid ground with telescoping pruners.
Fiskars has three models with pruners that can cut branches up to one in. thick and 12-in. saw blade for the thicker ones. The base seven-ft.-long pole is available in 12-, 14- and 16-ft. extensions.  fiskars.com

Robo mowers
While you're busy pruning the trees and cleaning up the yard, why not have a robot take care of mowing the lawn for you? The Landroid is like a Roomba vacuum cleaner that, instead of dust bunnies, hoovers up grass. While other robotic mowers require a boundary wire, the Landroid uses AI-technology and an HD wide-angle camera to  differentiate between grass and  obstacles. Worx has three models of Landroid designed for yards that are  up to 5,000-, 10,000- and 22,000-sq. ft.  worx.com/landroid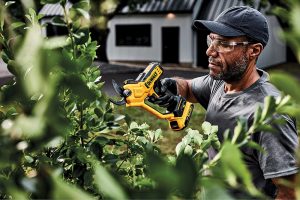 Powered  pruners
If you're spending a good chunk of your day pruning shrubs and tree branches, your forearms are going to ache and, over time, you put yourself at risk for a repetitive strain injury. Once again, cordless power comes to the rescue. DeWalt's 20-volt, 1.5-in. cordless pruner features non-stick blades, an LED light and the ability to make up to 1,100 cuts on one charge, all with a tool weighing only three pounds. dewalt.ca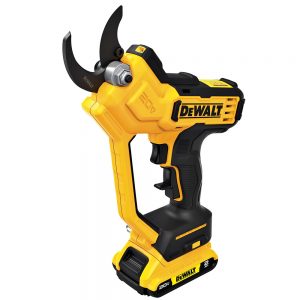 Invasive  species
If you're responsible for your clients' vegetation – or thinking of adding more greenery to your own property – avoid introducing invasive species. With no native predators here in Canada, introduced species can run wild, crowding out native plants and cutting off food and shelter that local animals and insects rely on. While governments across the country are spending millions trying to eradicate invasives in the wild, garden centres continue to sell some of the most problematic species, including purple loosestrife. Find out which species to avoid at the Invasive Species Centre. invasivespeciescentre.ca
Cool ideas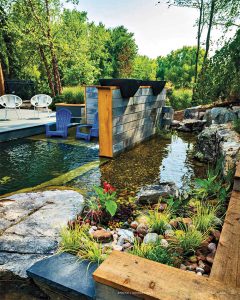 Water world
Adding a water feature can transform a yard into a natural oasis. Whether it's a simple foundation or birdbath to attract birds, or a full pond complete with frogs and turtles, the sound of flowing water is the ultimate form of white noise to drown out the urban sounds around the property.  aquascapecanada.com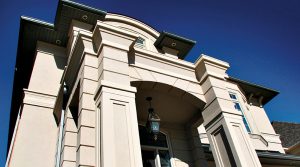 Facing forward
While your customers might ask about "stucco" for their exterior finishing, what they're really looking for is the modern equivalent: Exterior insulation and finish systems, or EIFS. These multi-layer finishes include water and air barriers, insulation and a finish coat available in an endless array of colours and textures to suit any home design.  eifscouncil.org