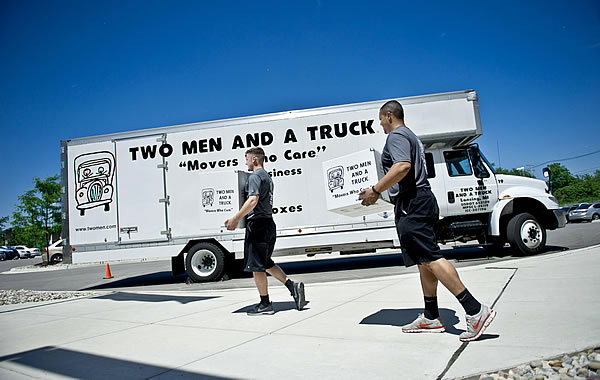 by Chuck Resnick
Two Men and a Truck
A reliable professional mover will welcome your questions and help you figure out your best plan of action.
There are many benefits to hiring a professional mover, including having your possessions handled with care and safety.
A professional moving company can make your relocation less stressful and ensure it's handled with care. People naturally think of a mover for the transportation of their items from one home, apartment, condo or business to another, in the same town, city or province. But many professional moving companies offer different services.
For example, Two Men and a Truck Canada provides internal moving services.
Let's say you're working on office improvements like laying new flooring or full-room renovations. We have trained staff who can come and assist you in relocating your large furnishings to other areas within your office while the work is going on, and then move everything back when the renovation is complete.
Filing cabinets, desks and credenzas can be a headache but moving professionals can take the heavy lifting off your shoulders. Leave it to those who do moving for a living to achieve a smooth transition.
Some of our franchises also offer onsite storage for your furnishings. It's best to ask what services are available. Think of it as a menu of choice; you can pick and choose from the buffet table of services and items available to you for your move. Do some research and ask questions about what might serve your individual needs. From a variety of boxes that are sturdy and stack well, to packing supplies such as tape, paper, markers, bubble wrap and the like, obtaining them from a professional mover ensures you are securing your possessions with quality.
We even have special boxes designed specifically to protect pictures and mirrors and flat-panel televisions. At Two Men and a Truck, we also rent varying sizes of reusable plastic totes that nest for stackable convenience and leave less of an environmental footprint than cardboard.
If you are planning to move your home or business, or simply need to move heavy, cumbersome items around your home, keep in mind that professional help is out there. It's up to you to do your homework and determine what you need and what is available. When in doubt, ask. A reliable professional mover will welcome your questions and help you figure out your best plan of action.
It's all about good, thoughtful service, from the smallest packing item to major moves.
---