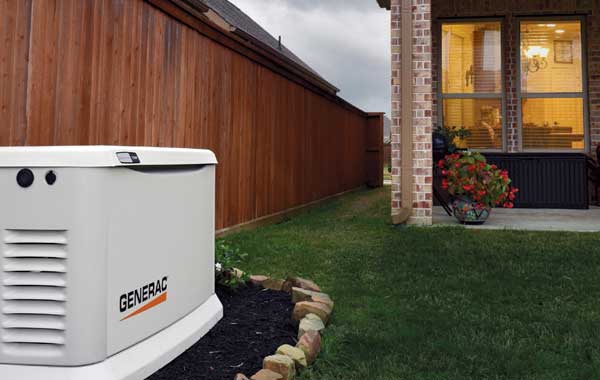 by Frank Condron
Global warming has been blamed for a lot of things in recent years, from rising sea levels to massive forest fires. Believe it or not, you can probably add an increase in the popularity of permanent backup home power generators to that list.
No matter where you come down on the global warming debate, it's pretty clear the weather is changing. According to a 2019 report from Environment and Climate Change Canada entitled Canada's Changing Climate, our climate is warming twice as fast as the global average, resulting in more frequent and severe storms of all types. Nasty weather, in turn, often results in power outages: according to the Canadian Electrical Association, significant weather events causing power outages have increased in Canada every year for the last five years. Given those trends, home power generators are beginning to make a lot of sense.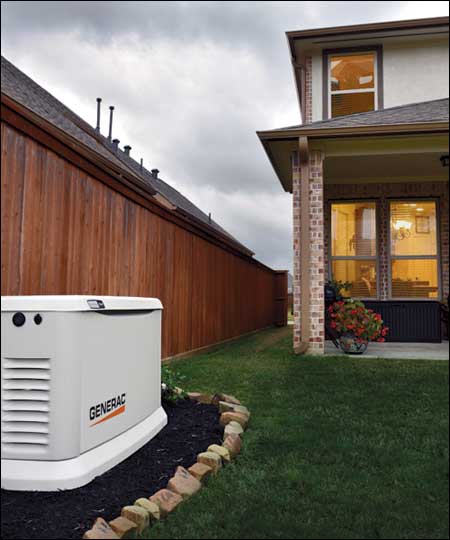 "Years ago, permanent generators were not user-friendly and the cost would have been prohibitive for most home applications," says Adam Wachtel, master electrician and president of Concord, Ont.-based Platinum Electrical Contractors. "But the technology has advanced so much in the last 20 years, really since the Y2K scare, that you pay half the price for ten times the unit today."
There are a number of reasons why a homeowner might want to invest in a permanent home power generator. With the population aging, there are more seniors living at home, often with health concerns, who would rather avoid the inconvenience, and even hardship, that comes with a prolonged power outage. There are also more people working at home and running home businesses who can't afford extended downtime. Then there are those homeowners who may have suffered through one or more extended power outages before and aren't eager to repeat the experience. "Maybe the insurance company has repaired a flooded basement a couple of times because outages shut off the electric sump pump and they have told the homeowner they won't repair it again," adds Wachtel.
The need for a backup generator can also depend on where you live. While power outages in urban areas tend to be less frequent and are usually quickly resolved, the story is different in rural areas. "If your home or cottage depends on an overhead power grid, outages can be a regular occurrence," says Dave Wilson, master electrician and co-owner of Pickering, Ont.-based Captain Electric. "Anything can knock overhead wires down – wind, ice, snow, flooding, fire, even a tree falling. Depending on how bad the situation is, it may take the utility company hours or days to get the grid back up."
When it comes to choosing a home generator, the decision largely hinges on just how much power the homeowner wants or needs to retain in the event of an outage.
"If they just want to support a few vital circuits – a sump pump, fridge, some lights, maybe a stairlift if they have mobility issues – and keep costs to a minimum, they can get by with a smaller, air-cooled unit," explains Wilson. "But if they want the whole home backed up, so they have all the essential circuits as well as creature comforts like air conditioning, they are looking at a larger, more expensive, liquid-cooled unit."
Permanent standby generators can be powered by propane, from an accompanying tank, or through a natural gas line. Systems are rated based on their ability to generate power, with smaller air-cooled units ranging from 7.5 KW up to 22 KW, and larger liquid-cooled units ranging up to 150 KW for residential whole-home applications. The principle behind the operation of standby generators is simple enough. Once installed, the unit sits in the ready mode and monitors the power supply to the home. In the event of an outage, the unit senses the loss of power and immediately responds by starting its motor, but doesn't pass on replacement power right away. "When the unit first starts up, there is a nine- to 11-second lag before the replacement power kicks in," Wachtel explains. "That's because the transfer switch waits to determine if the loss of power from the grid is just momentary. If the outage is not momentary, the system is flipped over to the generator and the select circuits, or the whole home, are restored."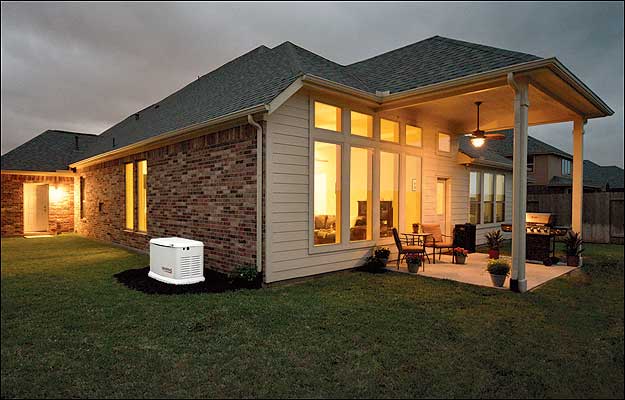 Once engaged, the unit can run for hours or days if necessary; if running on propane, the size of the tank can be an issue during a prolonged power outage. When grid power is restored, the transfer switch senses that and simply reverses the process, but the restoration of power comes without the lag.
To stay ready for action, modern units run programmed diagnostic tests weekly. Diagnostic maintenance histories are recorded in the system and the homeowner can receive regular status reports. Owners can even purchase a service package that allows the dealer to monitor unit status remotely to head off potential problems. Says Wilson: "These units have to be maintained just like a car: they have cooling systems, batteries, and oil that needs to be changed."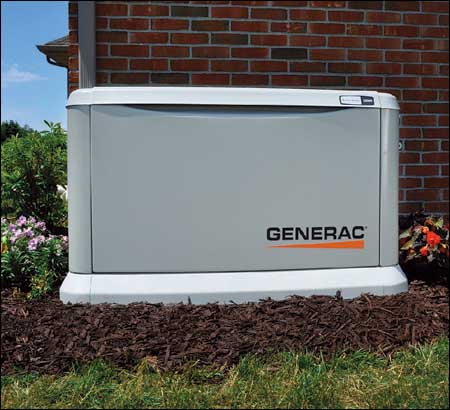 As with most large, expensive pieces of equipment, installing backup generators is not a job for amateurs. Depending on the capacity, unit footprints range from as little as two-by-four feet up to three-by-almost 10 feet, but all units require a stable flat base to operate properly. Smaller units can be fine with a few well-laid patio stones, but the largest whole-home units require a full poured concrete base. And depending on the municipality, there are usually a number of setback requirements that must be taken into consideration when picking a spot to place the unit.
"Each site presents its own challenges in terms of the terrain and how much room there is around the house," says Wachtel. "There are Code considerations in terms of the building, the electrical connections, and the gas connections. If it's a whole-home unit, the installer will have to coordinate with the utility provider to disconnect the home from the grid for probably a full day."
"Not just any contractor can install these units, so it's important for the homeowner to do their homework first," adds Wilson. "They need to make sure they have all the appropriate permits in place and look for a certified dealer who knows the unit, knows the various codes, and is willing to service it after it's installed."
---