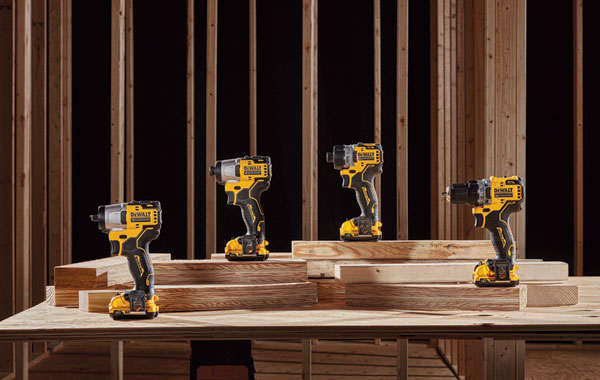 Finally! Beauty, safety, affordability, and independent living combined
Bronte Collection introduces Grabcessories, a complete line of 2-in-1 Grab Bars designed to prevent falls and enhance independent living. Made of non-corrosive stainless steel, Grabcessories 2-in-1 Grab Bars support up to 500 pounds, and feature no-slip rubber grips (shelf excluded). They are available in chrome and brushed nickel. The transitional curved designs seamlessly integrate into any bathroom decor.
DeWalt subcompact series
DeWalt introduces the XTREME Subcompact Series tools, a line of five compact and performance-packed brushless 12V MAX tools. The new line offers powerful, ergonomic solutions for a variety of applications, including electrical, drywall, remodelling, automotive, metalworking, woodworking, and masonry applications.
Express your style
X-Tile is sure to have whatever your clients need to express their unique style. They offer an exceptional variety of wall and flooring options in ceramic, porcelain, natural stone, glass, mosaic, and much more from leading suppliers around the world. Open seven days a week at three spacious showrooms. Let X-Tile's knowledgeable and friendly staff help with your renovation or building projects.
Natural timeless beauty
Soapstone is an excellent choice for countertops and sinks because it is non-porous and, therefore, resistant to stains and bacteria. Soapstone does not require chemical sealants and withstands extreme temperatures. The natural-honed matte finish and silky smooth texture give this stone a timeless elegance and beauty.
Delta Pendant Raincan Showerhead
The Delta Pendant Raincan Showerhead with H2Okinetic Technology and LED lighting creates a soothing ambience and radiates upscale appeal in the bathroom. With a contemporary style, the pendant showerhead establishes a distinctive presence with modern technology to evoke a tranquil, spa-like experience.
Durable and edgy
Caesarstone quartz surfaces are perfect for bathrooms thanks to their durability and easy maintenance. Pictured here is 4044 Airy Concrete, which is part of Caesarstone's Metropolitan Collection. This industrial surface will add an edge to any bathroom thanks to its unpolished look and feel.
Personlized faucet
Putting the freedom of choice into the hands of consumers, Kohler's new Components line of interchangeable faucet elements offers a wide range of modern, minimalist options for composing a finished product. To create a personalized faucet configuration tailor-made for any environment and decor, homeowners can customize their faucet by choosing the spout, handle, and finish.
---