Sponsored Content
The 50-plus demographic is an attractive prospect for builders. There are about 14 million people in this age group in Canada, and according to Canada Mortgage and Housing Corp. (CMHC), older Canadians enjoy a healthier asset-to-debt ratio than younger cohorts.
Many in the 50-plus demographic can buy, build or renovate their dream home. But how can savvy builders stand out from the sea of stone countertops, high-end appliances and heated bathroom floors targeting this coveted demographic?
Futureproofing
By sitting your clients down for a conversation that includes futureproofing for aging in place.
Back in 2013, an RBC survey showed more than 90 per cent of Canadians want to stay in their home and live independently as long as possible – a statistic that's likely even higher in today's COVID-19 reality. Yet mobility at home can pose a significant challenge, turning that sweeping, spiral or switch-back staircase into an onerous and potentially dangerous chore.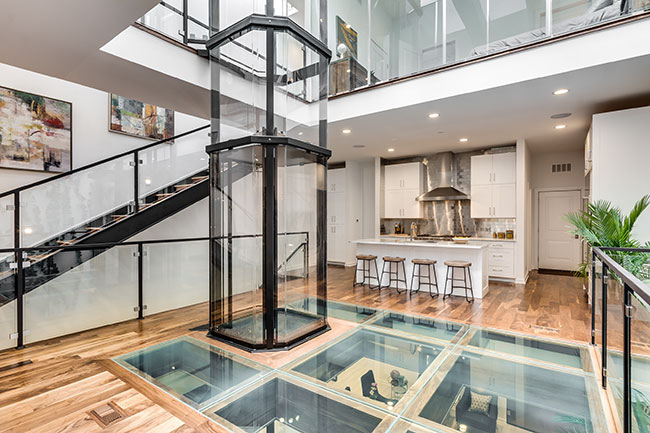 Traditional home elevators require construction of a hoistway to reach each level of the home, requiring careful planning and somewhat limiting floorplan flexibility. Enter the Vuelift panoramic residential elevator. Featuring an integrated glass or acrylic hoistway with matching cab and landing doors, this all-in-one design means placement is incredibly flexible – in the middle of the room, through the floor, attached to a mezzanine or centred in a spiral staircase. No shaftway construction required.
Success story
And these elevators are part of a Canadian success story. The manufacturer, Savaria, is one of the largest accessibility companies in the world. Vuelift combines stunning aesthetics with the convenience of skipping the stairs, whether in a country manor, urban townhome or penthouse condo. Available in UV-resistant glass or acrylic to allow natural light to shine through, the incredible clarity means the 360-degree view from inside the lift is as impactful as the exterior design. Customizable, powder-coated frame colours let your clients reflect their personal taste and complement interior design elements.
The all-new Vuelift Mini provides big impact in a small footprint, making it an easy addition to design plans for new builds, and remarkably flexible for retrofitting into an existing home.
The Vuelift family offers six base models, with available capacity up to 432 Kg. The chiselled features of the Octagonal lend strength and strong, clean lines to a home's design, while the Round provides sweeping curves. The all new Vuelift Mini's 50-in. diameter footprint takes up seven to 10 sq. ft. less room than a traditional residential elevator.
Learn more at vuelift.com or call 1.855.728.2742