In September 2020, CHBA released its first Municipal Benchmarking Study that examines how local development processes, approvals, and charges contribute to housing affordability and supply issues in major housing markets across Canada. The study provides rankings for 23 Canadian municipalities in terms of three categories: planning features, government charges, and approvals timelines. The rankings provide a solid baseline to help establish standards that municipalities can and should aim to meet. This study provides a unique opportunity for governments and the residential construction industry to work together to tackle affordability and other housing challenges.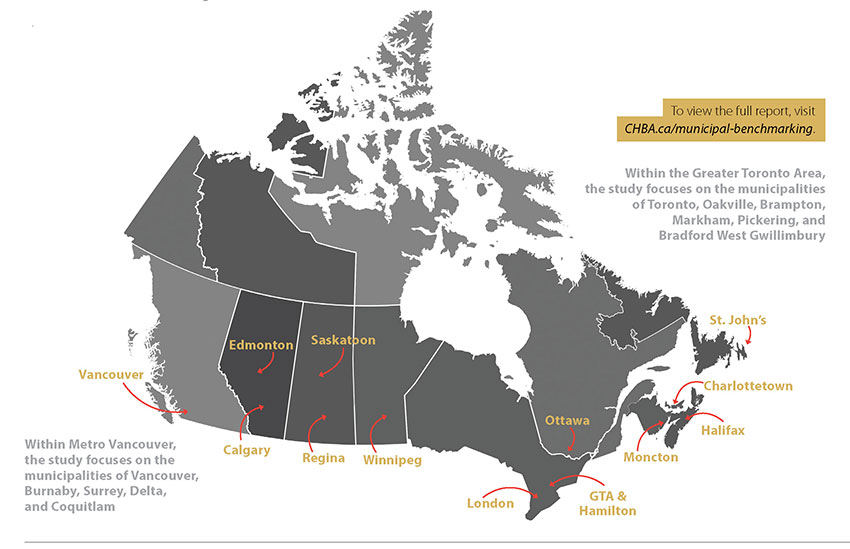 Key finds included:
The cities of Regina, Edmonton, Calgary, and London rank high overall on the list, each with strong rankings in at least two of the three categories studied.
Edmonton, Oakville, London, Brampton, Ottawa, and Toronto offer the greatest number of planning features, of those studied, that can encourage and expedite housing supply.
Development approvals are taking an average of 1.5 to 2 years to obtain (and more in some cases) – an average of 20.3 months for multiple applications, and an average of 11.7 months for single applications.
The study looked at a typical low-rise development and at a typical high-rise development.
In some areas studied, government charges make up 12 percent of the price of a home.
Government fees and charges average $48,200 per low rise unit in Canada, with the highest charges in Markham, Ontario and the lowest in Charlottetown, Prince Edward Island.
On average, the high-rise charges imposed by municipalities are $32,800 per unit, or 6.2 percent of the price of the residential units.
To view the full report, visit CHBA.ca/municipal-benchmarking.