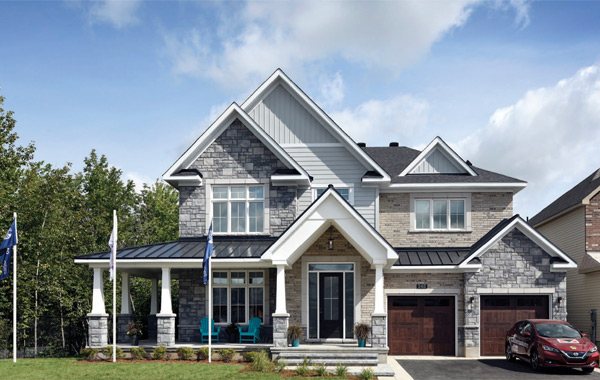 By Allan Britnell, with files from CHBA Staff
As a renovator or builder, you may not be aware that housing is one of the largest contributors to our country's energy consumption. In fact, according to Natural Resources Canada, 17% of Canada's greenhouse gas (GHG) emissions come from residential, commercial, and institutional buildings, making the buildings sector an important area of opportunity.
Since the 1980s there have been myriad programs designed for industry to voluntarily build homes to higher levels of energy efficiency, including R-2000 and Energy Star. The residential construction and renovation industry continues to innovate, not only making homes more energy efficient with reduced utility bills but also reducing GHG emissions, and providing homeowners with benefits such as increased comfort and better indoor air quality. Today, top-of-the-line energy efficient homes – Net Zero Energy Homes – produce at least as much energy as they consume.
At the directive of the federal and provincial governments, the national building code is being developed with a goal of having all new residential construction projects achieve an energy performance equivalent to Net Zero Energy Ready (more on what that means in a moment) by 2030. CHBA has concerns about the affordability aspects of that goal given current technologies and costs, and is advocating that regulation should not be put in place until affordable solutions are found.
But CHBA is also looking to be part of the solution, with its Net Zero Energy Home Labelling Program and qualified builders providing this level of performance to homeowners who wish to invest in their homes this way now, and in so doing, it is finding better and more affordable ways to build these high performance homes. The program is also pointing out where there are gaps in technology and affordability, and creating opportunity for manufacturers to address both. You see, prior to the national efforts to develop the tiered codes, the Canadian Home Builders' Association had already taken a leading role in voluntarily helping determine the best approach to constructing homes that meet Net Zero Energy and Net Zero Energy Ready levels of energy performance with the launch of CHBAs Net Zero Housing Council and the labelling program. And this work continues.
"CHBA supports leading-edge innovation in the residential construction industry with goal of having those innovations as a voluntary and affordable choice for consumers," says CHBA CEO Kevin Lee.
So CHBA and its members continue to innovate, pursue new solutions, and work to bring costs down. CHBA has also led the development of a series of pilot projects to determine best practices for achieving Net Zero Energy and Net Zero Energy Ready performance for new single-family homes and multi-unit residential building (MURB) low-rise/part 9 construction, as well as ways to retrofit our country's supply of inefficient older homes.
2020 Net Zero Home Award Runner-Up Naikoon Contracting Ltd., North Vancouver, BC: "One Raven Net Zero"
Net Zero 101
First off, let's distinguish the difference between Net Zero (NZ) and Net Zero Ready (NZr). Simply put, a NZ home produces at least as much energy as it consumes, typically via solar photovoltaic (PV) panels that generate electricity on-site. That doesn't mean that NZ homes are off-grid. In fact, all of the Net Zero homes in the CHBA program have been grid-tied and feed electricity back to the grid. Hence the need for the word "net." The homes consume more power from the grid during the winter, and overproduce electricity in the summer so that the annual consumption and generation "nets" a balance of zero.
A NZr home, by contrast, is completed to the same energy performance in terms of insulation, right-sized mechanicals, and so on, but does not yet have solar panels or other energy producing components installed. So, while a NZr home does consume considerably less energy than one that's built to building code minimums, it is not fully net zero until the renewable energy system is added. That said, NZr homes must have all the rough-ins in place so they can easily connect to a renewable energy system down the road.
There are three areas that builders need to focus on to achieve NZ status: the building envelope, the mechanical systems, and a renewable energy system. Once those factors are taken care of, "The biggest energy load ends up being the lighting, appliances, and other occupant plug loads," says Sonja Winkelmann, CHBA's Director of Net Zero Energy Housing. Of course, high-efficiency appliances and lighting help reduce that load even further.
In addition to the environmental benefits of a significantly smaller energy and GHG footprint, there are numerous benefits for homeowners who opt in for the upfront cost of building to NZ levels of energy performance. For one, ongoing energy costs are cut dramatically. Perhaps more important is the improved comfort of living in a NZ/r home. With a well-insulated, airtight building envelope, drafts are eliminated and the home maintains consistent temperatures throughout. And by incorporating mechanical ventilation, indoor air quality is improved. Finally, occupants are buffered from exterior noises, a factor of particular benefit in dense urban areas.
********
By the numbers
164 Net Zero (NZ) homes homes labelled to date
292 Net Zero Ready (NZr) houses labelled to date
287 Detached single family homes labelled
135 Attached homes labelled (duplex, row houses)
4 with 34 total units Multi-unit residential buildings labelled
1 Renovation project labelled
8 Number of provinces where NZ/NZr houses have been built
60 Number of voting members on CHBA NZ Council
* Figures accurate as of November 2020
********
Pilot programs take off
CHBA's initial NZr pilot program focussed on new construction. Since the pilot program launched in September 2015 there have been almost 500 NZr homes labelled across the country.
This year, CHBA announced two more NZr pilot projects focussing on low-rise/part 9 multi-unit residential buildings (MURBs) and retrofitting older existing homes.
Meeting multi-unit goals
There are about four million housing units in multi-family residential buildings across the country. And multi-family buildings are the fastest growing housing types in the country according to housing starts data from Statistics Canada. Which is why this past June CHBA announced a new NZ initiative in partnership with Natural Resources Canada to create NZr Multi-Unit Residential Buildings (MURBs).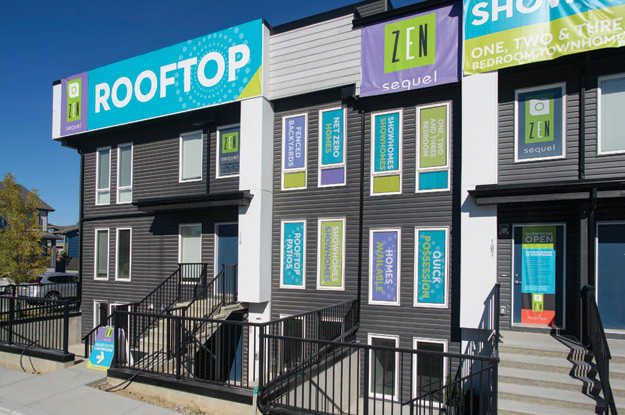 The MURB NZ pilot project consists of four broad stages: planning, building, analyzing, and sharing. The planning stage involves collaboration among builders, manufacturers, and building science experts to determine the optimal design specs and materials. Next, CHBA-member builders construct these homes. Post-construction analysis will focus on determining actual energy consumption reductions and cost-savings for homeowners.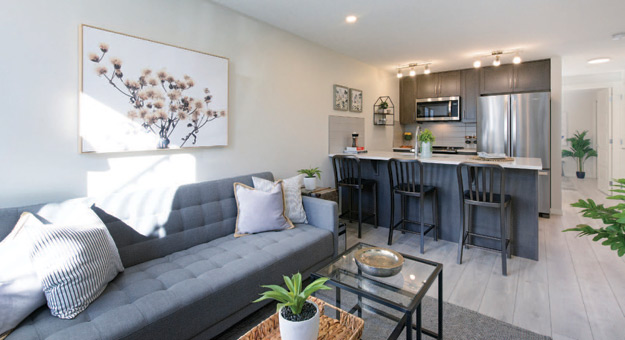 Avalon Master Builder is a second-generation family builder based in Calgary and has been specializing in constructing energy efficient housing for nearly 20 years. One of their current projects is the Zen Sequel development in the Seton neighbourhood in southeast Calgary. The project consists of eight buildings with 124 units each. One of them will be part of CHBA's Mult-Unit Residential Buildings (MURBs) Net Zero pilot program, with 8 units fully NZ and 8 NZr.
"We had to substantially alter the roofline to accommodate the solar panels but, otherwise, from the street view it will look the same as the other buildings," says Chris Williams, Vice President of Avalon Master Builder.
"A better envelope, better windows, right-sized appliances," says Williams, listing off some of the key components. "Building a Net Zero house is easy, in my opinion."
That's not to say that there aren't hurdles to overcome. "The biggest challenge with higher density Net Zero is the footprint," says Williams. In other words, while south-facing roof space is the ideal for solar panels, that's not always possible for multi-family buildings. So while there is enough roof space for the panels on all units, only half of them will, at least initially, be NZ.
The project's sales office is now open, and the builder anticipates that owners will be moving in next summer. Once this and the five other MURB projects get underway, a key aspect of this pilot project will be addressing a number of logistical questions about building NZ MURBs.
Is there one meter on the building, or submeters for each unit? Either way, how do you divvy up the energy production from a large communal solar array on the roof? "This is why we run pilots; so that we can discover these unknown details and find solutions, thereby removing barriers before more builders want to try doing this," says Winkelmann.
********
Fast facts
Company name: Avalon Master Builder
Location: Calgary, Alta.
Full-time employees: 20
Website: AvalonMasterBuilder.com
Photos courtesy Avalon Master Builder
********
Renovation for the nation
While building new single and multi-family homes to be as energy efficient as possible is important, equally as important is addressing the large number of existing, less efficient homes across Canada. About half of the country's existing housing stock was built before 1985, and they use twice as much energy as the homes built after 1985. (Many were constructed before our first National Building Code was published in 1941.) These older homes may have little to no insulation in the exterior walls or attic, unfinished, uninsulated basements, drafty windows and doors, and inefficient heating and cooling systems.
"Retrofitting older homes is what is necessary to make substantial improvements to residential sector greenhouse gas emissions," says Lee. Which is why CHBA launched a pilot of the Net Zero Home Labelling Program for renovations.
One of the key criteria to being part of this NZ reno pilot is that renovators have to be RenoMark members. This designation gives homeowners the peace of mind that their project will be undertaken by highly trained professionals with all the proper licensing and insurance in place, who will abide by a Code of Conduct designed to ensure customer satisfaction throughout the building or renovating process.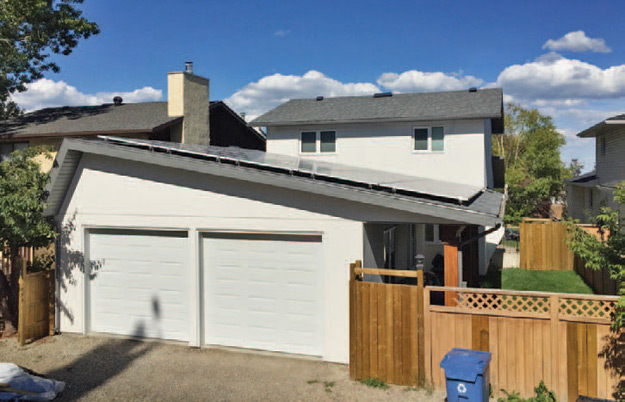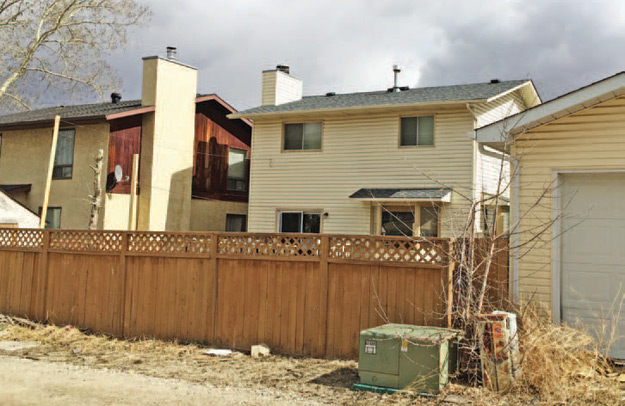 Above 3 images courtesy of Solar Homes Inc.
********
Fast facts
Company name: Solar Homes Inc.
Location: Calgary, Alta.
Website: SolarHomesInc.com
********
This summer, the first project under the pilot program was labelled. The detached home in Calgary was originally built in 1985. The project was completed by Solar Homes Inc. in Calgary. But it's not just any house: it's founder Peter Darlington's own home, one of several NZ projects he's now worked on.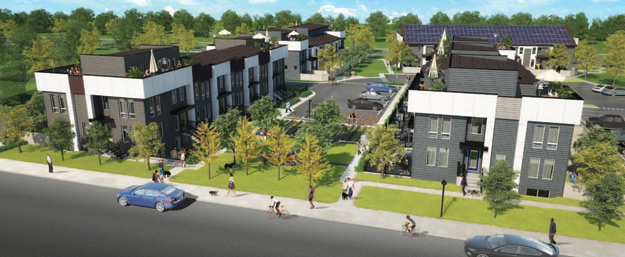 "The first thing we focus on is the building envelope. Once that's done you can size the mechanicals for the new envelope," says Darlington.
Rather than having to gut an existing home to upgrade the insulation and envelope, the least disruptive and most cost-effective approach in retrofit situations is to focus on the exterior. Darlington, who got his start in construction back in 1986 working with stucco and building envelope improvements, uses exterior insulation finishing systems (EIFS) to upgrade a home's envelope. "We use EIFS for everything," he says.
For his personal pilot project, he used 4″ of EIFS on the exterior, adding R-16 to his home, but notes that you can go up to 12″ thickness with EIFS, which would boost the insulation by R-48.
Sealing and adding insulation to the attic is another key area to focus on. "Get up into the attic to find and seal all the penetrations," he says. "For the cost of 10 cans of foam you'll get that returned for years to come." Once that's done, fill the space with blown insulation.
For the windows, he uses Alberta-based Lux Windows and Glass's triple-paned, vinyl framed products. For large south-facing windows he specifies models with low solar heat gain.
He installed a Mitsubishi Zuba heat pump for heating, a high-efficiency A.O. Smith hybrid electric heat pump hot water tank, and a Nu-Air HRV for ventilation.
To fit the number of solar panels required to become completely net zero, he built a detached two-car garage with 40 panels on the roof generating 10 kw. He also has 5 kw worth of panels on the roof of the house.
In order to accommodate the solar and new mechanical systems, he also upgraded the electrical panels to 200-amp service. In doing so, he says, it's a cheap, easy upgrade to include an electric vehicle charging plug, as he did in his own garage. "Our goal is to be net positive," says the proud owner of a Chevy Volt hybrid vehicle.
Ironically, upgrading the electrical panel to a higher amp service can be the biggest stumbling block in getting an older home to Net Zero. With overhead wires it's a relatively straightforward job. But Darlington has one client interested in going Net Zero whose local hydro company quoted him $25,000 to upgrade the underground power supply. And if there are more than a couple homes that want to upgrade in a neighbourhood, then the local transformer also needs to be upgraded.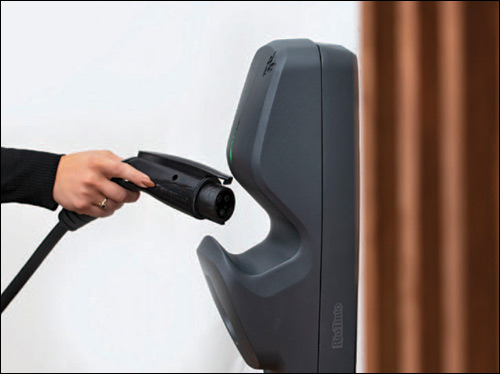 As the owner and occupant of a NZ home, Darlington knows first-hand the improvements in quality of living when an older home is upgraded. "It's absolutely more comfortable. It's an unintended side effect, but it's instantly different. There's better air quality, less outdoor noise coming in, less insect infiltration," he says. "It's like moving up from an old clunker to a new BMW."
Darlington calculates that his now BMW-worthy home generates about 14 fewer tonnes of CO2 per year than the older, clunker version did.
The other benefit is long-term cost savings. With his home producing slightly more energy than it consumes, Darlington estimates he's saving between $4,000 and $5,000 a year on energy costs.
Cost competitive
One of CHBA's main concerns with the government mandating Net Zero Energy Ready levels of performance through the building code is the impact on affordability. "Homes built to today's building codes are much more efficient than they used to be, and it is challenging to reach the next level of efficiency affordably," says Lee.
One study by B.C. Metrics estimated an average increase of $17.20 per square foot for building to NZ levels. With their long history of building energy conscious housing, Avalon has broken down the cost to bring a home to NZ status. "We can make a 2,000-sq.ft. home Net Zero for about thirty grand," says Williams."That nets out to about $13 month in extra mortgage costs for a home that's more comfortable, healthier, and cheaper to operate."
One limiting factor Winkelmann points out is that financial institutions aren't factoring in the long-term energy savings when calculating an applicant's mortgage qualification which could prohibit some would-be buyers from investing in the additional upfront costs. The total cost of ownership should be taken into consideration.
"We need to get the banks onboard," agrees Williams. That said, Avalon is working with a local mortgage broker who is factoring in about $100 a month in ongoing savings, which works out to buyers needing about $20,000 less for their down payment.
Part of the rationale behind these pilot projects is to figure out what the roadblocks are to achieving NZr – design, materials, construction methods, and financial including appraised value – to determine the optional solutions for each issue.
Eco- and cost-conscious
Creating energy efficient homes is a win-win, particularly if they are able to produce at least as much energy as they consume. Owners end up with a more comfortable, healthier, cheaper-to-operate home (though they still need to do their part to reduce their energy consumption), while builders and renovators get to do their part to help reduce Canada's GHGs.
With the CHBA Net Zero Labelling Program well established and a variety of NZr pilot projects underway, CHBA is voluntarily leading the way on how to cost-effectively implement these important changes.
---