By Herb Ellis
Looking for a new truck or van? There are plenty of features to choose from in the 2020 models. There are also a few new ones coming in the 2021s, but those will be late to market because COVID-19 forced the automakers to close down their plants this past spring and summer. Here we spotlight some of the features that will help your workday go smoothly and profitably.
Mercedes-Benz Metris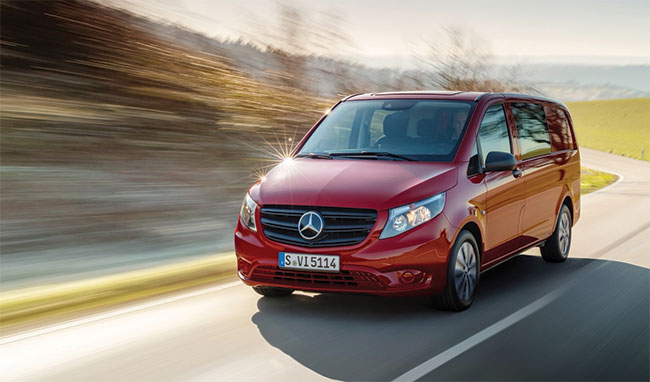 Canada's only mid-size work van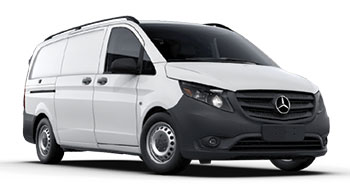 Looking for a van that tops the small van segment leader, the Ford Transit Connect? Consider the Metris.
When it comes to cargo capacity, the Metris loads 183–199 cubic feet versus 123.2– 145.8 cubic feet for the Transit Connect.
To load and unload that cargo, the Metris has available 270-degree rear doors that swing completely open giving you total access to your cargo. There's also an optional flip-up tailgate.
The cargo area has a standard wood floor covering that makes it easier to move cargo in and out than on a steel floor because there's more traction.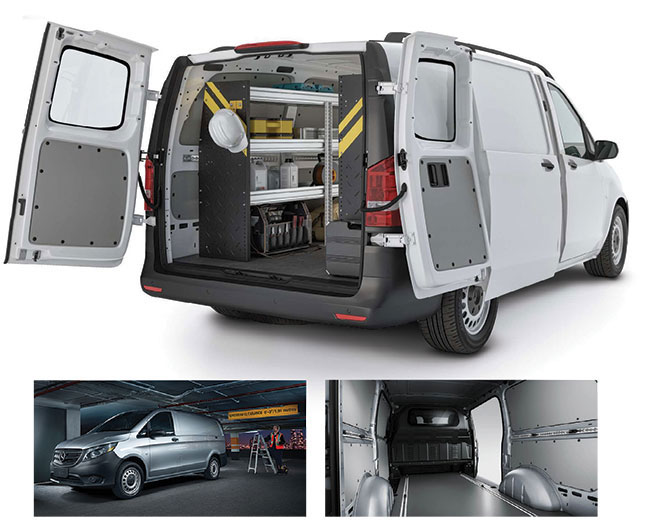 In addition to the wood floor, the Metris MY21 offers a new plastic floor covering with a number of advantages. It's easier to clean and has an increased payload because it is approximately 30 percent lighter than the wooden floor. The loading floor surface also has a waterproof covering, which is low-wear and anti-slip.
Ford Transit Connect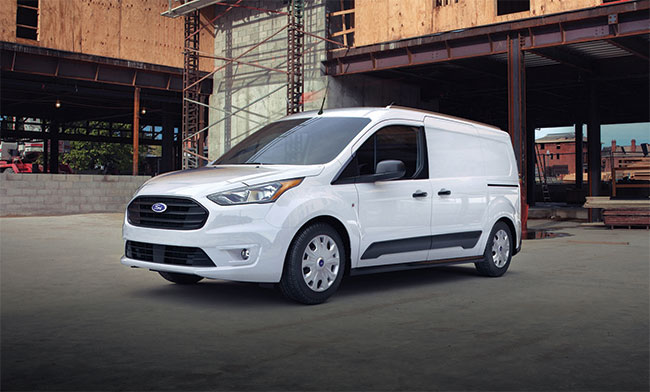 Comes equipped with a friend
Looking for a small van? Choices. Questions? Where are the answers? Why not shop at one of Ford's Commercial Van Centres (CVC) and contact a Commercial Sales Consultant (CSC) to see if Ford's Transit Connect has what you need.
CVC staff are trained to understand your needs when it comes to choosing a Transit Connect, understand the upfits that work for you, and provide financing in this difficult business environment.

When your Transit Connect needs servicing, your CSC will be your contact person who will make sure the work is done with as little downtime as possible and done right the first time, every time.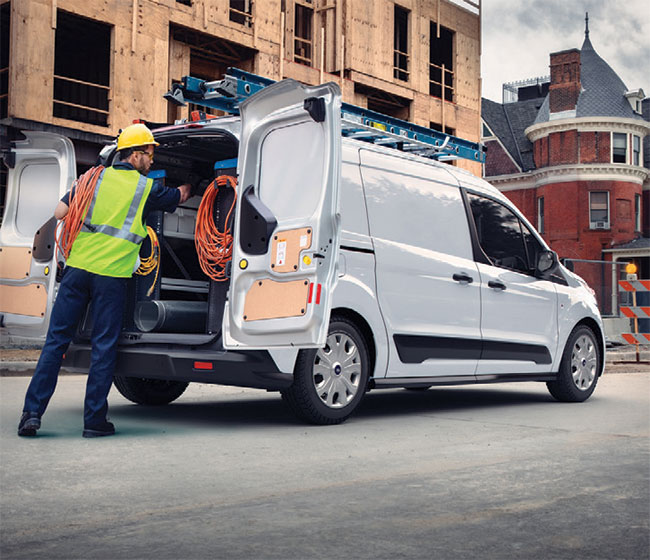 Here's how to find out if the Transit Connect is right for you. Check out the Ford Canada website and the Transit Connects. When you have an idea of what you need, contact a CVC. Have a CSC there do a live walkaround via Zoom or Facebook. Grill the CSC.
Ram ProMaster 1500 STD Roof 136 WB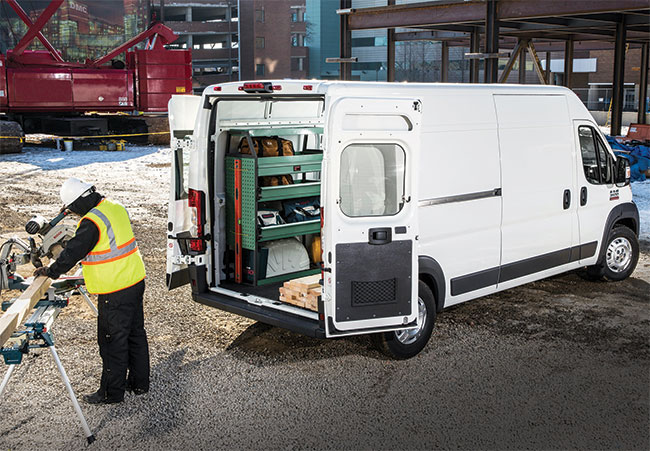 Roomy interior and value for the money
For 20 years, Vincentric has been measuring cost of ownership for trucks and vans. The Ram ProMaster 1500 Std Roof drove off with the 2020 Vincentric prize for being the most economical to run in its class – the full-size, ½ Ton Cargo league.
Best in its class when it came to lowest depreciation, fuel consumption, and financing. That's over three years at 30,000 km a year Canada-wide.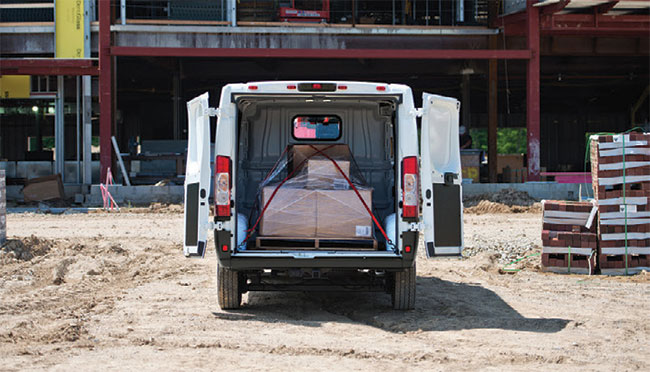 Ram boasts that if Vincentric were measuring the van's interior, they'd award the 1500 Std a best-in-class medal.
Here's why. Open the 260 degree articulating rear doors (standard). It's 56″ wide from wheel well to wheel well. The 1500 Std also has side-sliding doors to load standard-sized pallets, and a floor that's only 21″ high. The cargo height is 66.3″ and width is 75.6″.
The 2021 model comes with front-wheel drive. That reduces weight by locating all components beneath the cab. This keeps the cargo load, floor height, and step-in-height very low, which is easy on the back when you have to get in and out of the van all day.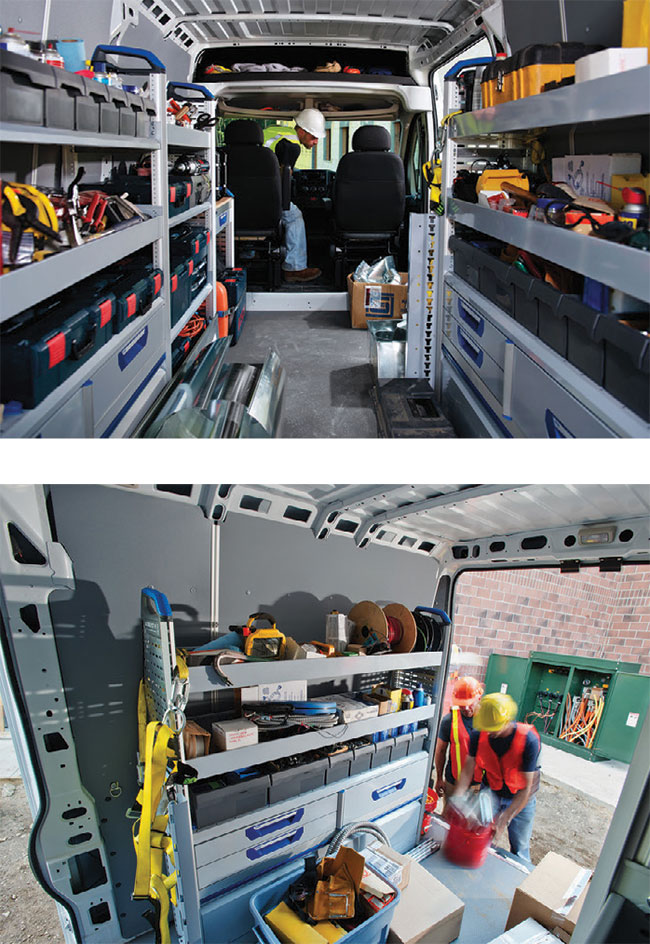 It also helps in low-traction surfaces since there is always weight on the front wheels for traction. Plus, Crosswind Assist, a standard feature, steadies the van in windy conditions.
Ford F-150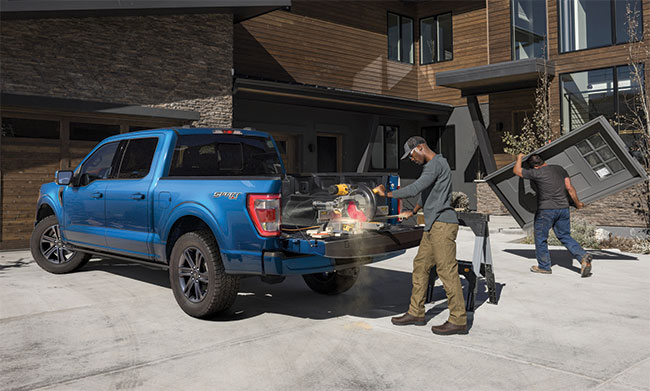 Bringing power to the jobsite
Tired of hauling a mobile generator to your construction site and fueling it separately? The Blue Oval has the answer: the Pro Power Onboard (PPO) electronic generator system. Ford says PPO turns your F-150 into a mobile generator with enough energy to run an entire jobsite's worth of tools.
The 2.0-kW system is available on F-150s equipped with a gasoline 2.7-litre engine. The 2.4-kW is standard on the 2021 F-150 hybrid, the PowerBoost, while the 7.4 kW PPO is also available as an upgrade on that model. Ford claims that the 2.4-kW system can power a variety of tools for 85 hours on a full tank, while the 7.4 kW unit has a run time of 32 hours.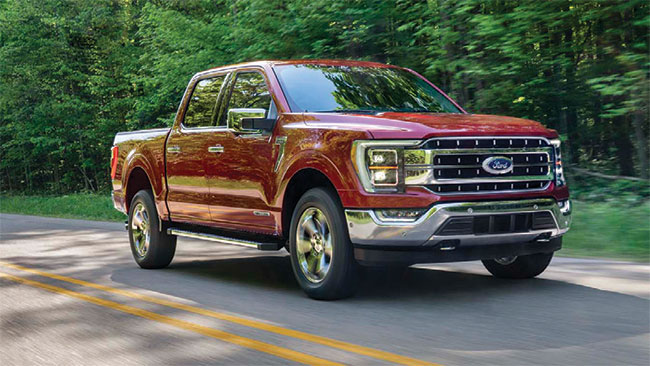 PPO sends power to outlets in the truck's cabin and in a panel in the truck's bed. It supplies mobile power to charge tool batteries between jobs. The generator system is separate from the rest of the vehicle's electrical system, for safety. It also ensures that any PPO system problems will not affect the drivability of the truck. The system can be turned on or off and monitored through the FordPass smartphone app or via the truck's infotainment system.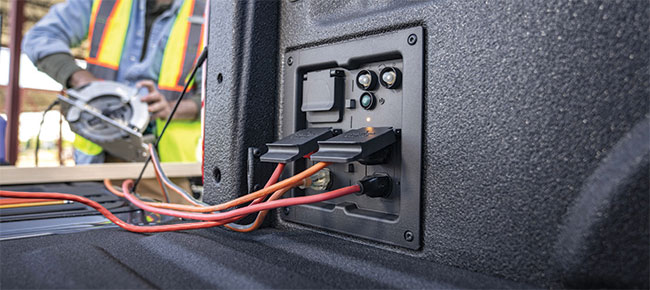 PPO automatically turns on the gasoline engine as needed to ensure consistent power flow without draining the battery. If you use too much power, the system disables itself and notifies you. On nonhybrid F-150s, the engine has to be running for PPO to work.
Ram 1500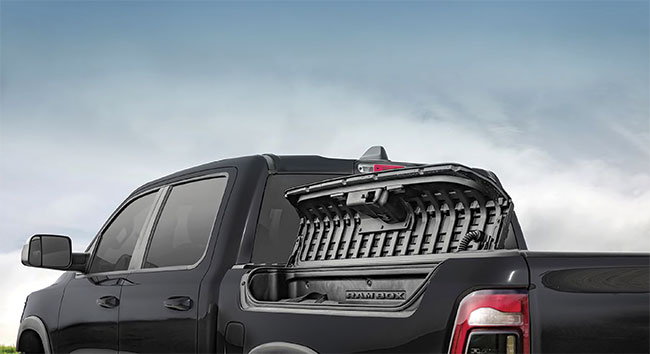 More room and security
Looking for lockable storage for your tools in your Ram 1500 pickup? Try the RamBox Cargo Management System (RBCMS). It features two lockable, weatherproof, drainable storage boxes built into the bed rails of your truck. Each box can hold up to 150 lbs.
Unlike third-party suppliers' boxes, these are built in. They don't need to be bolted onto the truck bed. The RBCMS lets you use the full length of the truck bed to haul cargo and gear.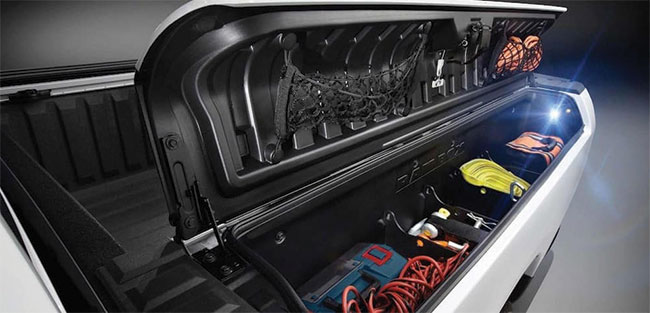 It comes with two, 115-volt, 400-watt outlets in the truck bed to power your tools and lights, and when you open a box a light automatically comes on.
Other features include an adjustable bed divider/extender that can add two feet of space to a bed for longer loads and a cargo rail system that lets you secure objects with four tie-downs, two on each bed rail.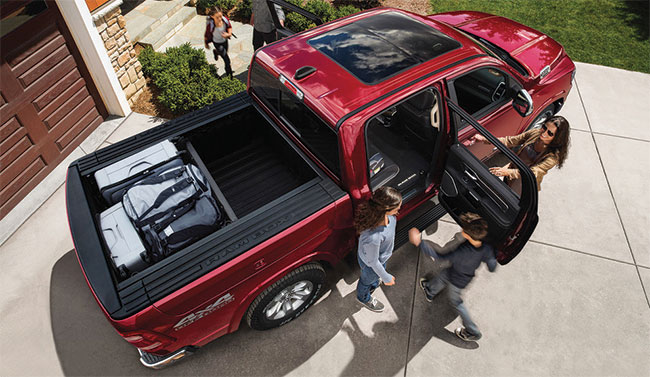 The RBCMS is available on the 1500 Regular Cab, Crew Cab, and Quad Cab.
Chevrolet Silverado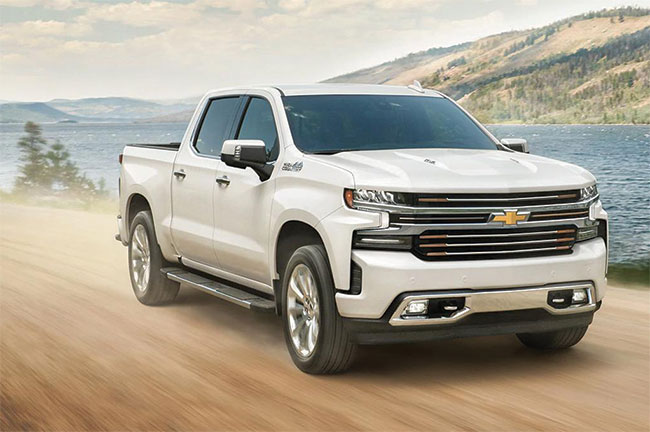 GMC Sierra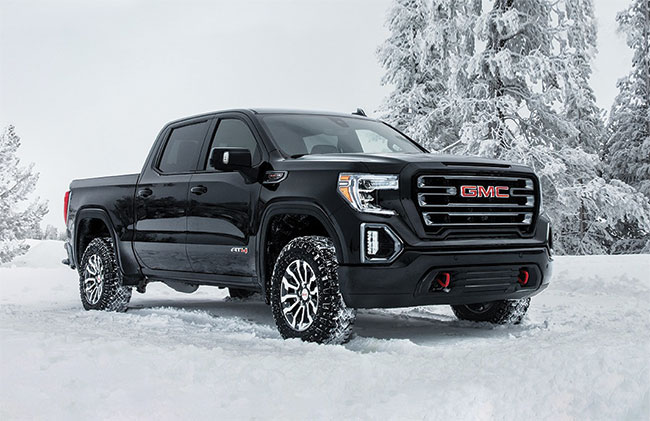 Dial up road control
Available on GM's light-duty twins, the Traction Select System provides five unique modes for motoring around on your workday. Tour, the system's default mode is for everyday driving. Selecting one mode will cancel the current one.
Use Tow/Haul to assist when pulling a trailer or heavy load. When driving on long, downhill stretches, a light touch of the brake pedal and Tow/Haul downshifts to slow the vehicle more efficiently. It also helps reduce trailer sway. And when you need to speed up, Tow/Haul makes it easier to handle the trailer.

Snow/Ice provides traction on slippery roads. This mode also lets you put your foot on the gas when needed, say on a slippery hill, without wheelspin.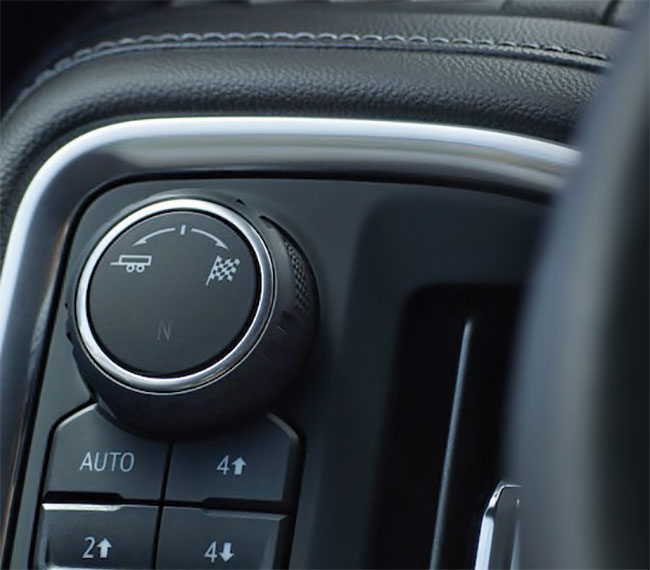 For rough roads, select Terrain and gently press the gas pedal. When you release the gas pedal, Terrain automatically applies light braking, so you don't have to toggle back from gas to brake as you make your way around rough construction sites.
Off-road is for your downtime.