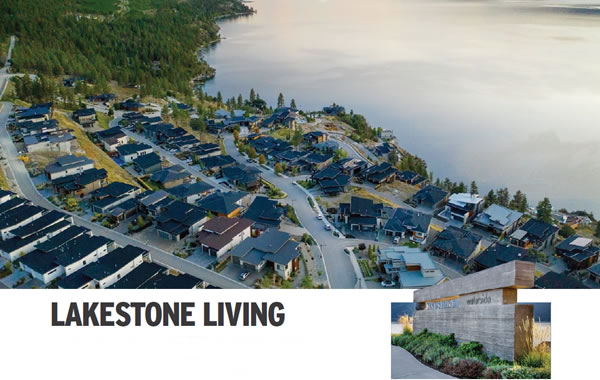 Fast facts
Company Name: Macdonald Development Corporation and its residential development arm, Macdonald Communities Ltd.
Head Office: Vancouver, B.C.
Project: Lakestone Community, District of Lake Country (Okanagan Region), B.C.
Current/Past Project Locations: Vancouver, Nanaimo, Britannia Beach, Surrey, Kelowna, B.C.; Calgary, Alberta; Phoenix, Arizona; San Diego and San Francisco, California; Atlanta, Georgia; Washington State
Full-time Employees: Approximately 30
********
On the western shores of Okanagan Lake in B.C., midway between Kelowna and Vernon, lies the growing community of Lakestone, providing a unique example of patient, purposeful urban design and development.
This master-planned community, winner of the prestigious CHBA Community Development Award for 2020, is the work of Macdonald Development Corporation and their residential development arm, Macdonald Communities Ltd.
Spread across 550 acres, it rises nearly 300 metres from the lakeshore up Beacon Hill, offering stunning western vistas across the lake and rolling hills.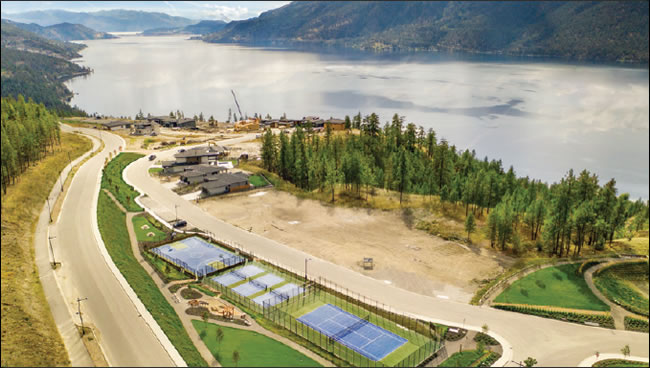 While the community provides a wide range of top-quality amenities to residents, it is nature itself – from the lakeshore to undisturbed natural spaces – that forms an integral part of what makes Lakestone such a unique place to live.
Macdonald acquired the land in 2009 and the master plan was completed in 2012, envisioning a completed community of 1,365 residences, including a mix of single-family homes, multi-family buildings, condominiums, duplexes, and townhomes.
To date, the first five of a planned 12 phases are active, with approximately 250 residences occupied. Full build-out of the project is expected to run over the next decade.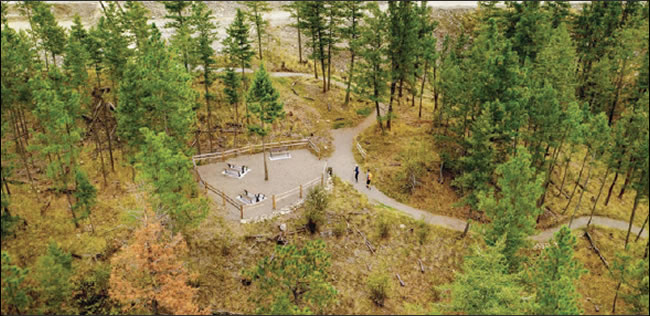 The vision
The company's vision for the project both respects the natural environment of the site and aims to make full use of this resource to create a community designed for "active living."
This vision is reflected in the multiple community amenities situated throughout Lakestone, including an extensive trail system, recreation facilities, parks, and gathering places available to all owners.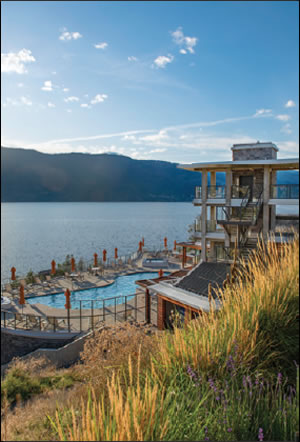 Overall, the master plan commits to leaving more than half of the land undeveloped, as parkland and conservation areas, much of it in a natural state.
But the most impressive amenity is clearly Okanagan Lake itself. Lakestone takes full advantage of this, offering sweeping lake views from many different vantage points in the community, and the impressive Lake Club recreation centre and Waterside Park at the shoreline.
A unique place to live
The overall Lakestone project is divided into three main areas, defined by varied topography and natural features. Waterside is adjacent to Okanagan Lake itself and includes premium lakeside lots for single homes. Benchlands is situated above the lake on a bench area typical to Okanagan topography, and is also comprised of single-family homes. The Highlands area rises up the side and across Beacon Hill and will include a wider array of single and multi-family residences, in a number of small neighbourhoods, at varied price-points including more affordable options.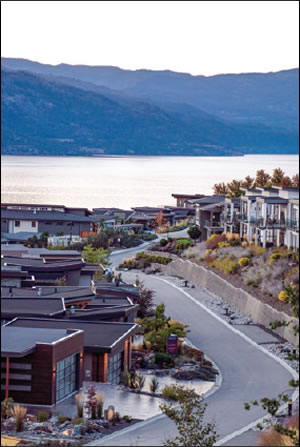 The overall Lakestone community is well connected, from top to bottom, with an extensive five-loop, 28 km trail system. Onsite amenities are complemented by nearby golf courses, wineries, and extensive regional trail networks.
Along the lakeshore, the Lake Club provides a fully equipped fitness centre including a swimming pool and hot tubs. An outdoor kitchen, BBQ, and entertainment area are located poolside, while a covered rooftop terrace offers a fireplace and casual seating. The Club provides direct access to Lakestone beach as well as kayak and paddleboard storage. The adjacent waterside park area includes a community dock.
In the Benchland area, a large park offers tennis, pickleball, and basketball courts, as well as play areas. In 2021, Lakestone's award-winning sales centre will be rechristened as the Centre Club. The Club will feature a large workout room, a purpose-built yoga/pilates studio, change rooms, day lockers, and a bookable community room for functions and meetings. An outdoor pool and hot tubs are also planned for the club.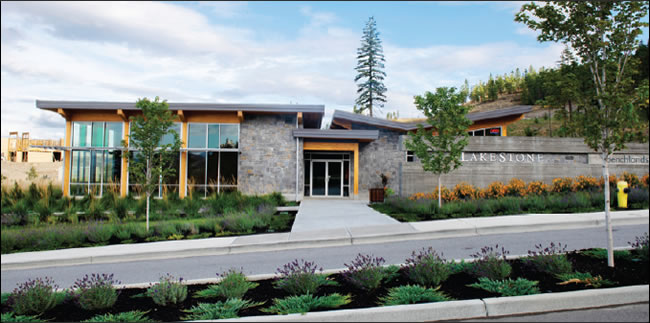 Ensuring cohesiveness
As the land developer, Macdonald has teamed up with four CHBA member-builders through their "Preferred Builder" program. When a consumer purchases a lot in Lakestone, they agree to begin construction of their home within 24 months.
Lot purchase comes with a range of Restrictions on Title to ensure the community grows in accordance with the master plan and community vision. This includes architectural guidelines addressing the form and character of homes, and subjects all proposed home designs to review and approval by the developer.
Other restrictions include a ban on short-term Airbnb-type rental arrangements, on-lot storage of boats and recreation vehicles, as well as lot alterations that are inconsistent with the overall community design and ambiance.
To date, the Waterside and Benchlands areas are essentially sold out, and development of the initial neighbourhoods in the Highlands area is underway.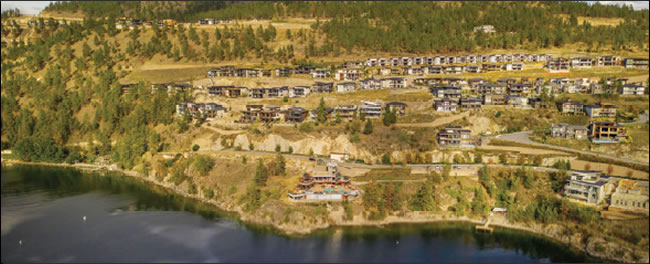 2020, a record year
As was the case for all residential development businesses earlier in the year, uncertainty around the impacts of the COVID-19 pandemic was a concern at Lakestone. However, Marc Leger, Lakestone's Director of Community Relations, reports that 2020 has turned out to be a "record year for the community" with brisk sales. "There seems to be increased demand for the type of natural, open environment that Lakestone offers," he says.
Leger commented that, with the high level of lot sales already booked, and the two-year construction requirement placed on buyers, 2021 "is going to be a very busy year around here" as more and more homes will be under construction.
Leger also says that in developing future phases of the project in the Highlands area, the company will be playing close attention to matching product type to demand. "Highland will include a wider range of housing options, including multi-family, condos, and townhomes, with the mix adjusted to reflect market conditions," he says.
When asked what impacts winning the CHBA Community Development Award this year have had, Leger says that in addition to generating a lot of interest in the project, the award "has helped affirm the uniqueness of this development, and what a special place Lakestone is."
---