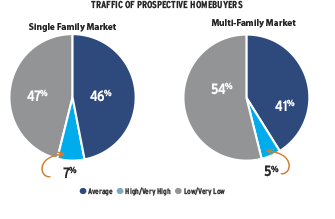 By Natasha Rombough, Director of Marketing and Communications, CHBA
After a strong start to the year, multiple rate hikes to curb inflation have resulted in fewer people buying new homes, leading to a sharp drop in builder confidence in both the single- and multi-family markets. Because the HMI shows a strong correlation to the housing starts numbers that we will see in six months, we can expect a severe dip in starts next year, especially if the rate hikes continue. CHBA is engaging with the federal government and the Bank of Canada accordingly, as this is not only an economic issue for the sector and therefore the entire economy, but it also runs counter to the government-stated need to double Canada's housing starts.
"CHBA's Housing Market Index (HMI) provides a leading indicator of the current and future health of the residential construction industry in Canada.
Insight coming from the HMI informs the government, media and consumers about trends and issues in the residential construction industry, and is another tool to further CHBA's government advocacy."

Traffic of prospective homebuyers down
Sales have been slowing for both single- and multi-family markets, with much of the country expecting future conditions to be worse than they are now, and traffic to be lower. Ontario has been especially hard hit, with more than half of builders rating current conditions as poor in the single-family market. The Atlantic Region had the most positive numbers for current conditions.

Housing starts poised to fall
Coming out of a very strong 2021, at the beginning of 2022 80 per cent of builders thought their company would have as many starts this year as it did in 2021. But after multiple interest rate hikes, by Q3 only 45 per cent of builders were still thinking that. Higher interest rates have been slowing home sales, and construction cost volatility continues to be a factor.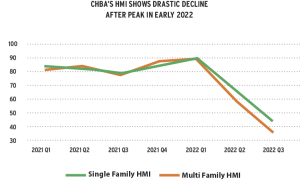 Since starting seven quarters ago, CHBA's HMI data has accurately shown a corresponding trend in housing starts six months into the future. If the current interest rate environment doesn't change – or worsens – and the trend stays true, we will see a substantial drop in housing starts in the coming quarters.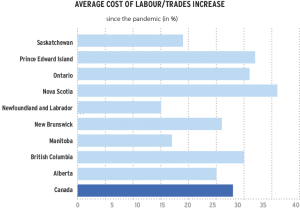 Construction costs, labour and delays still a challenge
While the increases are not as drastic as they were early on in the pandemic, builders indicated that their construction costs for lumber and other materials continued to increase this past quarter. National average construction costs (including lumber, which accounts for about half of the increase) for a 2,400-sq.-ft. home are up more than $80,000, compared to prior to the pandemic. Other than lumber, appliances continue to be the most impacted product, followed by windows. On average, supply chain issues have resulted in almost 11 weeks in delays in home completions for builders across Canada in Q3, up from 10 weeks in the first and second quarters. The cost of labour continues to rise, now up 28 per cent according to respondents, with slightly more than two-thirds saying access to trades is difficult and also causing construction delays.