By John Prittie
Two Men and a Truck Canada
Being "movers who care" took on a deeper meaning earlier this year with the onset of COVID-19. Governments deemed moving companies an essential service, and because we are dedicated to doing the responsible thing for our customers, we adapted quickly when COVID-19 took hold in the spring of 2020.
From a corporate perspective, the pandemic posed business challenges, mostly with HR-related issues. Concerned for their health and that of their loved ones, several staff members initially opted for a leave of absence while taking advantage of the government's CERB program. Recruiting and hiring became easier, as we implemented operational changes to protect everyone involved, and promised a 10-per-cent increase in earnings paid as a bonus for those who chose to carry on this vital work.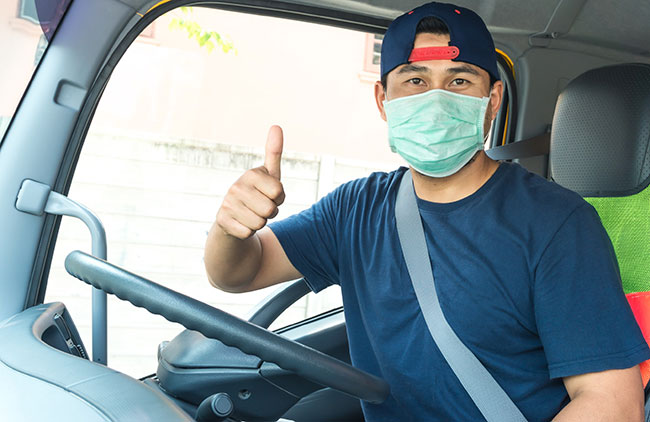 Positive experience
With safety in mind, before any move takes place, prospective residential or business customers are provided with virtual estimates rather than on site visits. We introduced an online chat technology to allow customers to communicate with us who did not wish to speak with a "live" body over the phone. People can easily self-book moves online, enjoy paperless transactions and still experience a positive, excellent moving experience from planning through to execution.
Understanding that cleanliness has a huge impact on preventing the virus, we outsourced to a third party for sanitization to be completed on our trucks, equipment and offices. All our staff is provided with masks, gloves and hand sanitizers, and are required to wear masks in our vehicles and in our offices as well of course in the customer's residence or place of business. Additionally, only two people are allowed in our trucks (movers work in teams of two) at one time, and our offices are closed to walk-in traffic. Anyone purchasing boxes and moving supplies can arrange for curbside pick-up or contactless home delivery ahead of time.
Customers who have booked moves are contacted by phone a day prior to ensure that our staff find safe working conditions when they arrive. Families are asked to have only one or two people in their home on moving day, and to have extra soap and paper towels available for our movers and drivers so they can wash their hands with frequency. Enhanced safety includes staggering the arrival and departure times of movers and drivers to avoid too many staff in our offices at any one time.
We also made sure on our website, advising the public we are open for business throughout the pandemic, as well as outlining the precautions we are taking. We knew it was critical individuals and businesses could relocate without any added stress.
Well-being of communities
Given our focus on the well-being of the communities we serve, we proactively reached out to the Prime Minister's Office and all the premiers across Canada volunteering to pick up and deliver medical equipment and supplies to hospitals and long-term care facilities.
Another motto we follow is the "Grandma Rule," which means we interact with customers and take care of their possessions as though we're doing a move for our grandmother.
That means doing everything possible to prevent our grandparents – and everyone else – from coming into contact with COVID-19.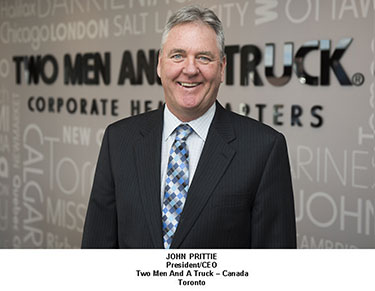 John Prittie is President and CEO of Two Men and a Truck Canada twomen.ca