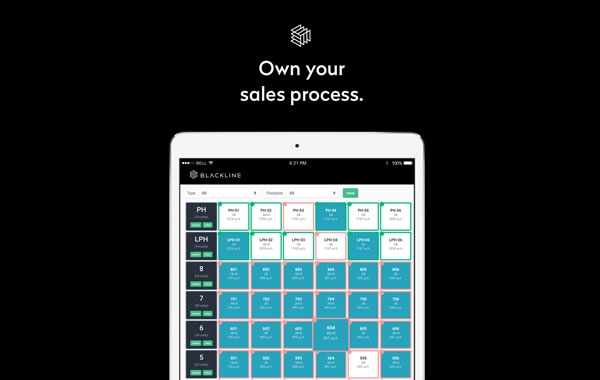 Sponsored Content
Do you remember when Netflix first launched? Rental DVDs delivered by snail mail. Nearly a decade later, they switched to a streaming model and today, with more than 300 streaming services in the market, Netflix remains on top, serving more than 200 million customers and generating billions of dollars in revenue each year. They disrupted the industry and forever changed the way we consume content and spend our free time, and they did so by evolving to remain relevant, because as any good developer knows, there's always room to get better. And so it goes with another industry disruptor, the platform that revolutionized real estate sales – Blackline is back and better than ever for 2021.
What is Blackline?
A quick reminder about the unrivaled sales solution that has been powering projects through this unprecedented period, when physical sales centres have had to close their doors…
Blackline is the complete, all-in-one solution that empowers every link in the real estate sales chain. From initial presentations, to unit allocation, analytics, and even closing the sale, Blackline does it all.
The platform consolidates all project information into one cloud-based location, accessed through a simple URL. Agents can share key information and present to their clients, even from afar, granting prospective purchasers access to view relevant project materials, such as 3D building models and brochures, pricing, amenities, virtual tours and the complete rendering package – all online. Smart search options include advanced filters to find the closest schools and grocery stores. Floorplans can be viewed side-by-side for easy comparison. The result is educated buyers with a deeper understanding of a potential new home.
Behind the scenes, Blackline makes it possible for brokers, agents and developers to tailor the sales program and maximize results in real time. The platform generates unique profiles that allow an in-depth analysis of user activity, tracking details like click patterns, devices used, even number of units sold. Sales teams can allocate specific units to specific agents at any time, effectively managing access for VIP phases and events. Agents can electronically complete and submit worksheets, with instant distribution, even finalizing contracts remotely.
What's new for 2021?
Blackline was already a powerful sales and marketing tool, so you might be wondering, how can it get better?
Well for 2021, Blackline has received a major overhaul. As with the progression of the iPhone, the evolution of Blackline introduces advances in technology and user experience, making it the simplest, most powerful and most user-friendly platform on the market.
Taking learnings from every project launched since Blackline debuted in 2019, the development team has revamped the interface, creating a more intuitive experience that offers easier access to key information with fewer clicks. There is better activity tracking, more streamlined organization of documents, and a new, simplified process for APS (Agreement of Purchase and Sale) and amendments. The interaction is simpler than ever before, while still delivering the powerful metrics and key analytics that help drive sales and project success. It's the industry's most intuitive, most user-friendly technology, designed to take you from launch, to suite reservation, to fully-executed contract… all in the palm of your hand. The future has arrived.
Experience the all-new Blackline, powering today's most successful projects. Book a demo at blacklineapp.com.
---