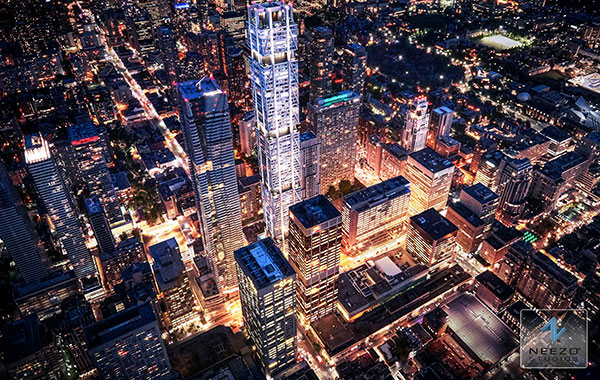 Sponsored Content
When someone refers to animations, the connotation of cartoons immediately comes to mind.
However, when architectural visualization company NEEZO Studios uses the term animation, it refers to preparing a series of 3D renderings, collectively sequenced to create a story, where one didn't previously exist. In essence, it is visual storytelling.
The resale real estate community is fortunate in that it is selling a product that already exists, through means such as a video tour of an existing house and perhaps some footage of the surrounding neighbourhood amenities. With these readily available materials, your resale real estate marketing is done.
When you are building on undeveloped land where the city meets the country, or you have acquired an old parking lot where your highrise project will soon rise, a 3D animation is exactly what you need to bring your vision to the forefront. It is a visual medium that shows buyers and investors what's to come.
Things to keep in mind when requesting a 3D animation (hint… it always starts with a 3D rendering)
The 3D animation version of your project's story happens after the static 3D renderings have been created. It may seem obvious… but it's a question that NEEZO Studios gets asked often. Such renderings can take four to six weeks to complete (including the customary two rounds of client edits), so best to keep that in mind when you are building out your work-back schedule.
On a side note, during the process of creating the 3D spaces, NEEZO Studios will storyboard your 3D animation, so viewers understand the vision you have for the development.
Videos without renderings or animations do exist. They are referred to as "lifestyle real estate videos" and showcase live action footage of the community and the lifestyle in the area.
Things to consider featuring in your 3D animation:
If selling a new condo, request 3D renderings of:
An aerial view of the condo (that shows the full scope of the building and surrounding area)
An exterior of the main entrance
The lobby
Key amenities (pool, gym, party room)
A model suite (kitchen/living/dining also known as KLD)
A principal bedroom and its adjoining bathroom
Future phase(s) of the initial/surrounding rendering (if applicable)
A hero shot designed to highlight your project's grandeur or silhouette
A streetscape rendering highlighting lifestyle or demographics
If selling a new lowrise community, request 3D renderings of:
An aerial view of the community
A streetscape view of one street
A site plan which shows the lots for sale
A desired model's key rooms. If the main floor is an open concept, you can economize your rendering by featuring three rooms in one rendering – such as "kitchen/living/dining" (KLD).
A principal bedroom and its adjoining bathroom
If your budget permits, add more rooms (such as office or great room)
Future phase(s) of the initial/surrounding rendering (if applicable)
POV (point of view)
It's important to consider the point of view you want to feature in your renderings and animation. If your project is a condo, it may seem obvious to want to show the main entrance. However, pivoting to the left or right, may tell more of a story… perhaps the condo has an interesting carport, landscape or sits on a corner lot. The same applies to lowrise streetscape. One side of a street may have an attractive storm water pond feature and the other side of the street may not have much to look at.
Time of day
The time of day will determine the look and feel of your 3D renderings and animation. It will also help establish a specific mood.
Condos and highrises lend themselves well to nighttime renders where the bright lights of the city shine and accentuate life after work as well as an artistic contrast between light and dark.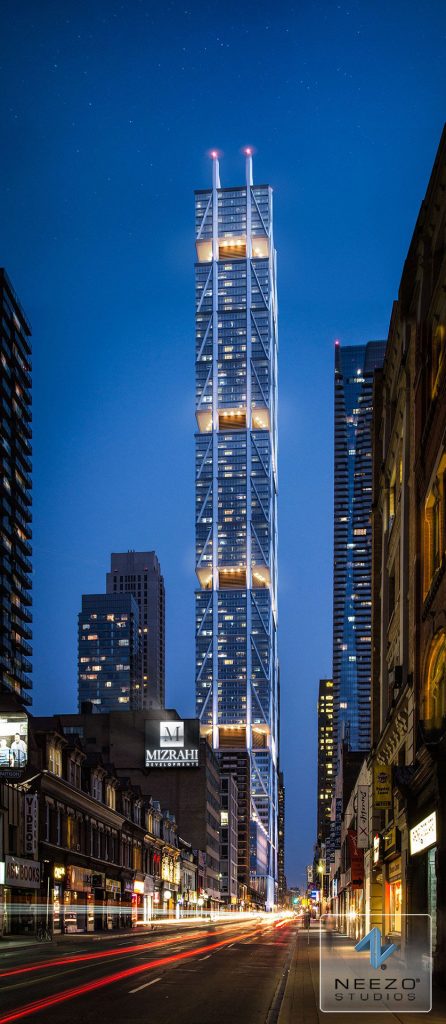 If you are selling homes where the city meets the country, maybe an early morning or late afternoon render would fit the bill. You could feature sun-filled days, gorgeous sunsets and lots of beautifully landscaped gardens. Remember, you are selling the dream, someone's forever home.
To custom-model the furniture or not…
If you are working with an interior designer, quite often they have a design style that they would like to see replicated in the 3D renderings. This helps to keep the 3D renderings as authentic as possible, until the buyers are able to walk into the actual model suite and see the rendering brought to life.
If you don't have an interior designer, NEEZO Studios will select furnishings and features, based on its extensive design knowledge and current design trends. However, it would be helpful to know who the ideal target market is for the unit. A rendering would be decorated differently for a student vs an empty nester. All these details really go a long way to tell your project's story.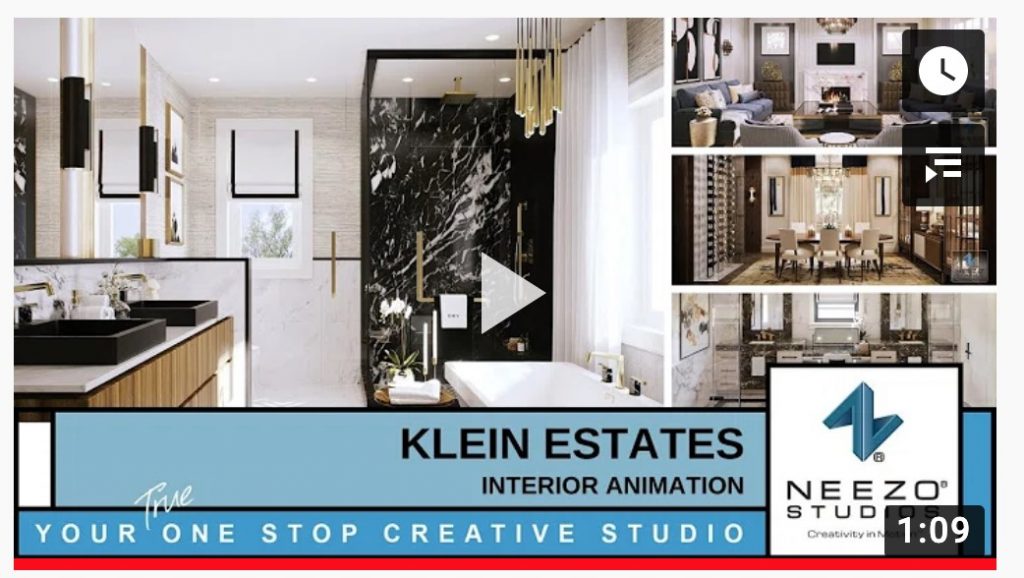 Seasonality
It's important to take into consideration the type of community you're selling. If you are promoting a lakeside community or offer resort-style living, you will want to show your rendering in more than one season, so that buyers can envision a year-round playground. That way, no matter when buyers/investors learn about your project, the 3D imagery will correlate with the time of year you are selling in. It is a bit of a subliminal sell prospective buyers won't relate well to a green grass scene in December. They would rather be inspired by the beauty of winter and holidays with family. To cover all of your bases, you could commission a second and possibly a third rendering that showcases the seasons: Snow falling, autumn leaves and of course summer gardens. It all adds to being able to sell your product year-round.
A streetscape rendering illustrated throughout the seasons is key if you anticipate more than a year to sell-out.
Storytelling flourishes
Think about the visual and audio effects you would like to hear and see.
You may want to hear:
A running bath
Birds chirping
Sports cars zipping by
The hustle and bustle of nightlife
Style of music: Fast-paced, peaceful, acoustic or electronic
Do you require narration? If so, male or female, young or more mature? What kind of voice?
You might want to see:
Special effects
The target market depicted that will eventually enjoy the community
Motion graphics that complement or echo the rest of the project's branding
Community features that accentuate the desire/cool factor of wanting to live in that neighbourhood
Future phases
Sometimes buyers are visual learners. You might verbally convey that a Phase 2 is coming, but if they don't see it in front of them, they may not understand. Consider illustrating future phases within your existing community with a beautiful glow or subtle delineation.
The finished product
How will the renderings and animation be used?
If you plan to showcase the renderings on the exterior of your presentation centre or on a very large billboard, NEEZO Studios will need to know the measurements and resolution that your printing house requires. That's the sort of information needed at the start of a project, so that the renderings are produced at an appropriate size.
Similarly, let NEEZO know which formats you will want your animation in.
The below Animation was created by NEEZO Studios for "The Westgate Residences." The project is right next to a landmark football field, so the story played off of the popular sports stadium. The video starts with vintage football footage that speaks to the heritage of the site. The building's interior design colour palette echoed the team's colours. This animation also won the Grand Aurora award.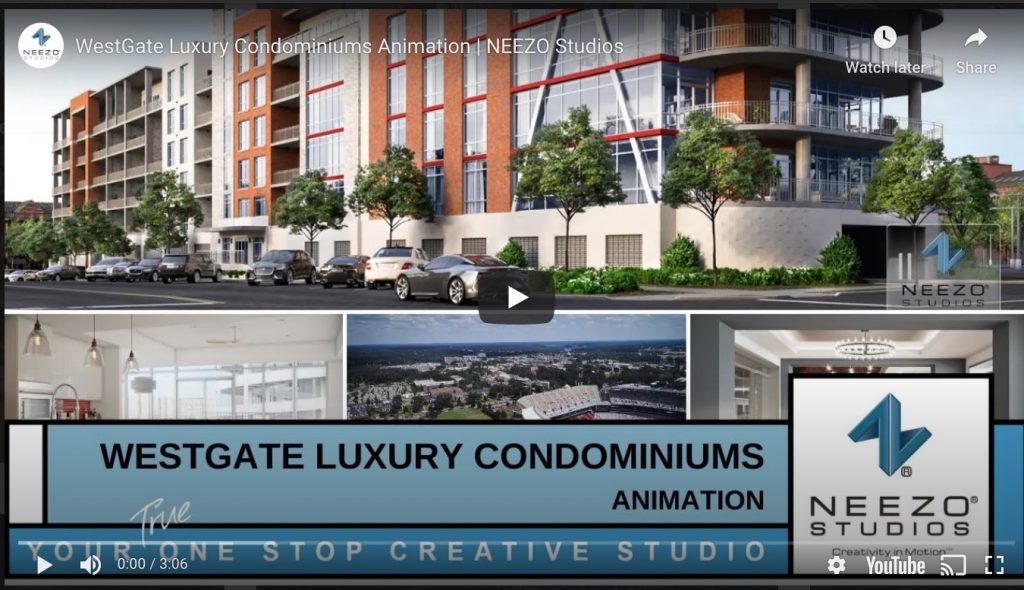 All of these tricks of the trade seem obvious now that they've been pointed out. However, you would be surprised at how many times, this topic comes up. When NEEZO Studios starts working with a new client, on day one, they get questions such as "How many renderings do I need," "What should I feature?" or "When can we start the video? – I need that first." (That's only possible if the video omits static 3D renderings).
There's a lot that goes on behind the scenes of creating an animation. Think about conveying your project's vision and from that point, let the magic begin.
Hopefully this step-by-step process helps you hone in on the renderings and animation process for your next project.
For further information regarding this process in relation to your upcoming project, contact NEEZO Studios.
NEEZO Studios
neezostudios.com
Phone 1.855.33.NEEZO (63396)
Email info@NEEZOstudios.com