*** Fast Facts ***
Company Name: Concert Properties
Head Office: Vancouver, B.C.
Full-time Employees: Approximately 550 (half in Concert Real Estate Corporation and half in Tapestry Seniors Communities)
***
For Brian McCauley, it all started with architecture. He grew up in British Columbia and was working as a registered architect in the late 1980s when Concert Properties was one of his clients. In 1994, the company brought him on as their first development manager. Now the President and CEO, McCauley still enjoys what he does.
"I love it," he says when asked about his role with Concert Properties via web call from Vancouver. "Every day is a different day. That's the one thing that is unique about our business; there are no two projects alike and no two days that are alike."
Concert Properties is a private real estate development company. Today, they're active in five lines of business across multiple provinces in Canada, including: building for-sale condominium buildings; building, owning, and managing for-rent residential apartments and seniors' lifestyle communities; developing, acquiring, and managing commercial properties; and investing in, developing, and managing public infrastructure projects in Canada, through its separate company Concert Infrastructure Fund.
But the company started on a much smaller scale as a purpose-built residential builder in B.C. They moved into the condominium business in the early 1990s, then diversified into commercial real estate later that decade. McCauley was taking on a variety of responsibilities by this point, and moved to Toronto in 2001 to set up Concert's Toronto office.
"We were – and probably still are – the largest purpose-built rental builder in the city," McCauley says. Concert's Toronto interests also include over four million feet of industrial property and for-sale condominiums. But at the core, the company is an urban, high-density high-rise builder.
Rental vs. For-Sale high-rises
Those high-rises are either purpose-built rental or for-sale condominiums. But while the buildings may be similar, the financial aspects are not. "When you build a rental residential apartment building it takes quite a bit more capital and your capital has to stay in for a much longer time," McCauley explains. The company's ability to do as much purpose-built rental as they do is in part due to their focus on their founding values and long-term vision.
But otherwise, Concert's approach to designing purpose-built rental homes takes the same level of consideration as condominiums. "We look at our target market and we assess what their needs are," says McCauley. "We stand behind the quality of our homes; in fact, the quality of our amenities and materials in our rental residential properties is at the same level as in our condominium buildings."
One thing is clear: having such a diverse portfolio has certainly not affected Concert's ability to design and build remarkable residential high-rises – comprising part of the 12,000 homes (both rental and for sale), that they've built across Canada over the past 30 plus years.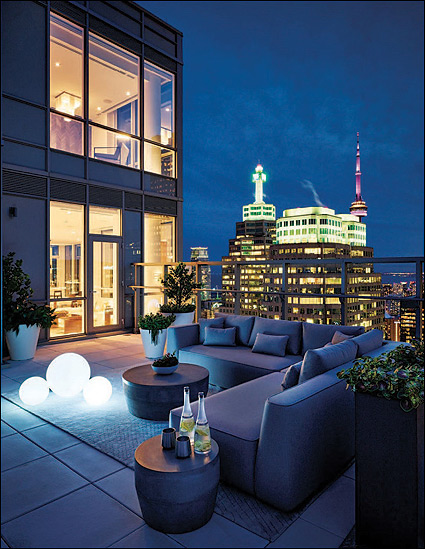 Award-winning work
Concert's "88 Scott" won the award for Mid- to High-Rise Condo or Apartment Project in last year's CHBA National Awards for Housing Excellence. It's a truly mixed-use building with 523 condominium units, 60,000 square feet of office space, and just under 10,000 square feet of retail space. Located at the intersection of Toronto's financial district and charming St. Lawrence neighbourhood, Concert ensured that the new building integrated seamlessly into the existing neighbourhood, a testament to McCauley's love of architecture.
"The building is quite contextual," he says. "It was an older office building in the 1950s, then added onto with a separate addition…. We preserved the 1950s façade because it was part of the neighbourhood's heritage urban fabric." Concert did that by removing all the stone cladding off the original office building and storing it until it was ready to be put back on.
It was a project nearly ten years in the making, and not without its changes along the way. McCauley speaks proudly of Concert's ability to work with the city through the design process. "We have a really strong approach in working with city officials and the community," he says. And when the ward counselor called up McCauley to say that the tower of 88 Scott would cast a modest shadow over the open space in a nearby church? "We moved the entire tower six metres to the south to eliminate the shadow."
Effects of the pandemic
Residential construction remained an essential service in most of Canada, including in the areas where Concert operates. Like many in the industry, the company implemented additional health and safety measures on jobsites, but has been able to continue construction.
McCauley says one of the hurdles has been the halt on immigration into Canada, which has impacted the demand for urban condominium housing – especially in Vancouver and Toronto where new Canadians often land. But he remains optimistic. "Once we have vaccinations, demand will be back."
The pandemic has stirred much conversation about what Canadians need in their homes and where they want to live. McCauley acknowledges that the ability to work from home has resulted in many people leaving urban housing in favour of single-family homes further away from the city core, but he questions if those people will make the commute if they do have to return to work, flagging the impact those lengthy commutes will have not only on the individual's time, but also on the environment.
"I fundamentally believe there is a continuous desire for people to live, work, and shop within close proximity to one another," says McCauley. "It doesn't have to be a 58-storey high-rise like 88 Scott, but in a denser urban environment where you can walk." He brings up the concept of a 15-minute neighbourhood where everything you need is within a short walk, and he thinks we'll see more and more opportunities for urban densification and high-rise development.
And as for design? He wonders if housing will now try to accommodate places to work at home, but notes that affordability is a major factor in delivering more space. "The affordability in major centres in Canada has been achieved primarily in the reduction in unit size over the last couple decades," McCauley explains. And while people are now living, working, and studying from home, some of these smaller spaces are not adequately meeting the needs of residents. But being able to afford more space is not an option for many. "It's an interesting challenge and one that has yet to be fully fleshed out."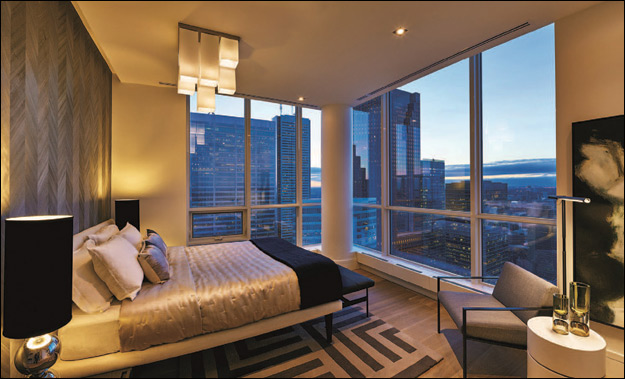 Future plans
In addition to their other interests, Concert continues to plan and deliver master-planned communities across Canada (as it has since delivering their first master-plan community some twenty-five years ago), with 9,000 homes in their planning pipeline. They strategically acquired large pieces of underutilized land – like an old Canadian Tire property – near major transit hubs, and took them through rezoning processes that would allow for dense mixed-usage, including residential high-rises and retail. The transit-oriented, mixed-use urban communities will go through several phases of development over the years.
How many years, exactly? From start to finish, development on this scale can take over a decade to deliver the first housing unit. And those timelines aren't getting any shorter.
Rezoning alone can easily take two to three years. "These projects are becoming more complicated and more complex, and take far longer to get approvals," says McCauley. "Which is shocking when we have such a huge housing supply shortage, particularly in Toronto and Vancouver."
He acknowledges that the complexity of these projects often stems from the complexity of the site. Most high-rise projects are not being built on a greenfield; they're second- or third-generation rebuilds on existing sites that have their own challenges, like brownfield sites with contamination or in a dense urban area. "Part of the challenge is to figure out what do you do with a site that's been formerly occupied and used for something else." With ten mixed-use, master-plan communities built, under construction, or in development across Canada, Concert well understands the challenges and benefits of this approach to building homes.
Concert's goal is for one third of the homes in their mixed-use developments to be purpose-built rental. "We're working very effectively with local authorities, provincial governments, and CMHC to do everything we can to deliver some affordability," says McCauley. Examples include a two-tower phase underway in Etobicoke, Ont., that will have 70 affordable (below market) homes, and in metro Vancouver, a 308-unit rental building with a plan to deliver 100 affordable units in a unique partnership with the City of Coquitlam, BC Housing, a non-profit group, and CHMC.
It's clear that this aspect of the business is important to Concert, and to McCauley. "We're doing everything we can do to try to contribute to developing some housing affordability across the projects that we're working on."
That focus on delivering a range of housing adds complexity, but McCauley doesn't bring that up. It seems to just be part of what they do at Concert: building the homes and spaces that Canadians need.
Coming CHBA Events
MAY 3-7, 2021 – 2021 Home Building Week in Canada
MAY 7, 2021 – Virtual Award Ceremony – CHBA National Awards for Housing Excellence
ONGOING MEMBER WEBINARS – CHBA.ca/webinars
---