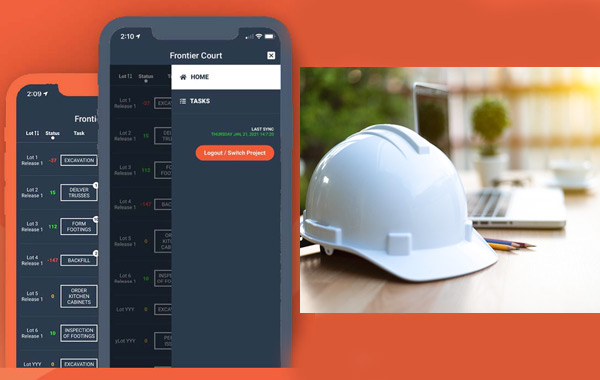 SPONSORED CONTENT
Managing all the moving pieces of a new home subdivision can be downright stressful and overwhelming. Kudos to all the site supers out there. Construction management software does exist, but it's often cumbersome and unintuitive, especially when it comes to accessing vital information for both supers and stakeholders, and doesn't always perform well on a phone.
This is where Giraff App rises way above. It's a new, streamlined construction management app designed specifically for builders, to save them time and money. The idea came from Craig Marshall of Marshall Homes. "Every builder faces the same challenges," he says. "We're all trying to be as efficient as possible in order to maintain profitability and more importantly, deliver a quality home to our customers without delays or cost overruns. We wanted to create an experience that empowered site supers and executives. Something that was fast and easy to navigate in order to increase productivity and reduce mistakes."
Quick and easy access
The development of the software was undertaken by Tami Kenwell of Madhouse Advertising, who is also a partner in the company. With Marshall's builder insight and experience, Kenwell's team spent countless hours fine-tuning the app's functionality to achieve a "one click, two max" standard for accessing important project data.
The home screen of the app is a simple, colour-coded dashboard that's designed to give site supers or senior management all the information they need to quickly identify problems before they happen. The dashboard uses instinctive green, yellow and red colours to visually capture the site status from one screen. The user can sort a project by lot or closing order, view current tasks, manage start and finish dates, and easily track closing dates, deficiencies, extras and change orders, cutting down on clerical work so they can focus on building and makes change orders almost impossible to miss. Everything ties into accounting to create a simple, streamlined experience. "The app's already being used in the GTA by notable builders like Kylemore and Eden Oak and across all of our sites with more users on the way," says Marshall. "Our goal was to put a powerful tool in the hands of supers that makes their lives a lot easier and I believe we achieved that and more."
For a free 30-day trial, visit giraffapp.com, or to schedule a demo, contact Tami Kenwell at 416.704.3343 or tami@giraffapp.com.

---