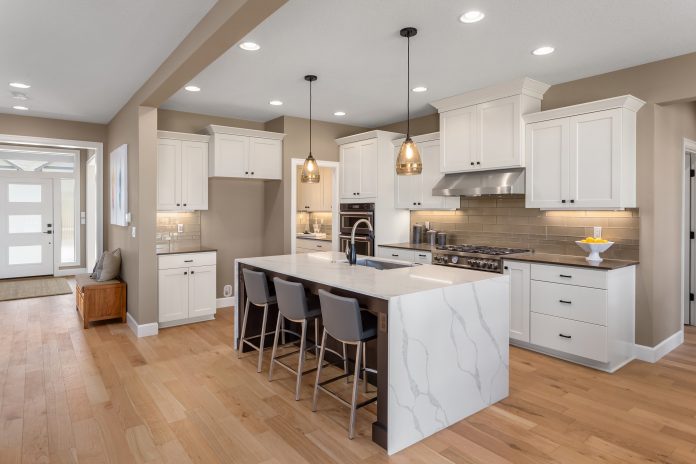 By Allan Britnell
Kitchen aids
Smart dishwashers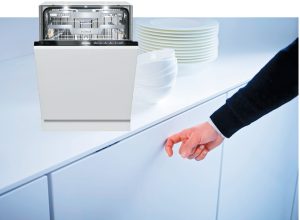 Miele's Knock2open dishwashers combine a seamless look with a sanitary, non-marking solution. Tap on the integrated door front and it opens. Add in the latest generation G 7000 AutoDos PowerDisk that automatically dispenses detergent and the WiFiConn@ct app to remotely start and monitor the wash cycle, and you've got yourself one smart appliance.
Hands-free fixtures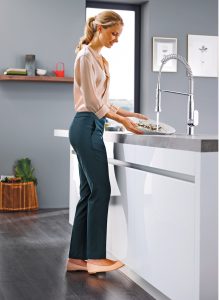 If you weren't a germophobe to begin with, the pandemic has certainly made us all aware how frequently touched surfaces can become a repository for germs. Grohe offers a couple of solutions for staying germ-free. One is the company's FootControl line of kitchen faucets that, as the name suggests, turn the water on and off with the tap of a foot. With Touch faucets, users can turn on the flow by tapping the fixtures with an unsoiled forearm.
Rethinking gas?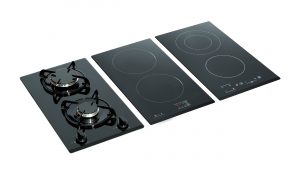 In 2019, Berkley, Calif. became the first municipality to announce a ban on natural gas appliances, including stoves, in newly constructed homes. Since then, dozens of other jurisdictions, including Vancouver and Quebec, have announced similar measures. That's gotten foodies fired up as they complain that electric stoves just aren't up to snuff. But there is an alternative solution: Induction stoves.
Much like bidets, induction stoves are widely used in Europe, but have been slow to catch on in North America. But induction offers many advantages over their gas and electric cousins. For one, they eliminate combustion fumes inside the home. And Unlike an electric stovetop that first heats up the element, induction stoves use magnetic induction to quickly heat up the cookware itself. Builders beware: The glass edges of induction stovetops can chip. Some manufactures offer stainless-steel frames for protection. The other option is to have the counter bevelled out, so the stove sits flush and is caulked in place.
Bathroom breaks
Durable finish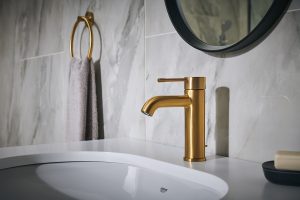 While you may shy away from cleaning the toilet, it's hard to overlook the almost constant stain of handprints and water streaks on a bathroom faucet. Grohe's PVD (physical vapour deposition) is an environmentally friendly finish that keeps faucets looking like new for life. The scratch resistant material comes in five different finishes and cleans with a single wipe.
Age old beauty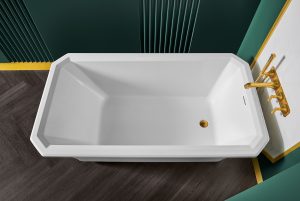 Since its origins a century ago, Art Deco design has been associated with some of the world's most iconic buildings, including the Chrysler Building in New York. DXV is bringing that elegant look to Canadian bathrooms with its Belshire collection. The Art Deco-inspired designs include freestanding and wall mounted toilets, soaker tubs, marble vanities, and era-inspired faucets, handles and spouts.
Self-cleaning toilets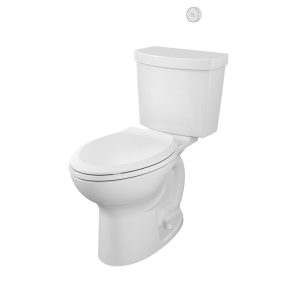 As far as chores go, cleaning the toilet is probably everyone's least favourite. But what if your toilet did the job itself? American Standard's toilets come with an EverClean glaze that inhibits the growth of mold and bacteria that cause stains and odours. Kohler takes it to the next level with a CleanCoat surface treatment, integrated ContinuousClean antimicrobial tablet dispensers, and an AquaPiston canister that flushes the bowl in 360 degrees.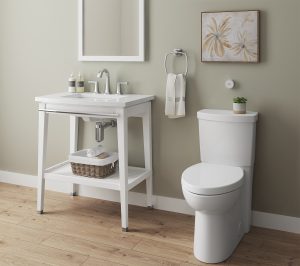 Luxe life
We all want to work with clients for whom money is no object. If you do land one of these prized customers, here are some items that can take their projects to the next level.
Glass rinsers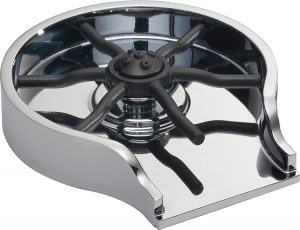 If your client is a cocktail connoisseur, elevate their home bar experience to the next level with a countertop glass cleaner. These tools, such as Delta Faucet's G150, rinse out any soap residue or dust hidden at the bottom of a pint glass or champagne flute, ensuring you taste nothing but your drink of choice.
Fry counter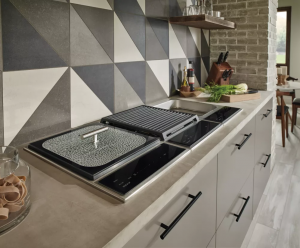 Wolf's 15-in. Transitional Fryer is a built-in unit with a lid, so homeowners can fry up their favourite foods without splattering hot oil around the kitchen. It comes with one large and two small baskets, and has a drain built into the bottom for easy cleaning. The Module lineup also includes gas and induction cooktops, a steamer and grill.
Fridge and freezer drawers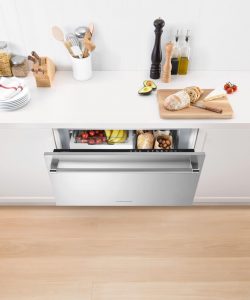 No matter how big your fridge or freezer is, there never seems to be enough room to store everything. The solution: undercounter fridge and freezer drawers built into an island or lower cabinets. Fisher & Paykel's button- operated CoolDrawer, for example, has five different temperature zones that can be set from chill to freeze. It comes in stainless steel or can be integrated into the cabinetry.
Fizzy water on tap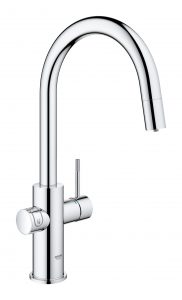 Get rid of bulky glass bottles cluttering the fridge by installing a countertop carbonated water dispenser. The Grohe Blue Chilled and Sparkling 2.0 Faucet dispenses chilled, filtered flat water and two levels of carbonation for those who like a little bubbly in their glass. The smart faucet monitors water usage, filter status, CO2 levels, and more via an app.