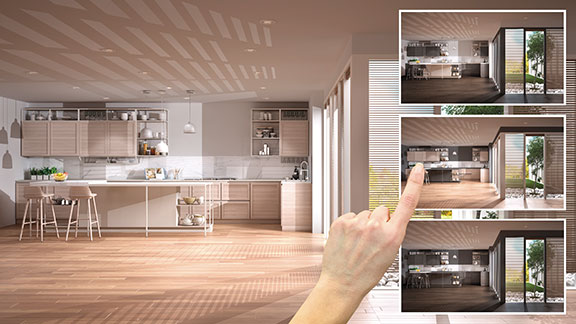 By Yasmine Goodwin & Luke Hall
my-designstudio.com
One of the most immediate disruptions to the multi-residential builder industry that the digital revolution has created is a shift in how homebuyers interact with your brand. If you haven't mapped out your digital selling strategy, you're simply going to get left behind. Fortunately, there's still time for you to transition your business to meet the needs of today's modern homebuyer by following these steps.
Seeing all of the options available before making selections and approving a finalized design is a non-negotiable demand for today's homebuyers. The COVID-19 pandemic has made scheduled showroom visits not only less feasible but, in some cases, also less desirable. Instead, customers are showing marked preferences for digital previews using visualizer design tools, allowing them a better look at their structural and decor options and the financial implications of their choices.
Visual appeal and aesthetics
Would you buy a new car without previewing your selections online? Probably not. In an industry such as builder decor sales, where the visual appeal and aesthetics of products influence homebuyer purchasing decisions, online previews can be far more appealing and convenient than showroom visits. The homebuyer isn't limited by geographic constraints and can spend far more time contemplating their options without the time restrictions of a typical in-person appointment.
As an industry, we can respond to this by changing our sales methodology and customer service approach. Not only does the shift to digital solutions benefit the homebuyer, but it also has powerful sales potential for developers. Disruptive technologies can lead to positive changes and innovation, and a smart business owner will shift their modalities to embrace the new wave of customer desires and demands.
Staying ahead of the curve
This means embracing a customer service model that caters to an entirely custom set of demands. Modern homebuyers fully expect that their homes reflect all their desires, but they might not know exactly what those desires look like until they can see what all their selections look like put together. Using AI and digital solutions to include the homebuyer in the design process not only gives them the chance to experiment with their ideas, but also helps to ensure they'll be satisfied with the final design.
Staying ahead of the curve with program education can give your company an edge over your competitors. Builders and developers can set themselves up for success by investing in a high-end suite of digital tools. Many companies offering builder decor sales software also offer partnership programs to educate your team, easing the process of adoption and improving seller outcomes from the start.
Consider the big picture
Management teams who establish clear changes and communicate the path for their business's transformation are more than three times as likely to successfully transition their business into the digital era. By investing in digital solutions now, you'll be able to successfully prepare your decor management team for the increasing wave of tech-savvy homebuyers.
Always consider the big picture and engineer your digital strategy by weaving technology use into existing business processes with a clearly defined purpose. Keeping that purpose at the forefront of your strategy is a major step toward success.
Remaining at the forefront of your industry requires constant adaptation. By leaning into digital technological tools, now is our chance to embrace the changing landscape and shift our business models for the better. By partnering with companies offering high-tech solutions the transition doesn't need to be overly complicated, and you'll be better prepared to keep up (or even stay ahead) with your competition.