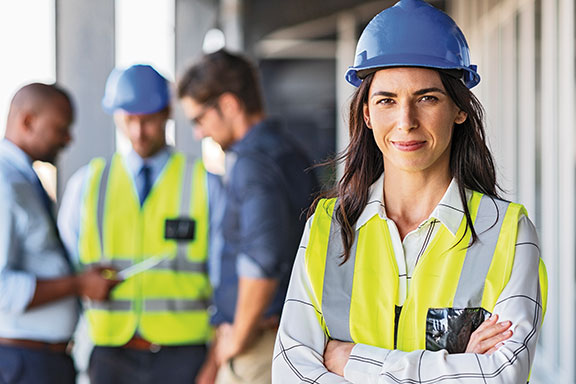 By Leah Nord
Senior Director, Operations, CHBA
Labour shortages are causing major delays throughout the residential construction sector. On average, the cost of labour/trades has gone up 28 per cent since the pandemic, according to CHBA's most recent (Q3 2022) Housing Market Index. And future projections do not provide any reassurance – in fact, it's quite the opposite. According to BuildForce Canada, approximately 22 per cent of the labour force is set to retire in the coming decade, equating to approximately 128,000 workers.
We could go on, but you get the picture; no one is more aware of the skilled labour shortages than Canada's homebuilders, developers and renovators.
Add to this scenario the federal government's recently updated and much needed immigration targets. Last year, Canada welcomed more than 405,000 newcomers – the most we've ever in a single year – and the federal government has set new target levels of 465,000 permanent residents in 2023, 485,000 in 2024 and 500,000 in 2025.
Need to reduce housing pressures
The net result of that part of the equation is that many of those immigrants are targeted for construction, and that's good, but it will also exacerbate housing shortage, and add to the dire need to build more, quickly. The federal government has stated that Canada will need to build at least 3.5 million new homes by 2031. In Ontario, which has the largest population and the highest price pressures, the Province has pledged to build 1.5 million new homes over the next 10 years. And the new premier of BC has promised swift action on fixing the housing crisis the province faces. Hopefully, more provinces follow suit.
It's encouraging that in October, the federal immigration minister, MP Sean Fraser, acknowledged that Canada will need to do more to disperse immigration across the country to reduce housing pressures, as well as bring in more people who can and will build homes.
In addition to bringing in more skilled tradespeople through immigration, other solutions are in the works. The residential construction industry is innovating to increase productivity and output greater construction volumes with fewer workers, notably through modular construction methods. But in the short-term, these labour shortages are causing construction backlogs, creating delays and postponing the supply of new units. In other words, the situation is exacerbating what's already a housing supply shortage in many areas of the country, and in turn further impacting housing affordability.
Promoting careers in skilled trades
The Canadian Home Builders' Association (CHBA) has recommended a comprehensive suite of all actions to address the challenge, and is pleased to be seeing success with government action. Recommendations range from promoting careers in skilled trades more, to supporting training, providing financial supports to companies and individuals with respect to skilled workers (such as the new Canadian Apprenticeship Service). CHBA has also advocated for and is pleased to see action on improving the immigration system for skilled workers to respond better and more quickly to labour shortages in residential construction through permanent immigration solutions. Part and parcel of this is the need to enhance the selection of immigrants with skilled trades credentials or construction experience, to ensure that the residential construction sector will receive its proportionate share of newcomers, and the government has expressly stated it will, as part of its actions for increasing skilled labour allocations for immigration.
Provinces are also acting. For example, in its fall economic statement, Ontario committed an additional $40 million for the Skills Development Fund. This fund has supported the Ontario Home Builders' Association's Job Ready program, that matches supportive employers with job seekers, expanding entry-level skills training and on-the-job learning. The program provides entry-level workers with exposure to the residential construction and renovation industries, creating a pipeline of workers with basic safety and skills training, on-the-job learning, and employment support to build a fulfilling career in our industry.
And it's not only governments which are stepping up to the plate. BILD Alberta recently launched its Scholarships for Construction Careers as an investment by the industry to tackle labour challenges that preserve housing affordability in the province. Initiated by Jay Westman, chair and CEO of Jayman BUILT, this industry-led scholarship campaign aims to address Alberta's ongoing skilled labour shortages in residential construction.
Homebuilders Association Vancouver (HAVAN) is fresh off the heels of an informative event aimed at getting more youth, especially women, into residential construction. Its virtual Residential Construction Career Expo featured live panel discussions where six young women in the trades spoke frankly about salaries, and debunked myths around dirty jobs and undesirable work environments.
Focusing on women
Focusing on women is an important angle being taken by many local and provincial HBA actions, since to keep pace with retirements and demand, a significant portion of new workers will need to come from groups traditionally underrepresented in the current construction labour force, including women, Indigenous people and new Canadians.
CHBA and like-minded organizations such as the Canadian Apprenticeship Forum (CAF) are actively communicating to inform employers to take advantage of the federal government's Apprenticeship Service program, which facilitates small- and medium-sized business to hire Level 1 apprentices by offering $5,000 grants. Employers may receive $10,000 if they hire a Level 1 apprentice from an underrepresented group.
In October, the federal government's Employment, Workforce Development and Disability Inclusion announced more than $53 million to the Native Women's Association of Canada for the Indigenous women, Two-Spirit, and Gender-Diverse Apprenticeships with small and medium-sized enterprises (SMEs) project. The project will provide financial incentives and a suite of online training and resources to SMEs across Canada, to help them participate in the apprenticeship system and create a safe, inclusive and supportive environment for at least 4,000 apprentices.
Finding skilled trades in residential construction is a challenge across the country. Overcoming the challenge will require a combination of government supports and increased targeted immigration, the industry's continued innovation to improve productivity with fewer workers, and much-needed encouragement of young Canadians to see a career in the skilled trades as lucrative and personally rewarding.
Select skilled trades resources
CHBA's "Imagine your Future in the Residential Construction Industry"
chba.ca/imagineyourfuture
Apprentice Search
apprenticesearch.com
BuildForce's recruitment and retention
buildforce.ca/en/recruitment-retention
Canadian Apprenticeship Forum's Supporting Women in the Trades
switcanada.caf-fca.org/
Government of Canada's Apprenticeship Service
canada.ca/en/employment-social-development/programs/apprentice-service-program.html
Government of Canada's "Follow your passion. Find your skilled trade"
canada.ca/en/employment-social-development/campaigns/skilled-trades.html
JobReady
enerquality.ca/ohba-job-ready
SkillPlan
skillplan.ca