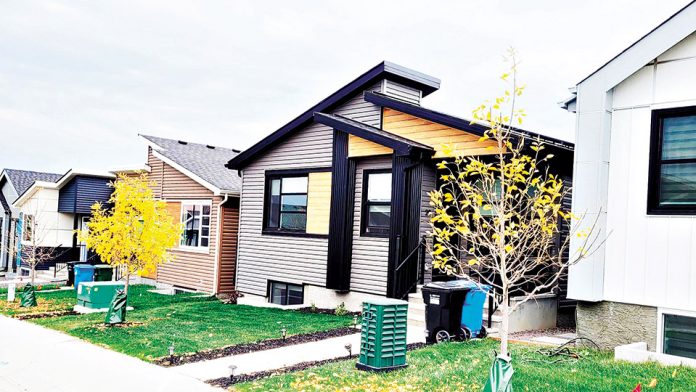 Case Study: Advanced exterior insulation strategies
Owens Corning
Owens Corning is a Gold Sponsor Member of the CHBA Net Zero Council, which focuses on innovative and high-performance housing solutions.
Net Zero Homes generate as much energy as they consume, appealing to environmentally conscious individuals looking to reduce utility bills and combat climate change.
A key aspect of Net Zero construction is the advanced building envelope, including airtightness, insulation and high-performance windows and doors. These components reduce heating and cooling loads, while energy-efficient mechanical systems further optimize performance and minimize operating costs.
Using advanced exterior insulation strategies can reduce labour and material costs by minimizing the need for interior insulation. Cedarglen Homes, a Calgary-based homebuilder, exemplifies the success of such strategies in constructing a CHBA Qualified Net Zero Home.
The project encountered challenges in aligning with trades professionals and selecting materials that met Net Zero requirements. However, by using high-quality materials such as Owens Corning Thermafiber RainBarrier ci High Compressive Plus (110) Mineral Wool Insulation and Owens Corning FOAMULAR NGX C-300 Extruded Polystyrene Rigid Insulation, the team achieved the sought-after EnerGuide rating of zero and a CHBA Net Zero label for the home.
Thermafiber RainBarrier ci High Compressive Plus (110) Mineral Wool Insulation provides thermal and moisture control properties while enhancing fire resistance. FOAMULAR NGX C-300 Extruded Polystyrene Rigid Insulation offers superior moisture resistance and thermal performance, making it suitable for below-grade
applications.
Using Owens Corning insulation products for net-zero construction and renovations has substantial benefits. They reduce energy bills,* lower greenhouse gas emissions and contribute to combating climate change. Net Zero Homes offer long-term savings, durability, comfort, indoor air quality and noise reduction, minimizing environmental footprints.
Cedarglen's project highlights the crucial role of insulation in achieving Net Zero. Prioritizing quality materials and processes led to the successful construction of a Net Zero Home. Proper insulation not only reduces energy consumption and costs but also allows homeowners to reduce their carbon footprint responsibly.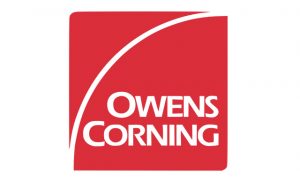 CHBA members can access the Net Zero webinar "Cost-Effective Net Zero Achieved Through Collaboration: A Success Story" for more insights. It features representatives from Owens Corning, Cedarglen Homes, 4 Elements Integrated Design, and the Southern Alberta Institute of Technology, discussing the importance of collaboration in cost-effective Net Zero construction.
The webinar recording and slide deck can be found at chba.ca/nzwebinars.
*Savings vary depending on original amount of insulation in your home, climate, house size, air leaks, and personal energy use and living habits.
How high-performance windows and doors help homes get to Net Zero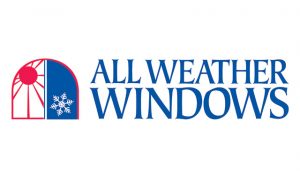 A key part of a Net Zero Home is its superior building envelope. The envelope includes the home's overall airtightness, the insulation of the exterior walls, floors, ceilings and foundation, as well as high-performance windows and doors.
All Weather Windows is proud of its dedication to innovation, which includes energy efficient windows and doors that play a vital role in helping homes qualify as Net Zero. These technologically advanced windows and doors are designed to minimize energy loss, enhance insulation, and create a more comfortable indoor environment.
All Weather Windows energy efficient windows come with the option of advanced glazing technologies that reduce heat transfer. Their insulated glass units (IGU or IGs) are made up of either two or three panes of glass, and the half-in. space in between is filled with argon, an insulating gas that acts as a thermal barrier. This means that a tri-pane window will prevent more heat loss than a dual-pane window. Upgrading to triple pane windows is one of the most economical ways to help meet Net Zero requirements when compared to a whole-home insulation upgrade or a full HVAC upgrade. Triple-pane windows will perform even in the most extreme climates, increasing the effectiveness of coatings by adding additional coated surfaces.
Low-emissivity (Low-E) coatings can be applied to different glass surfaces, reflecting heat back into the room during winter. Another option is SunStop coatings, which block unwanted solar heat gain in the summer. These features help maintain stable indoor temperatures, reducing the need for excessive heating or cooling, and subsequently lowering energy consumption.
Further, well-sealed energy efficient windows and doors prevent air leakage. All Weather Windows products are designed with durable EPDM weatherstripping, providing a tight seal for preventing drafts and infiltration of outside air. This reduces the load on heating and cooling systems by maintaining a consistent indoor climate. By eliminating air leaks, All Weather Windows' doors and windows effectively contribute to energy savings, helping homes achieve Net Zero performance. They even help to block out exterior noise.
These advanced building components are a growing cornerstone of energy efficient design, helping homes qualify for Net Zero by improving insulation, reducing air leakage, maximizing natural lighting, reducing exterior noise infiltration and facilitating the feasibility of renewable energy systems.
Find out more about how All Weather Windows' products can help you qualify for Net Zero at allweatherwindows.com.
Toward decarbonization in buildings – a gas heat pump case study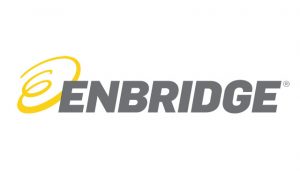 The urgency of addressing climate change has propelled utilities to balance heating demands with decarbonisation goals. New North American greenhouse gas (GHG) emission reduction targets are pushing for heating systems exceeding 100-per-cent efficiency. Innovative, high-efficiency technologies tapping into sustainable energy sources have been gaining attention for building heating. Gas absorption heat pumps (GAHPs) have emerged as a technology boasting over 140-per-cent efficiency and slashing fossil fuel use and emissions by up to 50 per cent.
GAHPs use natural gas to extract heat from the air, curbing energy consumption and greenhouse gas emissions. Driven by the absorption heating cycle, GAHPs mainly employ ammonia as an eco-friendly refrigerant with zero ozone depletion potential, as compared to other heat pump technologies. Functioning as outdoor units, they harvest thermal energy from the air to provide hot water for both space heating and domestic use.
Enbridge Gas Inc. has assessed GAHP technology through various field test projects in Ontario. Field test data show equipment efficiency reaching up to 140%, a remarkable improvement over existing boilers.
In a specific case study, a 65kW GAHP was integrated with a conventional boiler for domestic hot water heating in a Toronto multi-residential building in February 2022, with GAHP taking over a portion of the hot water heating load. The integrated system performed as designed and delivered reliable performance even in cold weather. For example, comparing a four-day period (January-February 2022) with similar outdoor temperature of -1C, the GAHP took on majority of the load consuming 83 m3 of natural gas, while the boiler consumed 35 m3, amounting to 118 m3 total consumption, marking a 25.7% natural gas saving versus the boiler-only system. Notably, both scenarios feature a city water temperature around 8°C.
In the energy transition journey, gas heat pumps offer an immediate option to significantly reduce building natural gas usage for space heating and hot water heating and lower GHG emissions. When low-carbon fuels such as renewable natural gas and low-carbon hydrogen become more widely available, gas heat pumps can work with those fuels, helping buildings reaching their net-zero goals.
Learn more about how Enbridge Gas is helping forge a path to Net Zero at enbridgegas.com/sustainability.
Rebate programs and building high-performance new homes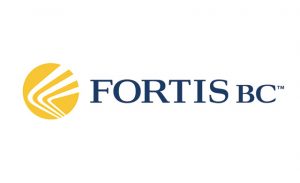 In British Columbia, FortisBC's New Home Program has been providing rebates since 2011 to builders and developers for building energy-efficient homes that go beyond the minimum efficiency requirements of the BC Building Code. The program has evolved over the years to align its rebates with the BC Energy Step Code. In 2019, the Design Offer was introduced to encourage builders to collaborate on integrated design processes and use advanced building envelope and mechanical design.
By building well-insulated, airtight structures and using energy-efficient space and water heating systems, it's possible to create homes that offer the best energy efficiency and comfort for homeowners. Vancouver Island's Hargrave Construction has demonstrated this through two recent custom home projects in Campbell River that achieved Step 4 and 5, respectively – and earned rebates from the New Home Program.
Dan Hargrave, the designer and drafter of both projects, explained that the design and construction of each custom home is driven by the client's desire for a "good-quality house."
By working with an energy advisor, the company was further able to build energy efficiency into each house. For example, the project that achieved Step 5 incorporated passive solar design, strategically placed windows and roof overhangs, and selected insulation and sealing materials to ensure that even the high cathedral ceilings did not require additional heating in winter. The project that achieved Step 4 had improved airtightness, insulated concrete forms, R22 batt insulation and a high-quality commercial-grade air barrier.
When it comes to selecting space and water heating systems, Hargrave says, "We want our clients to enjoy a comfortable home. They enjoy the comfort of natural gas for space and water heating, and the equipment operates reliably."
The two homes for which Hargrave received rebates from the New Home Program were measured to be over 40 per cent more efficient than homes built to BC Building Code, which should result in long-term energy cost savings for the homeowners.
For homeowners interested in low-carbon options for their energy needs, FortisBC offers Renewable Natural Gas.* FortisBC customers can choose to designate a portion, or all, of the natural gas they use as Renewable Natural Gas to reduce their greenhouse gas emissions.
To learn how FortisBC helps builders create high-performance homes, visit fortisbc.com/build-renovate/building-new-homes-to-higher-steps-of-the-bc-energy-step-code.
*Renewable Natural Gas is produced in a different manner than conventional natural gas. It's derived from biogas, which is produced from decomposing organic waste from landfills, agricultural waste and wastewater from treatment facilities. The biogas is captured and cleaned to create Renewable Natural Gas (also called biomethane).
Appealing electric solutions for multi-unit developments
Mitsubishi Electric Heating & Cooling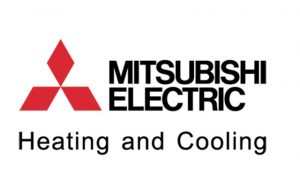 Westman Village is a development by Jayman BUILT located in the community of Mahogany in Calgary. The project thoughtfully weaves convenience, diversity and accessibility into an all-inclusive suburban community concept. Redefining the way new homes are built, bought and lived in, the carefully designed community includes condominiums, townhomes, seniors' residences and long-term leasing condos.
According to Dennis Aucoin, senior development manager for Westman Village, many of the prospective residents and homeowners were downsizing. To offer them an attractive product, the units needed to be quiet, and the building had to create a seamless transition with top-quality products that would meet high expectations. This includes everything from the finishes to the heating and air conditioning units. The heating and cooling units also had to be energy efficient, as Jayman BUILT prides itself on green construction.
That's where Mitsubishi Electric came in. With more than 100 years of experience in providing reliable, high-quality products to both commercial and residential consumers all over the world, Mitsubishi Electric is a recognized world leader in the manufacturing, marketing and sales of electrical and electronic equipment used in information processing and communications, consumer electronics, industrial technology, energy, transportation and construction.
"We were attracted to the Mitsubishi Electric brand because we consider it the Cadillac of heating and cooling units," says Aucoin.
The Westman Village project is Mitsubishi Electric's largest Canadian multi-unit residential development. Mitsubishi Electric individual split and centralized variable refrigerant flow (VRF) units were chosen, thanks to their efficiency and reputation. Their whisper-quiet sound was also a deciding factor – the units emit about half the noise of a regular unit in a house. Further, the slim, suitcase-style units were also perfect for more compact living spaces.
Ease of maintenance was also a deciding factor. "For us getting into leased seniors and rentals, we wanted a product that was going to be somewhat maintenance free and last the test of time," explains Aucoin.
Finally, the Mitsubishi Electric VRF units are all about consumer comfort and use unique design and engineering solutions to deliver it. Typically, a normal air conditioner runs at full blast, cooling the entire space then shutting off. But these units are built to get to a certain temperature and maintain it. Overall, this allows for lower energy use and improved comfort.
Learn more about Mitsubishi Electric systems at mitsubishielectric.ca.
Three indoor air quality solutions for energy efficient homes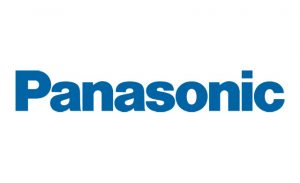 Roy Nandram, president of award-winning home building company RND Construction Ltd., has built 20 Net Zero labelled homes in Ottawa, a record in the region. For a recent project, Nandram relied on Panasonic's Indoor Air Quality (IAQ) solutions.
"Inadequate indoor air quality can pose difficulties, and in some cases, even hazards to breathing," Nandram says. "Ensuring the safety of your home is paramount. I'm genuinely impressed by Panasonic's reputation for quality, their exceptional customer service and the potential for my residence to automatically provide healthier air."
Panasonic IAQ solutions, aptly named Breathe Well, exhibit their full potential when integrated. In RND Construction's Net Zero secondary suite, the Intelli-Balance ERV 200, a self-balancing and highly efficient ventilation, stands out. It seamlessly interfaces with user-friendly smart controls from Swidget to deliver fresh air. Sensors can be effortlessly attached or detached, allowing for functional modifications.
These two ventilation and automation solutions qualify for the new IAQ Pick List for the CHBA Net Zero Home Labelling Program, a requirement effective from Jan. 1, 2024. This list represents a commendable initial step in assisting builders and renovators to embrace new technologies.
Transitioning from an HRV to an ERV constitutes a substantial enhancement to indoor air quality. Panasonic's ERVs proficiently transfer both moisture and heat, so there is no longer a need for a condensate line and dehumidification. Furthermore, they are Energy Star and HVI-Certified for use in any North American climate zone.
Panasonic's exclusive collaboration with Swidget, a manufacturer of smart devices based in Kingston, Ont., involves a wide range of smart controls that do not require Wi-Fi. Homeowners can customize rules and remotely monitor their home, including energy consumption of individual devices.
"The user-friendly nature of Swidget and the flexibility to switch sensors without delving into extensive documentation appeals greatly to me," says Nandram. "My intention was to design a home that accommodates aging in place, and these forward-looking solutions can seamlessly adapt as circumstances evolve."
The Breathe Well suite's third solution is the Whisper Air Repair, an air purification marvel. This ceiling-recessed air purifier uses Panasonic's propriety nanoe-X technology and effectively inhibits odours, pollens, allergens and hazardous substances. Remarkably quiet at 0.3 sones, it prioritizes energy efficiency and is zero maintenance.
"Research indicates that people prioritize clean air but are unaware of the possibilities presented by HVAC and air purification," says Sonny Pirrotta, Panasonic's national HVAC sales manager. "We are thrilled to show Breathe Well solutions that deliver on the commitment to a smart, health-conscious and Net Zero Home."
Learn more about indoor air quality and how to become a Breathe Well partner by visiting panasonic.com/ca/indoor-air-quality.
How combination heating systems can help builders achieve high-performance and affordability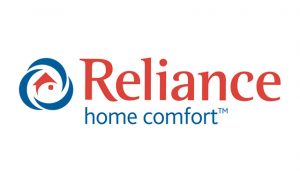 Systems that prioritize energy efficiency are growing in popularity amongst builders – and combination heating systems (or combi boilers) are helping builders offer high-performance systems and affordability to their customers.
Combi boilers are hydronic-based mechanical systems that have a dual purpose: They provide domestic hot water and space heating and offer some advantages when compared to typical forced air gas furnaces and hot water tanks.
Reliance Home Comfort, which services more than two million customers across Canada, is a leading provider of combi boilers for multi-unit rental buildings. With a dedication to helping homebuilders work towards Net Zero, the company's Director of Builder Markets, Shannon Bertuzzi, says builders can expect a high level of service and expertise.
"We know what solutions are helping move the needle towards Net Zero," says Bertuzzi, adding that Reliance is attuned to code changes and sits on the CHBA Net Zero Council. "Our involvement in the Council lets us offer input into new systems that help builders achieve high-performance housing."
When working with Reliance, builders are assigned both an account manager and a technical manager to ensure they receive high-end systems that add great value for homeowners. This is showcased by a recent example in which a Reliance key account manager worked with a builder in Vaughan, Ont. to help select the appropriate equipment for a townhouse project. The builder included a tested combi boiler system in its 111 townhomes and a hot water recirculation pump to help reduce water consumption.
Bertuzzi emphasizes that Reliance is more than a water heating company. "We offer builders a multitude of products, including smart home technology, HVAC equipment and even EV charging solutions."
Bertuzzi stresses innovation is essential in the residential construction industry and builders play an important role by testing new systems in their projects. "Collaboration is vital to successfully transform the housing stock."
Learn more about how Reliance helps builders reach high-
performance and affordability at reliancebuilderprogram.com.
– Marc Huminilowycz, award-winning content writer and editor specializing in Green building and energy-efficient homes