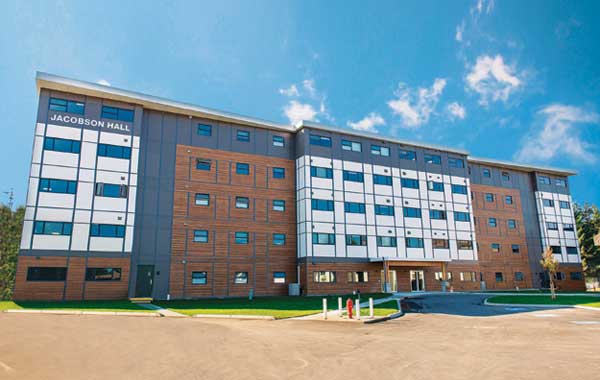 by David Foster, Senior Director, Communications, CHBA
This past September, 220 students at Trinity Western University moved into Jacobson Hall, a new five-storey modular wood-frame residence located in Langley, B.C., constructed by B.C.-based Metric Modular, a Triple M Company.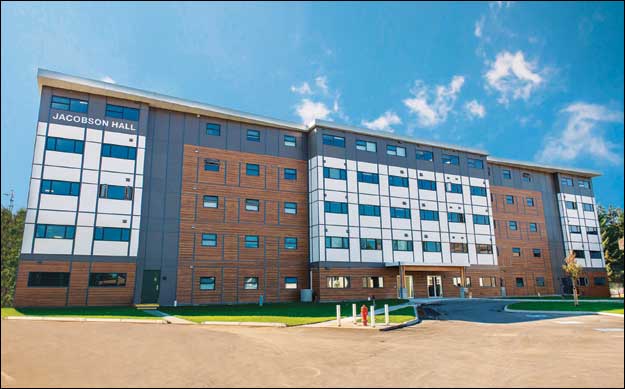 The entire Jacobson Hall project was completed in just nine months from contract signing to occupancy. Astonishingly, Metric Modular broke ground on the site only five months before the students moved into the completed 55,000 sq. ft. building.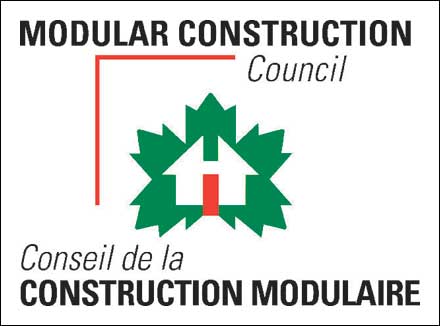 Founded in 1977, Metric has grown to become one of the leading modular construction companies in North America. Among previous projects was the Whistler Athletes' Village Lodge for the Vancouver 2010 Olympic and Paralympic Winter Games.
Trinity Western University needed to increase its on-campus housing capacity in response to growing enrolment in recent years, but their project schedule was extremely tight and the building site was also constrained and challenging.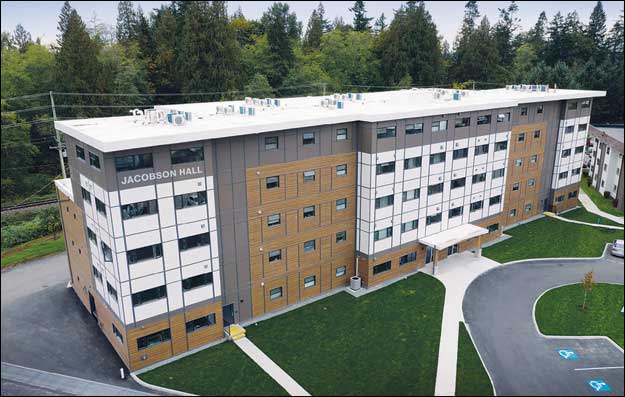 Metric's modular design and construction process allowed this deadline to be met. It also allowed a much-reduced construction site footprint on the campus, and minimal impact and disruption, when compared to conventional construction. Additionally, Metric was able to meet budget constraints while providing students with a safe, high-quality, and attractive building.
This modular wood-framed building was the tallest of its kind in Canada at the time of its construction. Metric created a design that was suitable for a tight space, would enhance the overall campus community, and would respond to the lifestyle of the student population.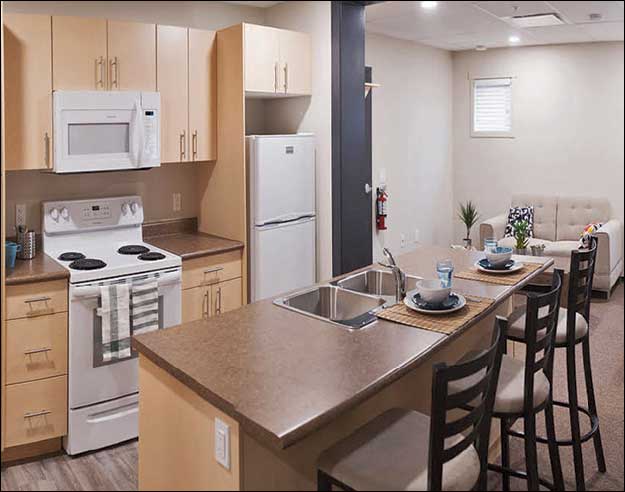 The project included some innovative technical aspects that showcase the capabilities that volumetric modular construction can deliver. Rather than concrete elevator shafts, Metric opted for cross-laminated timber (CLT) panels. These 16 ft. by 8 ft. panels were installed floor-by-floor in conjunction with module placement. The CLT shafts served as structural elements to achieve the required seismic sheer strength, and also provide fire separation. CLT use also helped speed up the overall construction process.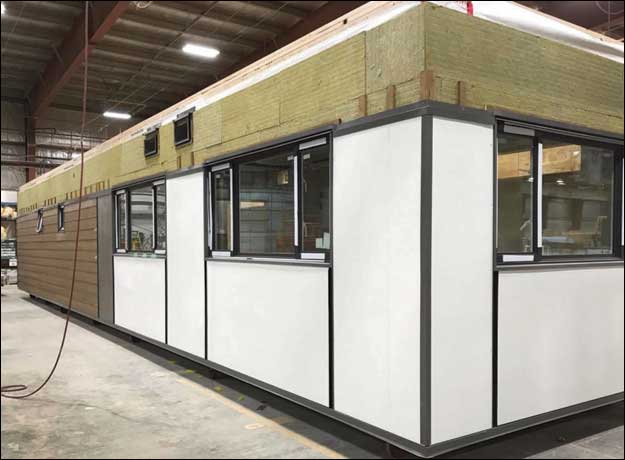 Given the height of the building, structural requirements for the actual modules varied depending on their placement in the structure. On the first two floors, closer stud spacing (12″ O.C.) provided greater load capacity. The upper floors used standard stud spacing. This sort of detailing is more easily achieved in a factory-building environment.
Metric also conducted acoustical testing of the structure. It found sound transmission between suites was better than code-based requirements, and transmission between floors was some 20 percent below the regulated threshold – a natural benefit inherent in the doubled-up assemblies resulting from modular construction.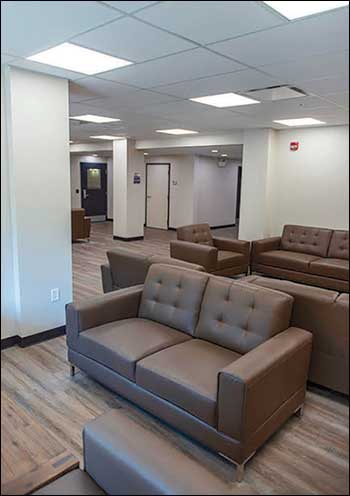 The building's exterior is finished with Hardie-panel and Allura plank cedar mill siding, which provide a warm contemporary look and durability. The interior offers a space that reflects the student's lifestyle with spacious and well-laid out suites, common areas on each floor for socializing and studying, and laundry facilities on each floor for added convenience.
As more and more multi-family development takes place within developed neighbourhoods, the benefits of modular construction are enticing – compressed construction schedules, and much less site impact and disruption to adjoining properties. In its Trinity Western project, Metric Modular has demonstrated that these benefits are very real and can be delivered today.
---