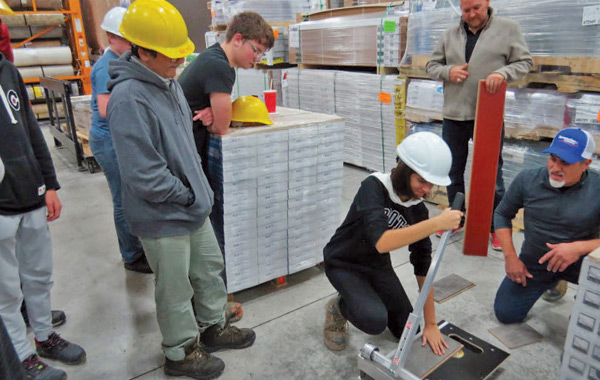 CHBA members have been building, developing, and renovating Canadian homes for generations. We are sharing the extraordinary contributions CHBA members make in their communities every day through our ongoing #CdnBuilt for Generations campaign. Here are a few recent stories. To read more stories follow our hashtag or visit blog.chba.ca/category/giving-back.
Building Community Through Residential Construction Day
Giving back to a community can take many shapes, including working with young people to share skills that will help build the communities of tomorrow. Organized by CHBA member Stacey Cooper, Residential Construction Day is a one-day event during which high school students experience firsthand the many career opportunities available to them in the residential construction industry.
Members of the Guelph & District Home Builders' Association team up with a local school board and the Career Education Council to create the opportunity for students to visit four different sites and interact with experts in various fields. This year's event included CHBA members Gemini Homebuilders, Sarmazian Brothers Flooring, Hy-Mark Mechanical, Cooper Admin & Consulting, and Habitat for Humanity Guelph-Wellington.
BILD-GTA Members Help Local Family
BILD-GTA partnered with Habitat for Humanity to raise $80,000 to help build a brighter future for the Carters, a local family who were living in hazardous conditions. Due to poor insulation, their apartment was extremely hot in the summer and was so cold in the winter that family members had to wear jackets to keep warm. The building also suffered from rodent and insect infestation.
Not only did members of the association raise money hosting annual events, they also volunteered their time to frame, insulate, and install windows in the new home. Since 2003, members of BILD-GTA have built 16 homes and have raised more than $1-million in support of Habitat GTA.
Edgecombe Builders Helping Abroad in Nepal
Kevin Edgecombe of Edgecombe Builders Group, a member of CHBA-Central Okanagan, has been elected as president of Her International, a non-profit organization dedicated to providing a sustainable life for impoverished women and young girls living in Nepal.
Edgecombe's passion project with Her International began when he and his wife Linda traveled to Kathmandu and the Dang region in 2009. There, Edgecombe formed a connection to Nepal and its people, leading volunteer groups on various building projects such as Classrooms for a Cause, Unako House, and Earthquake Relief before making the decision to join Her International. Edgecombe's focus with the charity has been one of profile development, awareness, and fundraising.
---