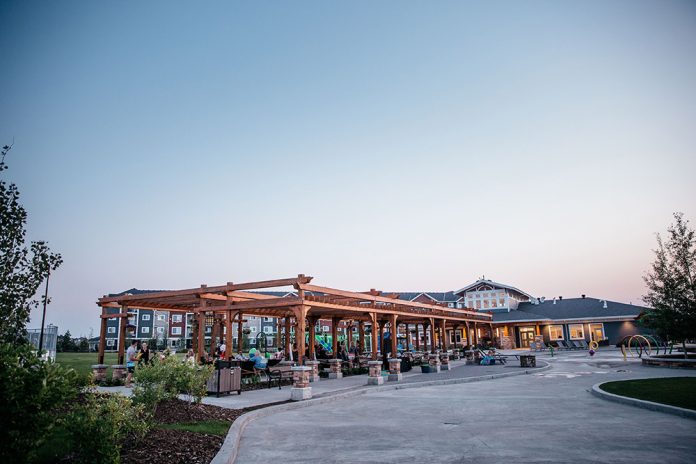 Community amenities can make all the difference to potential homebuyers. Though lots generally have become smaller, Canadians are still looking for spaces to be active in their neighbourhoods. Understanding homebuyer preferences can give developers and builders a competitive edge while creating communities that will be loved for decades to come.
Top 5 community features
According to CHBA's 2023 Home Buyer Preference Survey – a nationwide market research study powered by Avid Ratings Canada – here are the top five most desired community features in Canada:
1. Walking and biking trails
2. Parks and recreation centres
3. Overall community landscaping
4. Childrens playground
5. Proximity to schools
Walking and bike paths top the list of community features this year, listed as a must-have or highly wanted item by more than 80 per cent of survey participants. Parks and recreation centres came in a close second. Overall landscaping and views are also important to respondents, coming in as the third highest ranked features this year. And for those with children, the importance of proximity to schools and to children's playgrounds is usually high on the priority list. This year, they're considered a must-have feature by more than 35 per cent of respondents.
The winners of this year's Best New Community and Best Growing Community in the 2023 CHBA National Awards for Housing Excellence know the importance of amenities. Both communities are located in Edmonton, and both prioritized items found in the top five features, plus added additional unique features to set their developments apart.

WINNER, Best New Community
Award | City of Edmonton,
Edmonton: Blatchford
Blatchford's community goal is to create communal spaces such as parks and trails close to every dwelling. With an 80-acre centralized park with two sizable ponds, plus smaller parks scattered throughout the neighbourhood, boulevard trees on every block, and a network of paths, Blatchford boasts its greenspace will be roughly twice as large as that of a typical neighbourhood. A skating rink, warming hut, community gardens and a playground are just some of this development's amenities that are intended to promote social interaction between residents and the outdoors.
WINNER, Best Growing Community
Award | Brookfield Residential,
Edmonton: Chappelle Gardens
Chappelle Gardens is a master-planned neighbourhood with open spaces, spots for relaxing, a sizable path system, a bee pollinator corridor, picturesque ponds, community gardens, a park and playground, outdoor exercise equipment and more. Residents can choose to plant and harvest in their own front yard gardens or on the 24 communal plots that were built with gardens in mind. There are 13 connected parks that make up 16 per cent of the community's greenspace. All residents have access to a play area, spray park, picnic area and ice rink at the Social House complex, which also offers year-round programming and events. Beautifully landscaped storm ponds throughout provide reflection areas for the residents to enjoy. Outdoor gym equipment, a pollinator greenway and sundial park are some of the more unique amenities offered in this community.
Quality of life and greenspace go hand in hand. Both winning communities came out on top by offering residents plenty of greenspace, walking trails and parks. Canadians value neighbourhoods where they can enjoy spending time with friends and family, even if it's only an evening stroll with the kids and family dog. A focus on communal greenspace resonates with recent buyers, and these winning communities went above and beyond.
CHBA members can order a free copy of the CHBA Home Buyer Preference Survey at chba.ca/buyersurvey. Browse all the 2023 CHBA National Awards for Housing Excellence finalists at chba.ca/housingawards.