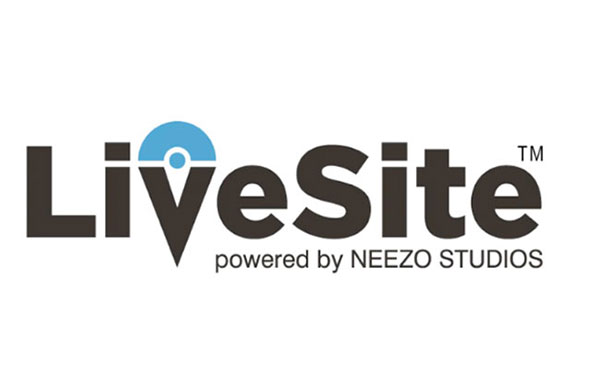 SPONSORED CONTENT
Many home builders have been faced with the dilemma of closing their sales offices 'til COVID-19 is behind us (who knows when that will be). Others home builders are inviting homebuyers to visit the sale office, by appointment only, one-on-one (not sure how many homebuyers will act on that offer, given the news is repeatedly stating 'stay home, go out–only for essentials').
What if there's another way? A safer way. A more modern, holistic approach, one that will surprise and delight your purchasers?
What if, your company could provide your homebuyers with your sales office presentation… virtually?
No…we don't mean a series of e-blasts with Matterport videos. They're nice…but we have something extra in mind.


It's called LiveSite™ and it's a game-changer, brought to you by NEEZO Studios , the same company that started a trend 10 years ago in the TV world, creating renderings and animations for The Property Brothers shows (as well as other TV design shows) showing furniture sliding, rolling and falling into place to convey the inspiration for the reveals.
We digress.
Back to LiveSite™, NEEZO's latest software, a real-time-data app, is a virtual sales centre application that allows new home builders and developers to offer their homebuyers the exact same user experience as if the client had visited the sales centre. NEEZO's LiveSite™ software offers an omni-channel approach, servicing home buyers in a way that creates an integrated and cohesive customer experience, no matter what platform they choose to reach out on.
LiveSite™ users will experience the same look and feel via desktop, laptop, tablet, as well as on iOS and Android mobile devices.


Before the pandemic, the real estate market was doing amazingly well, with some sources quoting a 45% up-tick in sales. The spring market is upon us, but now…everything's on pause. Or is it? There's no missing the spring market when you offer your homebuyers LiveSite™.

If you would like to learn more about
LiveSite™,


click here

to schedule a demo

Here's a Video Overview featuring all that LiveSite™ has to offer:
LiveSite™ has been getting quite a bit of press these past few weeks:

"Fortunately, pandemics don't mutate in the virtual world, which is a bonus for Mississauga-based NEEZO Studios, the creator of the recently launched LiveSite™, a virtual sales centre application that "offers homebuyers the exact same user experience as being in the sales centre. "
~Toronto Sun, March 31, 2020~
Click here to read the full Toronto Sun story
"In a matter of weeks, the coronavirus has changed the world economy and how businesses connect with customers. As businesses prioritize the safety of their communities, many in-person events and gatherings have been cancelled indefinitely. This leaves consumers looking for ways to stay connected and still go about their daily lives."
NEEZO Studios, an internationally recognized digital studio that specializes in new home builders' sales software, scale models, and architectural visualization tools, said amidst the outbreak that its LiveSite™ sales software has become a fundamental tool to help builders make sales virtually. "Since the coronavirus outbreak, we've noticed a significant spike in inquires about our LiveSite™ sales centre software," says NEEZO's, Director of Marketing.
~Toronto Storeys, March 13, 2020~
Click here to read the full Toronto Storeys article

LiveSite™ Offers an Exceptional User Experience for Your Home Buyers

Check out these visual references for what LiveSite™ has to offer your homebuyers!

View your project in 360 degrees, in stunning photorealistic detail.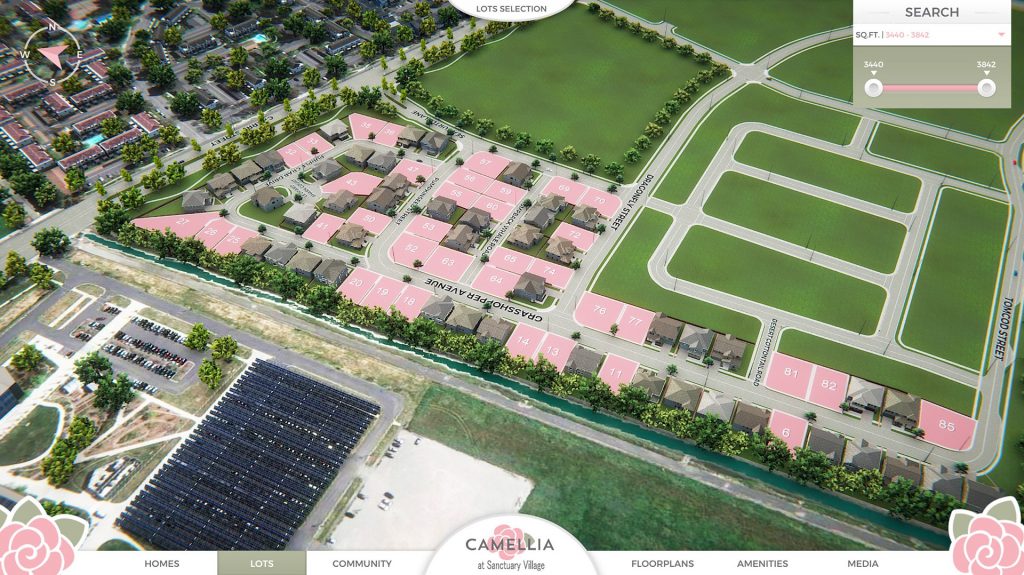 Home buyers can match a selected home with a corresponding lot and preview their preferred home directly on the 3D site plan.

Explore and compare floorplans–in 2D or 3D.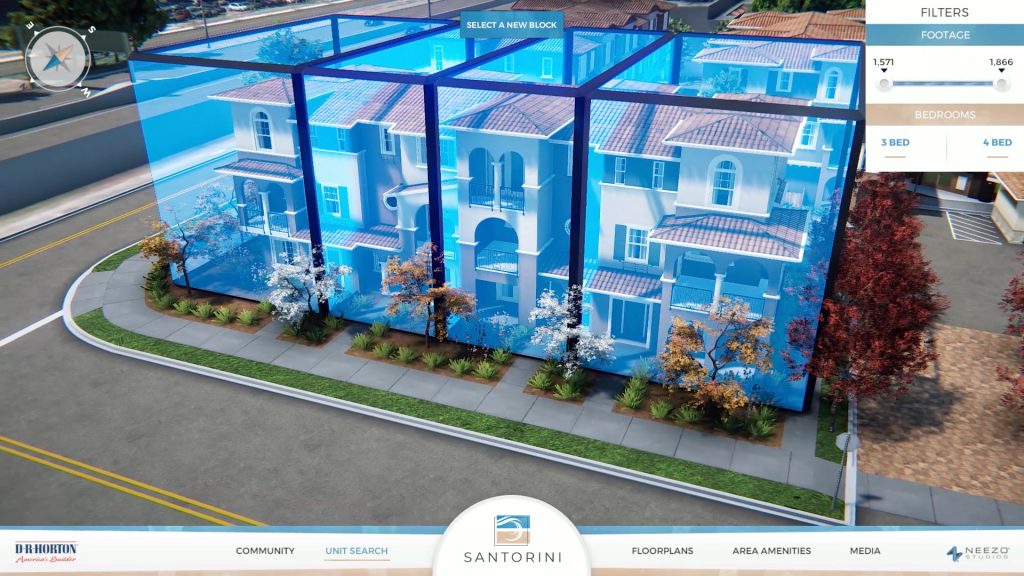 A sliding bar enables the user to filter through and find the size and number of bedrooms that suits their needs.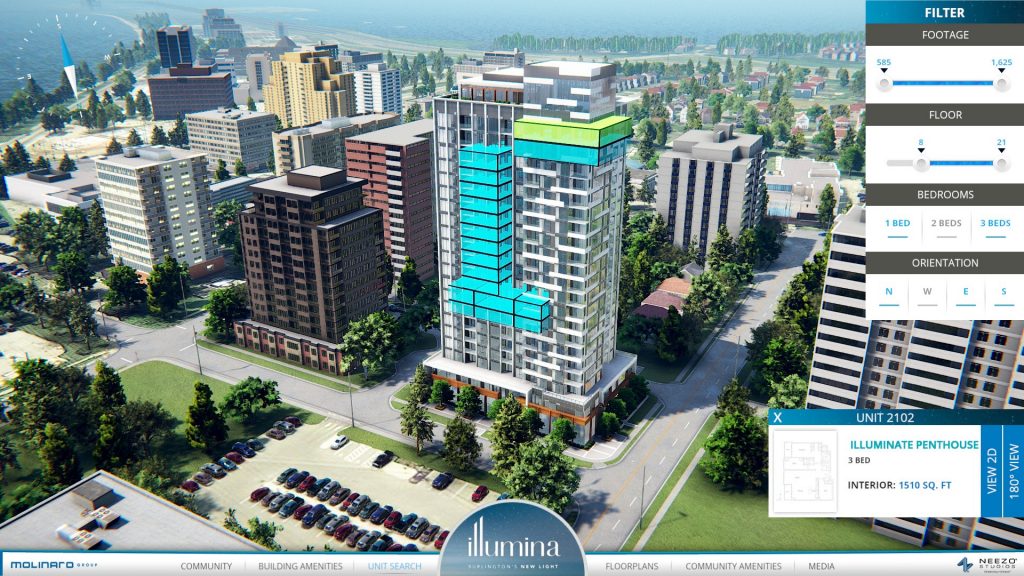 Users can filter condo selections by unit size, preferred floor, number of bedrooms and geographic orientation.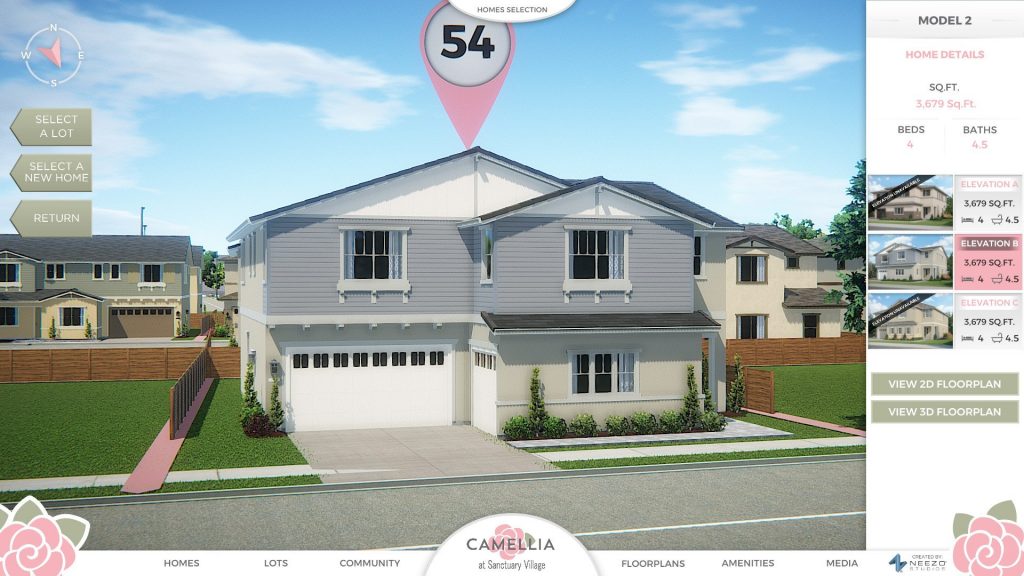 Match a selected home with a corresponding lot and preview the home–directly on the 3D site plan in its various elevation options.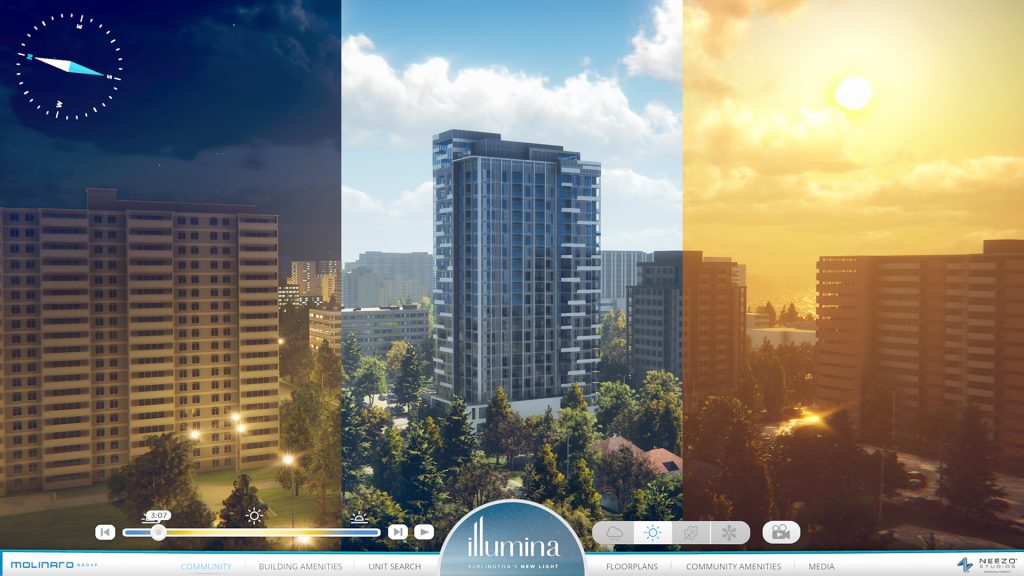 Observe the development from day-to-dusk, so they can assess sun/shadows. An ideal feature for homebuyers who are avid gardeners or practise Feng Shui.

View the project in all 4 seasons–ideal for relatability, when a condo project may take more than one season to sell-through.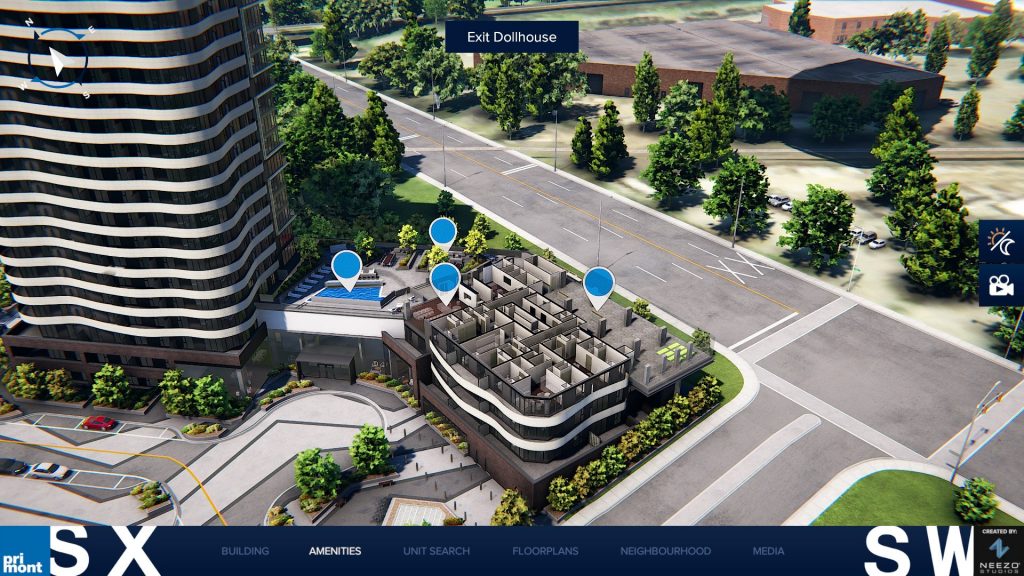 Click on building amenity pins, to reveal detailed, pop-up images of photo-realistic renderings of the party room, lobby, gym etc.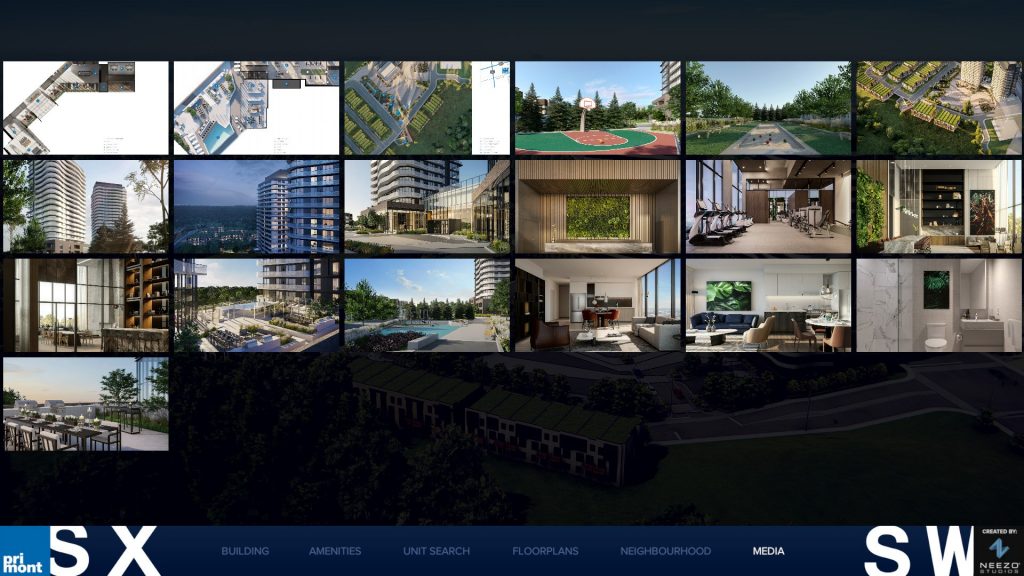 Media Gallery (Brochures, Price Lists, Features & Finishes List etc.)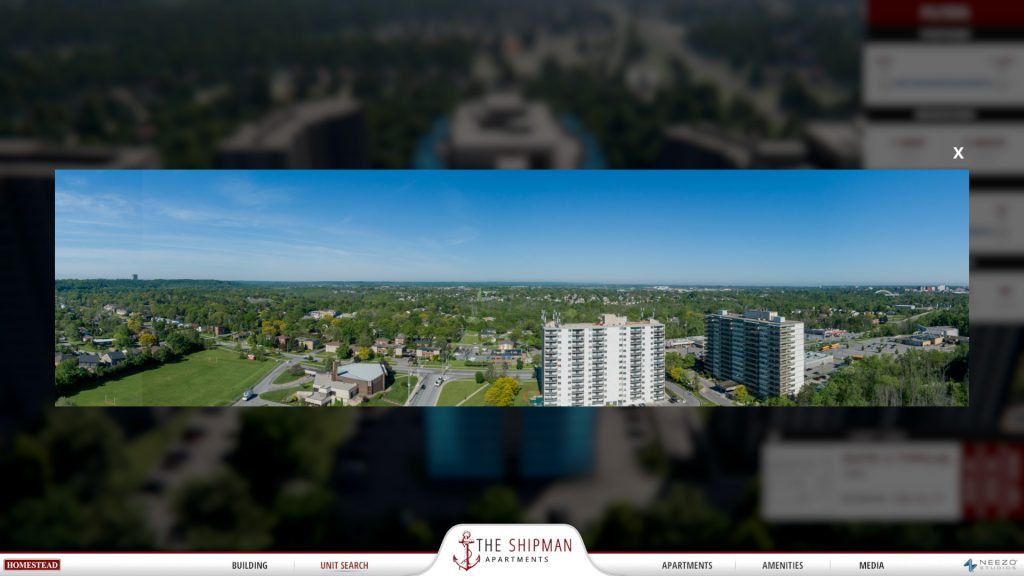 Explore panoramic views of the community with NEEZO's aerial/drone photography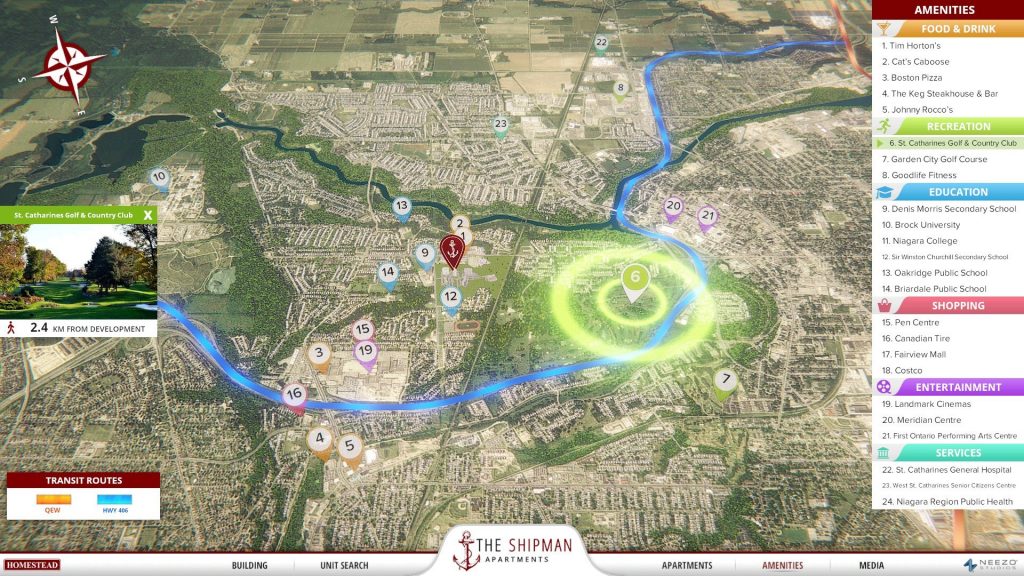 Homebuyers can check out area amenities and see how close they will be to their new home. Amenity menu tabs can be collapsed so users can focus on the category of their choice (e.g. identify schools location only)

If you would like to learn more about
LiveSite™,


click here

to schedule a demo

Your Brokerage's Sales Team can Benefit from LiveSite™ too
LiveSite's™ real-time-data analytics allow the builder and their sales team access to LiveSite's™ back-end interface, which enables users to:
adjust pricing
reserve or unveil phases-as they're ready to be featured
reserve or unveil units-as they're ready to be released
print sales reports
produce stats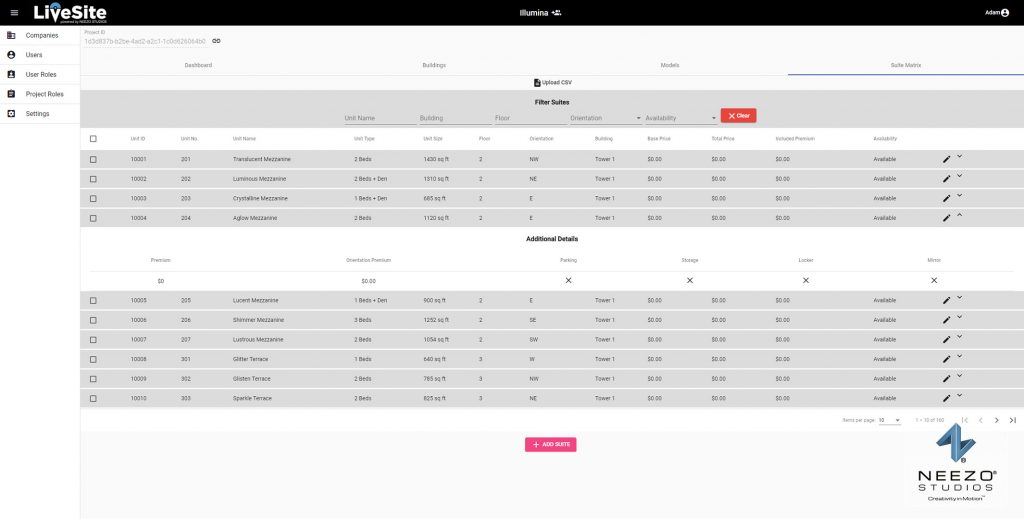 Your Brokers/Realtor can use
LiveSite™,
to show your project to foreign investors

Sure, you can provide your brokers/agents marketing collateral: printed material, Google Drives and Dropboxes filled with PDFs but imagine giving them access to LiveSite™? It makes it easier for them to promote your project…and only your project. LiveSite™ will become their go-to-tool, the next best thing to bringing their investor clients to your sales centre. Why, because homebuyers and/or investors will experience the exact same presentation as if had they visited your sales centre.

NEEZO Studios is an award winning-creative studio and architectural visualization firm specializing in:
photorealistic 3D renderings and animation
VR/AR
sales software
interactive applications
video content
architectural scale models
aerial/drone photography and so much more…
Through the latest innovations in 3D technology, paired with its storytelling and design aesthetic strengths, NEEZO Studios creates end-to-end digital solutions that have made a prominent impact in the digital marketing realm.
For a complete list of NEEZO's services, visit their site: NEEZOstudios.com
We Look Forward To Inspiring You On Social.