I recently watched a webinar describing life moving forward whenever COVID-19 is behind us.
For certain, everything is changing for everyone, and it may never be the same before this pandemic struck.
The good news is that we continue to learn a lot during this worldwide pandemic, especially how individual actions can have a domino effect. One person ignoring physical distancing can set off a chain reaction with negative results. On the other hand, one person following good hand-washing and sanitizing practices can prevent the spread of the virus to others. When thousands and even millions of people follow healthy practices individually, it has a major impact.
Right now, we are seeing businesses reopening, but with changes aimed at keeping customers safe. How long will these measures last? No one knows, and we have to trust our governments to take a similar step in the future with extreme care.
Coping mechanisms
In the meantime, for business owners across all industries, we have to be cognizant of what is happening and what may occur in the future. We want to get back to "normal" as soon as we can, but it will likely never be the same. Rather than becoming things of the past, many of the coping mechanisms we have developed to keep employees and customers safe will become the "new normal." For Two Men and a Truck Canada, we understand the future will be all about trust, and we intend to continue to uphold our promise to be "the movers who care." For us, it has always been about doing the right thing to earn and keep the confidence of our customers.
Movers will continue to wear clean uniforms, use masks, gloves, practice good hygiene which includes the use of hand sanitizers and frequent hand washing. Physical distancing will be top of mind. We will continue to clean and sanitize our trucks and equipment. This is the "price of admission" for entering our customers' residences or offices with trust and confidence on both sides. We, and all businesses serving the public, have to be seen to be walking the talk and do the best we can to stay healthy and help keep everyone else healthy as well. Considering the seriousness of what has happened in this year, this commitment will carry on well into the future.
During COVID-19, we no longer perform on-site estimates at our customer's homes, condos, apartments or offices. We are leveraging technology to perform virtual walk-throughs, as well as performing telephone estimates. Customers can now take advantage of a new chat feature available on our franchisees websites and also have the ability to text with our customer service reps.
Moving is an essential service, regardless of time of year, economic ups and downs, and even the presence of pandemics. We understand the importance of transporting people's cherished possessions safely and with care. We also pride ourselves on treating our customers as though we're moving our grandmother – what we call "the grandma rule."
We don't want any grandmothers, grandfathers – or anyone else – getting COVID-19, so we will continue to take all precautions as we continue to move forward.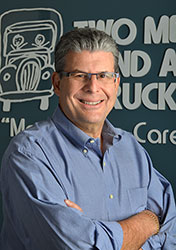 Chuck Resnick is Vice-President, Marketing & Operations, Two Men and a Truck – Canada. twomenandatruck.ca