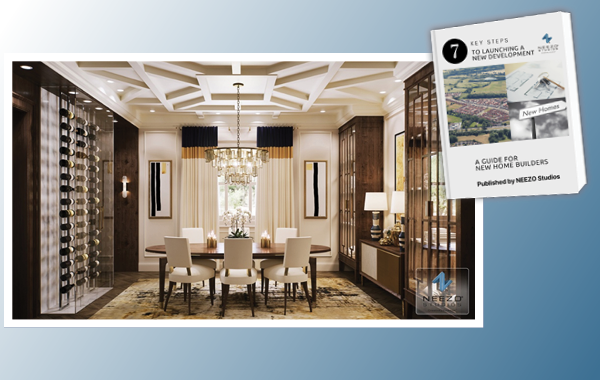 Sponsored Content
Imagine trying to sell a $1-million product, and the marketplace just isn't gravitating to your project. That was the case with this particular project.
The builder (name withheld) did its homework, researched the comparables in the area, and $2 million for the type of product he was selling was not an unreasonable price. The floorplans were masterfully designed. The builder came to NEEZO Studios for its expertise in architectural visualization and building of scale models.
It's a known fact that consumers, including homebuyers, shop with their eyes first. If homebuyers don't like what they see at first look, they won't even bother making a trip to the sales centre.

In the case of this development, NEEZO Studios was brought on as a last-ditch effort to see if it could help revive the project.
NEEZO Studios' in-house design team to the rescue.
Our work may be done in the studio… but it begins on-site.
Assessing the community and surrounding neighbourhood
NEEZO went on a field trip to tour the site, exploring the stellar community-at-large to take in the style and architecture that was typical and desired in that particular neighbourhood.
The team came back, created a vision board of the ideal target market and what types of homes they were looking for, and then made the strategic recommendation to change the materials used for the exterior of the home.
The physical structure of the townhome block was not in need of any modifications. It was Georgian-inspired, classic and timeless. It just needed that little something extra on the exterior.
NEEZO created a monochromatic, limestone finish with detailed accents. As you can see the results were dramatic and evoked the type of townhomes you'd see in a Parisian suburb.
BEFORE:
Standard, earth-toned brick, in three colourways, green rooflines, some windows with shutters, some without.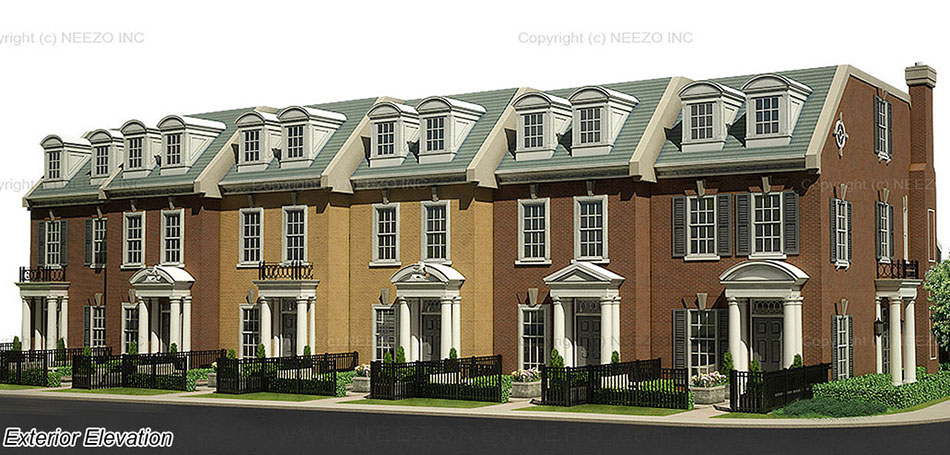 AFTER:
A cream coloured, classic, monochromatic, limestone finish with detailed accents, uniform windows and a fresh, grey roofline.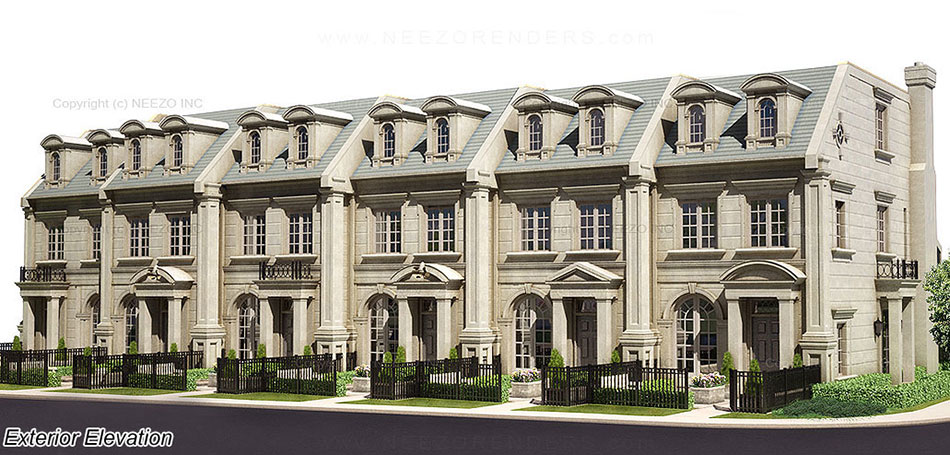 The visual changes are remarkable and made all the difference, taking the project's marketing from so-so to sold!
NEEZO Studios is internationally awarded and recognized for its photo-realistic, 3D renderings, both exterior and interior.
Check out NEEZO's stunning, photo-realistic interior renderings recently created for Lindvest's Klein Estates project, situated in tony Kleinberg. Each rendering was customized to echo the designer's features and finishes.
NEEZO's clients can also make use of our in-house designers who have often been asked by clients to enhance their existing interior renderings to reflect the stature of the homes' floorplan design, architecture and surrounding community.
NEEZO Studios is unique because… rather than select 3D rendering images from a library, our renderings stand far apart from others – because they're custom-modeled, made to order, tailored to the designer's specified features and finishes. Many clients don't realize that you can customize a rendering – and we're experts at it.
Here's a gallery of Lindvest's Klein Estates renderings.
[print_gllr id=1968]
Once the renderings were completed, we also created a 3D animation, storytelling video, featuring the builder's designer.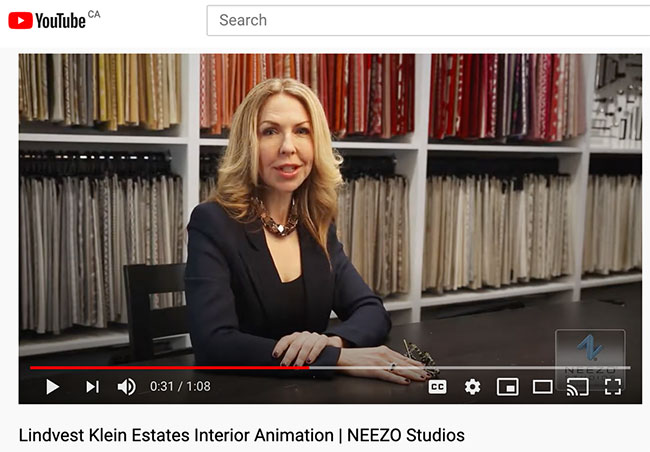 Click

here

to download your free guide:

7 key steps for new-home builders to successfully launch a development!
…and get an inside look at how NEEZO Studios can help you successfully market and launch your next project!
Click here to learn more about Livesite™ Real Estate Sales Software by NEEZO Studios