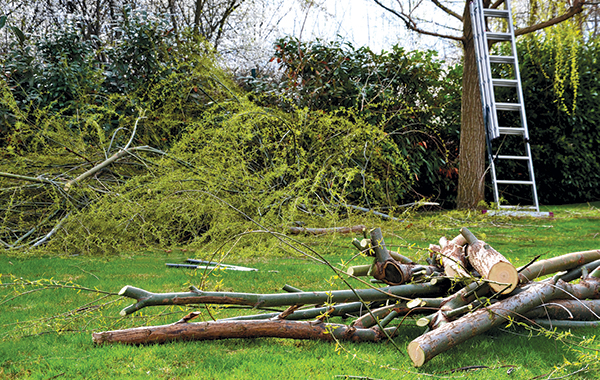 Forest fires or wildland fires are common occurrences from May to September in areas of the country that are densely forested or that have vast grassland, particularly during dry conditions and drought. They can cause extensive damage to homes in the wildland-urban interface and put lives in danger.
There are things homeowners can do to reduce how flammable their home and surrounding landscape is, and renovators can help. CHBA collaborated with FireSmart Canada, the Intact Centre for Climate Adaptation (University of Waterloo) and the University of Alberta on information for wildfire resilience for renovators (and builders) to consider for homes in high-risk areas. Items such as roofing, siding, gutters, decks, fencing and landscaping are all areas that can be modified to reduce wildfire risk.
With wildland fires being an increasing concern, the topic was addressed at the most recent Canadian Renovators' Council. Renovators were advised that integrating wildfire resilience into their project protects was a simple way to protect the investment of renovations and upgrades. Wildfire resilience is particularly well suited to simple upgrades, since most of the protective measures are simply switching siding and roofing materials for non-combustible material choices.
CHBA has also adapted a FireSmart resource and produced a one-pager for homeowners on how to protect their properties. The information was shared with homeowners on the RenoMark blog (renomark.ca) and on social media. Homeowners were encouraged to hire RenoMark members for their home renovation needs. They were advised to understand how their location affects the risk of wildfires and double-check that their home insurance properly protects their home.
The following items can help homeowners reduce the risk of a wildfire spreading to their homes.
Complex home upgrades
Homeowners who are very concerned about the threat of wildfire and are eager to take more advanced measures to protect their homes may wish to have the following more complex upgrades done as part of a larger home renovation. These steps likely require the support of a professional renovator or contractor.
When re-roofing, install Class A fire-resistant roof covering or metal roofing
When replacing siding, choose non-combustible siding
Install multi-pane or tempered glass windows and fire-rated doors
Remove any conifer trees within 10 m of home
Ensure all decks connected to the home are made from non-combustible materials or protect the decking so that the home is protected from being ignited
Simple home upgrades
Some homeowners may be able to tackle these items by themselves, and others will need professional help.
Install non-combustible screens with maximum three mm openings on soffits and all external vents (except dryer vents)
Replace door weather stripping that is old, worn or missing
Install non-combustible ground materials within 1.5 m of the home (soil, rock, concrete, stone) and ensure 15 cm vertical clearance to the siding
Ensure fencing and gates near the home are made of non-combustible materials
Routine maintenance
Staying on top of routine maintenance tasks is a simple way for homeowners to minimize flammability risks on their property.
Clean vents and eaves troughs of debris
Keep firewood, lumber and other combustible material at least 10 m away from the house perimeter, if possible
Mow the lawn to keep the grass under 10 cm
Remove debris or dead vegetation from underneath decks/stairs
Landscaping
Remove ground cover such as mulch and plants within 1.5 m of the home
Prune trees to create a two m clearance from ground to lowest branch
Ensure plants are well spaced and low growing
Ensure any sheds or other outbuildings are at least 10 m a way from residence if possible
Trim branches from trees that are overhanging the home or deck