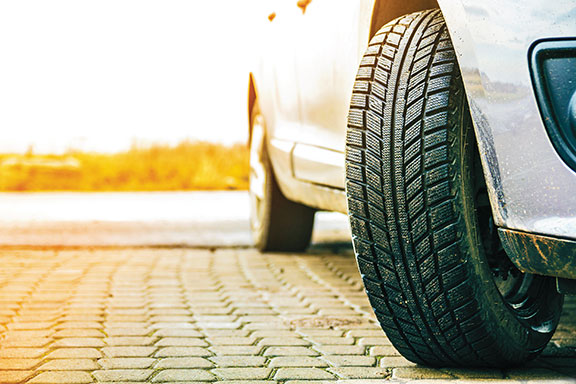 You've heard the terms computer chips and semi-conductors. And you've heard that there are shortages. But now that you're out shopping for vehicles, the significance is going to hit home.
Even the mighty Toyota Motor Corp. has had to stop production from time to time at its plant in Japan because of the shortages.
Many automaker websites display a warning that what's on display online may not be in stock at your dealer. You may have to order it and wait for who knows how long. The vehicle might not even have the features you ordered because the chips aren't there to run them. They might be available later on.
Keeping this in mind, let's go shopping.
The panel van market – goodbye to small and mid-size vans
Wiedersehen Metris
Mercedes-Benz will stop production of its midsize Metris van following the 2023 model year. Sales are low.
Ford disconnects the Transit Connect
Like the Metris, Ford's small van, the Transit Connect, will be gone after model year 2023. Like the Metris, its sales are low.
Ram ProMaster City gone, too
Like its cousins, the ProMaster City is gone after the 2022 model year – as contractors look to larger vans.

The big guys
When it comes to the Sprinter Cargo Van, Mercedes gives you 10 choices from the 2500 to the 4500. Wheelbases are 144 in. and 170 in. All engines are diesel-powered, four-cylinder engines.
There are major changes to the 2023 Sprinter's powertrain range because there's a new 2.0-litre four-cylinder turbodiesel. The 3.0-litre V6 turbodiesel is no longer available.
The less powerful variant has 168 hp (125-kw) and 295 pound-ft. torque. The high-output version makes 208 hp and 332 pound-ft. torque.
Height starts at 233.5 in. Cargo length from the driver seat is 132.9 in. Cargo bed width is 53.1 in. Cargo bed height is 67.7 in. Cargo space is 319 cubic ft. Maximum towing capacity is 5,000 lbs. Maximum payload is 3,953 lbs. Rear-wheel drive is standard. But if your workplace has rough terrain, all-wheel drive is available on every Sprinter van model.
Upfitting is available.

The Savana (GMC)/Express (Chev) Twins (2023)
Both come in 2500 and 3500 sizes. There's a standard V6 that generates 276 hp.
Both the 2500 and 3500 offer 283.6 cu. ft. of cargo space. But if you need to haul a heavy cargo, go with the 3500. You can load up to 10,000 lbs. in it. The standard, passenger-side door swings out in a 60/40 split.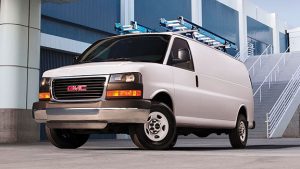 The Savana and Express come as empty boxes on four wheels, though both offer some shelving and other storage solutions as accessories.
There's an available sliding side door.
Not enough? Upfitting is available.
Ford Transit
The Transit for 2023 offers three lengths and roof heights and an available power sliding door. Beside the standard V6, which puts out 275 hp and 262 pound-ft. of torque, there's an Ecoboost V6 that puts out 400 hp and 500 pound-ft. of torque.
All-wheel drive is available to help you navigate those rugged work sites.
Cargo volume is 357 cu. ft. on the high roof. Payload max is 3,680 lbs.
Upfitting is available.
Ram Promaster
There are two Promaster vans, the 1500 and the 2500. Both have V6 280-hp engines. Ram boasts that the two Promasters have a best-in-class turning ratio. Also available is a roll-up rear door instead of the standard, rear swing-out doors. Both have rear step bumpers.
A self-parking feature is available.
The ProMaster 1500 has a maximum payload of 4,000 lbs. The ProMaster 2500 has a maximum payload of 4,230 lbs. The 1500 has a maximum towing capacity of 6,910 lbs, while the 2500 lags at 6,800 lbs.
Both have a standard 21-in. (533 mm) load-floor height. The low roof is 118 in. high. You can order a high roof in each model. The high roof is 136 in.
The high roof can tow up to 6,700 lbs, and has a payload of 3,763.
Upfitting is available.
The pickup battlefield
If you're new to the Chev/GMC pickup world, the Chevrolet Colorado, and its counterpart, the GMC Canyon, are a series of compact and mid-sized pickups.
Body styles are similar. There's a two-door regular cab, a two-door extended cab and a four-door crew cab.

Chev Silverado/GMC Sierra
The Silverado/Sierra come in a Regular Cab model with eight-ft. bed, Double Cab with six-ft. six-in. bed and Crew Cab with six-ft. six-in. or five-ft. eight-in. bed.
There is a variety of engines, from a turbo-charged 2.7L four-cylinder churning out 310 hp and 348 pound-ft. of torque to a 6.2L V8 with 420 hp and 460 pound-ft. of torque. A turbodiesel is available. The gasoline engines come with fuel-efficient Active or Dynamic Fuel Management.
Active Fuel Management improves fuel economy by deactivating half of the engine's cylinders under light driving conditions. Dynamic Fuel Management works in a similar manner but improves on the AFM system with up to 17 different cylinder activation patterns, providing optimized efficiency and power delivery.
A turbodiesel is available.
Maximum payload is 2,250 lbs, while the Sierra 1500 and its Silverado twin have a towing capacity of 13,200 lbs with a ball hitch and the 3.0L 1-6 LZ0 engine.
To help make loading and unloading easier, there's an available six-function Multi-Flex tailgate. Also available is the CarbonPro carbon fibre composite box, which is lightweight and damage-resistant. A power-up/down tailgate is also available. It supplies a smooth lowering of the tailgate, and the option to power the tailgate closed – SUV style.
Four-wheel drive is also available to help you take on those rugged construction sites.

GM/GMC's light duty duo
Chevrolet Colorado/GMC Canyon are the General's entries in the light duty truck market. They offer a powertrain for just about everyone: A base four-cylinder with a six-speed automatic transmission; a speedy 308-hp 3.6-litre V6 with an eight-speed automatic; and a 2.8-litre diesel four-cylinder that churns out an impressive 369 pound-ft. of torque.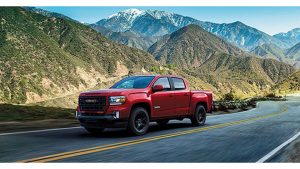 To get maximum towing power of 7,000 lbs., you'll need the V6. To get 700 lbs more, turn to the diesel.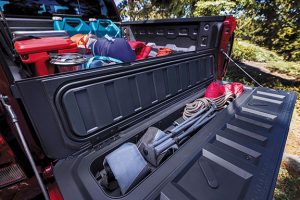 The twins come in extended-cab and crew-cab body styles. Crew cabs offer two bed lengths – short (five ft.) and long (6.2 ft.). The extended cab comes only with a long bed.
The 2023 edition offers a new built-in tailgate storage system which offers a secure, water-tight, and convenient storage solution. With the tailgate lowered, the system has a lockable lid that opens to supply access to a compartment that is 45 in long and four in. wide. Comes with a drain.

Ram 1500
Chrysler's entry into the large-size arena comes with three powertrain options: A 260-hp diesel, turbocharged 3.0-litre V6, a 305-hp 3.6-litre V6, and a 395-hp 5.7-litre V8. All use an eight-speed automatic transmission. The Ram 1500 can tow up to 12,750 lbs and carry a payload of up to 2,320 lbs.
There's a new, Multifunction Tailgate option with 60/40 clamshell doors to take on the General's MultiPro tailgate.
The Ram tailgate splits horizontally into hinged 60/40 sections. It can swing out, clamshell style, when the tailgate is raised. Each door can be opened individually up to 88 degrees.
The tailgate lowers normally in a single piece, has the same damped action as the regular Ram's tailgate. It can be operated by remote and can hold a 2,000-pound load when lowered. All done even with a trailer is attached.
And now for something different – the Ford F-150 PowerBoost
Want to go easy on the environment, but you suffer from range anxiety? Then the Ford 150 PowerBoost, alias F150 Hybrid, is for you.
The Blue Oval claims that the new 400-hp hybrid powertrain – which consists of a 3.5-litre twin-turbo V6, a 35-kw electric motor, and a 10-speed automatic transmission will offer more than 1,100 km of driving range per tank and can also power an onboard generator for keeping the power flowing at job sites or during power outages.
Comes with a choice of rear and four-wheel drive.
The battery self-charges with regenerative braking and engine power. The hybrid is rated at 430 system horsepower and 570 pound-ft. of torque. Combine that battery with the F150's large 30.6-gallon fuel tank and this gives this full-size pickup an estimated driving range in excess of 1,100 km.
The Hybrid can tow up to 12,700 lbs in the four-by-two and the 12,400 in four-by-four. But tow the max and watch the battery range go down.

And last but not least, Nissan, Toyota and Honda
Nissan's entry is the midsize Frontier. Comes in three sizes – King Cab, Crew Cab Long Bed and Crew Cab. The King tows up to 6,490 lbs, while the others tow 6,240 and 6,260, respectively. The King can carry up to 1,430 lbs while the others, 1,140 lbs and 1,230 lbs, respectively.
Bed dimensions in length are up to 73.2 in. for the King and Crew Cab Long Bed, and up to 58.8 in. for the Crew Cab.
Widths are 44.8 in. for all.
There's a 120V power outlet available. It's bed-mounted so you can load up after dark and see what you're doing. LED under-rail bed lighting is also available.
Standard is the Dampened Assist tailgate that lets you open and close the liftgate with one hand for safety and convenience.
The available spray-on bedliner has a durable, non-skid surface that also prevents rusting. There are three bed channels that let you slide the four, heavy-duty cleats into position. They help you tie things down and are standard.

On the menu for Toyota are the Tacoma and Tundra
The Toyota Tacoma is a mid-sizer with a 159 hp, four-cylinder engine and a six-speed trannie. It tows 6,500 lbs and offers 180 pound-ft. torque. A V6 engine is available and its 278-hp V6 churns out 265 pound-ft. of torque.
The V6 can pull 6,800 lbs. Payload maximum is 1,685 lbs.
Comes in a four-by-four Double Cab, four-by-four Access Cab and four-by-four Access Cab 6a.
The maximum payload capacity on the Access Cab on the SR and SR5 is 1,685 lbs with a four-by-two configuration. Those same trims deliver 1,445 lbs with four-wheel drive.
The Tundra is powered with a V6 engine with either 348 or 379 hp. The hybrid churns out 437 hp with 583-lb torque. But no four-by-four is available. The Tundra comes as either an extended- or crew-cab, and offers a 5.5-, 6.5- or 8.1-ft. bed depending on cab size and trim. Max towing is 12,000 lbs. The max payload is 1,940 lbs.
Tundra comes in two body styles with three different cargo-bed lengths. The Extended Cab aka Double Cab is available with either a 6.5- or 8.1-ft. bed. The Crew Cab aka Crew Maxis offered with either a 5.5- or 6.5-ft. bed.

The Ridgeline
The mid-size Ridgeline comes in only one size – a four-door crew cab with a five-foot bed. Comes with a 280 hp, 3.5 litre V6 and nine-speed tranny. But AWD is standard. Good for those rugged worksites.
Tows 5,000 lbs and has a 1,600 lbs payload.
Comes with a five-ft.-four-in. by five-ft. UV-stabilized, scratch-resistant truck-bed, eight 350-lb tie-down cleats, and a lockable In-Bed Trunk. Trunk volume is 34 cu. ft.
The Tundra's locking, weather-tight in-bed trunk, which is located below the bed's floor and accessed from above a 7.3-cu.-ft. capacity. There's 50 in. between its bed's wheel wells, so the Ridgeline can fit a sheet of four-by-eight-ft. building material flat on the bed floor.
Aftercare
The General, Ram, Ford, Mercedes, Nissan, all offer a fleet ownership package that features special pricing, knowledgeable advisors and preferential servicing to cut down time.
Ford and Nissan require three business vehicles to quality. The General, Ram and Mercedes insist on at least five.
Toyota and Honda say they offer fleet service, but details are vague. So, speak to a dealer.
Happy motoring!