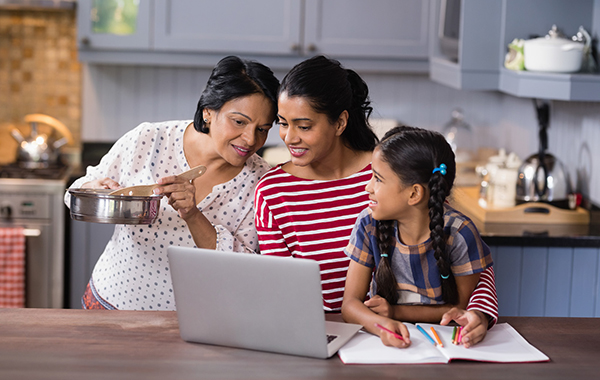 By Debbie Cosic
As sales people and marketing specialists who operate in the thick of the GTA condo sales world, my team at In2ition is constantly being asked about trends we're observing on the sales floor and concerns we're hearing from the prospective purchasers we deal with on a daily basis.
Not surprisingly in a red-hot Toronto housing market where prices have been on a seemingly relentless march upward, affordability tops the list of buyer worries. And because most first-time purchasers can't afford much space, there is added concern, particularly for growing families, that there simply won't be enough room to live comfortably — at least if they want to remain within the borders of the GTA.
Fortunately, builders are hearing these concerns and in recent years have been doing a great job of coming up with innovative and creative ways to better accommodate affordability-minded families.
Detached homes and townhouses are being designed with multi-generational living in mind, facilitating families who want to live under the same roof, whether it's for pragmatic or economic reasons — or both.
Solutions here include basement apartments, attic conversions, or in-law suites, which are growing in popularity. As the name suggests, in-law suites can be used to house aging relatives (a win-win: grandma is kept happy and safe and can serve as babysitter on Saturday night) or cash-strapped younger generations who want an independent living option but can't yet afford to leave the nest.
These secondary suites include sleeping and living areas, a basic kitchen and a separate entrance, making them perfectly equipped for multi-generational co-habitation.
Homeowners can create an in-law apartment by combining rooms in an existing house, without changing the original footprint — a cost-effective approach.
Some buyers prefer properties that can be divided into a three-plex, with one apartment per floor, ideal for accommodating grandparents as well as grownup offspring. As rental units, in-law suites can provide an effective way for homeowners to pay off mortgages or pad their retirement incomes.
Something we would like to see in condo buildings is the concept of "lockoffs," or adjoining units that resemble hotel suites, with a single room, bathroom and kitchenette. A lock-off is ideal for a single grown child or a couple just starting out. And there's also the potential to rent half of the unit or the entire suite if it's not being used to accommodate family members.
Laneway housing is another emerging affordability solution, especially in Toronto, which has more than 2,400 publicly owned laneways. Laneway housing — small coach houses built above garages that face laneways and are serviced from the main house — represents a viable option for adding supply to the Toronto rental market. And the city has been keen to clear the bureaucratic path toward the development of laneway housing, so it could turn out to be a savvy investment decision for homeowners and prospective purchasers. GTA housing prices may be soaring, but creative housing concepts like these are doing much to alter the affordability equation, and creating benefits for all concerned in the  process.
Debbie Cosic is the founder and CEO of In2ition Realty & Brokerage http://in2ition.ca/