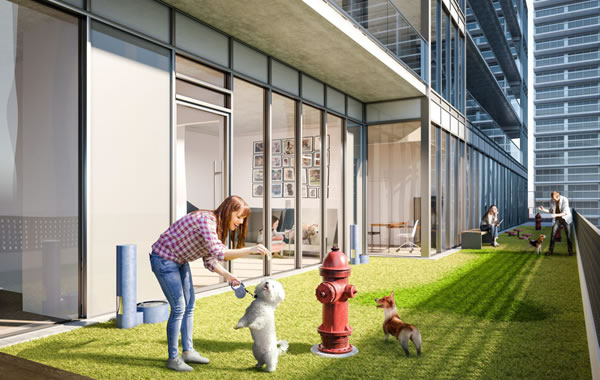 Condo amenities that meet the needs of the market's evolving demographics are a great way to rise above the competition while avoiding excessive cost.
by Adam Savoni
Community
With so many young families finding themselves priced out of the GTA's lowrise market, there is a growing appetite for family-friendly condos that must not go unnoticed.
While three-bedroom condominiums pose similar affordability challenges to single-dwelling units, more modestly-sized units with family-oriented amenities can be a big sell for families looking to explore the condo lifestyle.
Condo amenities that meet the needs of the market's evolving demographics are a great way to rise above the competition while avoiding excessive cost. Golf simulators and lap pools are still popular among some, but if the location and target audience are appropriate, you are bound to appeal to more buyers by offering family-oriented amenities.
With limited suite space, parents will appreciate common areas where their children can burn off some energy and play with other kids. Some of the more common amenities that cater to young families include kids' rooms, family rooms, rooftop splash zones and even dog-walking spaces.
Make sure that the spaces are inclusive for all members of the family. Something as simple and inexpensive as a desk and WiFi connection will allow parents to catch up on work, or take a moment to themselves while the kids are at play. These amenities should act as refined spaces for both children and adults to create a healthy feeling of community that's so important for any new development.
It is critical that the marketing agency is brought into the conversation as early as possible to ensure that the amenities are aligned with the overall brand. It goes without saying that the brand should not only create a sense of excitement for the audience, but influence how the product comes together. Your agency can offer new and innovative ideas for the amenity spaces while working with the interior design team to make sure they are on brand and on point.
It's worth noting that the inclusion of modern, desirable amenities should not be limited to condominium projects. New purpose-built rental developments with well-planned and well-designed amenity spaces will go a long way towards changing public perception around rental projects and renting in general.
Community has launched multiple purpose-built rental brands that incorporate progressive amenities, all of which have proved to be very successful. One such example is The Livmore in downtown Toronto. The project was competing against numerous condo developments in the surrounding area, all of which had investor-owned units for rent. To stand out, our team took the amenities within the neighbourhood and complemented them with unique, modern spaces in the building itself. This immediately placed The Livmore on the same level as its condo counterparts but without the large down payment and 25-year commitment, as illustrated in the tagline "lease is more."
Using amenities to enhance your brand are just one of many ways to help your project, whether condo or purpose-built rental, appeal to a broader audience. Your agency should be putting in the research hours to stay on top of market conditions, trends and changes. Keep that in mind when selecting a marketing partner for your next project and make sure you ask the right questions.
| | |
| --- | --- |
| | Adam Savoni is vice president, real estate marketing at Community. |
---