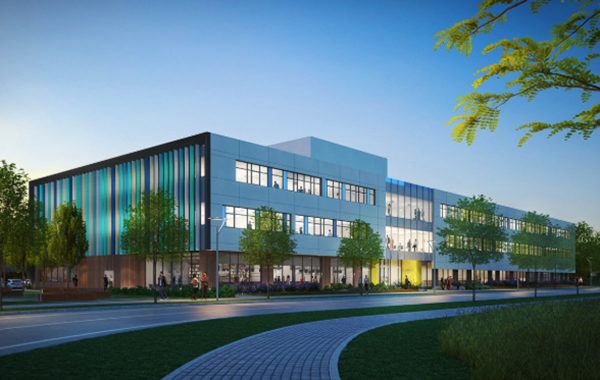 By Afaf Azzouz
Stantec
Can the way we design or retrofit our buildings help the climate crisis? This is a question that lingers in my mind daily. Cutting greenhouse gas emissions and trying to reverse climate change has never been more important. Investing in our buildings, new or old, can make a difference. Old buildings in particular present a great opportunity to make improvements.
It has always been a challenge to get people to invest in new sustainable buildings, largely because of the idea of higher upfront costs. Thankfully, because of successful projects like evolv1 in Waterloo — a net-positive, multi-tenant building that recently won the first-ever Zero Carbon award from the Canada Green Building Council (CaGBC) — more people understand that there's a great business case for green buildings. Not just for the environment but for the bottom line.
While our understanding about the value of green design in our new buildings is taking hold, people are still overlooking all the old building stock out there. For every innovative evolv1 project in development, there are dozens of inefficient existing buildings around us. Most of these old buildings will stand for decades, so what can we do about them today? What strategies can we adopt to improve the energy efficiency of existing buildings?
Here are some ideas. Let's focus on low-cost/no-cost measures. If you follow these suggestions, it'll make a difference―both for the environment, and for your energy bill.
Don't leave the lights on
Do you really need to be lighting every floor of your office building all the time? Aside from emergency lights, it makes sense to use control strategies like daylight dimming and occupancy sensors to reduce your energy usage during evenings and weekends. Daylight dimming detectors adjust lighting according to the amount of sunlight available, and occupancy sensors work like indoor motion lights to detect if a person is present.
Program that thermostat
Here's another easy one. To maximize energy savings, it's wise to use a variable temperature strategy. In office buildings, set your thermostat to a comfortable room temperature for the mornings and afternoons, when the building is occupied. In the evenings, reduce it. For example, during full occupancy times, set your temperature to 21C (70F). Lower it to 15C or 16C (59F-60F) during off-hours. At home, make sure to use a smart thermostat or a programmable thermostat. Why heat a room that much if no one's in it?
Close down your fresh air damper
Here's a related point to the last one. Some building operators keep central fans running for too long, which supply fresh air to spaces when it's not necessary. If there's no one in your building during nights or on weekends, it doesn't make sense to provide continuous fresh air. At night, revert to the minimum airflow required for conditioning the space.
Shut off your equipment
Instruct staff members to power down their laptops and desktop computers at night. Reduce the receptacle power use during unoccupied times. I realize that businesses need to update their systems occasionally, so perhaps you can schedule patch/maintenance updates on weekends for a couple of hours. But don't leave those computers on every night.
Fix those old windows
Windows in older buildings are often leaky. This leads to more heat escaping from your comfortably conditioned spaces, which means that you need to supply even more heat — and you lose more energy this way. Look into fixing or replacing those drafty windows as soon as you can.
Upgrade your equipment
People often don't upgrade their equipment when they should. All pieces of equipment have a useful service life. For example, if your furnace has a service life of 20 years, don't let it run for 30. If you are planning on doing a mid-life retrofit to your building, do not replace your equipment on a like-for-like basis, but upgrade and improve on the equipment's efficiency. Technology improves every day, so the efficiency of appliances and devices also improves constantly. If your furnace is running at a low efficiency, you're going to be dealing with some big bills.
Design for tomorrow, not for today
Apart from the cost, look ahead to the future. The temperature will be warmer, so if you're designing/and or upgrading a cooling system, you need to account for extra cooling load in the future. Design for tomorrow, not today.
A few final thoughts
For both existing building retrofits, as well as for new developments, clients are typically focused on upfront costs. Most stakeholders will prioritize upfront cost — how much is this going to be at the outset? But we need to start considering life-cycle cost and think of how much it's going to cost to operate the building on a day-to-day basis. Can you save $10,000 down the road by spending $500 extra today?
High-performance and low-carbon buildings will produce lower operating costs than more conventional strategies. Like I mentioned earlier, success stories like evolv1 are helping to change this mentality — evolv1 is a living example of net-zero carbon emissions balanced with a financially viable solution.
These are steps that we can take to help address the current climate crisis, while also designing, building, and retrofitting buildings to be energy- and cost-efficient and more comfortable for users.
Afaf Azzouz is a buildings energy specialist with Stantec's Energy and mechanical engineering group in Ottawa. She recently won the 2018 Emerging Green Leader Award from the CaGBC of Ontario. https://www.stantec.com/en