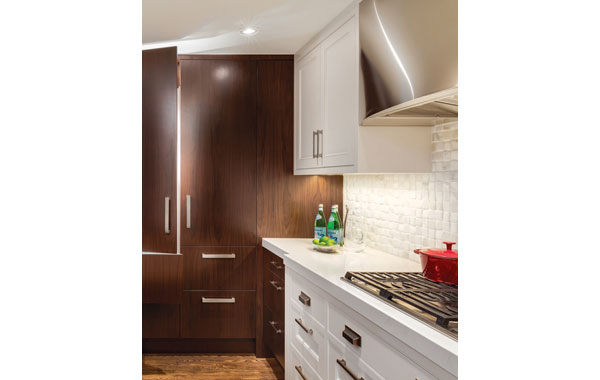 by Braden Alexander
"How much will it cost to renovate my kitchen and bathroom?" It's the question that gets a laugh out of any good contractor. The answer, of course: it depends. The range of options for everything from tiles to plumbing to appliances is astounding. Get a lay of the land with this year's assembly of some of the best (and most surprising) new products for kitchens and bathrooms on the market.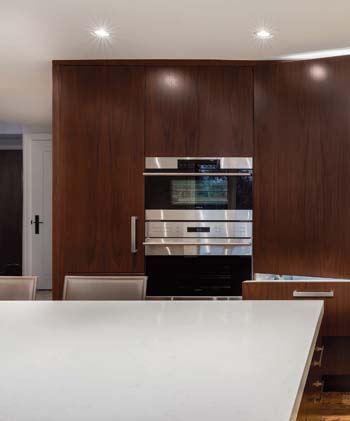 Kitchens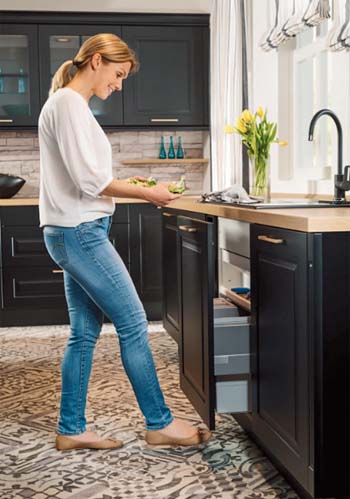 Richelieu hands-free door opener
The filthiest spot in the kitchen has to be the handle for accessing the garbage can. Avoid the mess with the Libero, a hands-free sensor that opens up any frameless lower cabinet from 12″ to 24″ with just a wave of the foot under the kick plate. You can even adjust the push-out force with a smartphone app.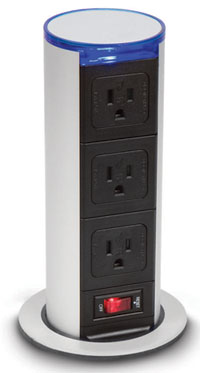 Mockett pop-up electrical outlet
There's something satisfyingly space-age about these pop-up power grommets. Press the top and up springs a tower with two or three outlets, giving you GFCI-protected power exactly where you need it, without having to drape cords down the side of a counter or island. A water-tight seal keeps liquids from spilling in, and the whole operation slides out of sight into its 3¾" hole when not in use.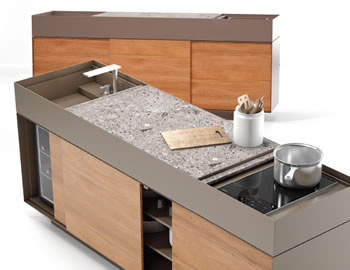 Kettal outdoor kitchen
For those looking to elevate the outdoor cooking experience from the simple barbecue and side table, Kettal has unveiled an entire outdoor kitchen. The base is made from one of 30 colours of aluminum, with the option of teak doors. The surface is outfitted with a sink and a ceramic hob for cooking, all of which packs away behind sliding panels. Inside the cupboard, you've got electric connections suitable for a small fridge.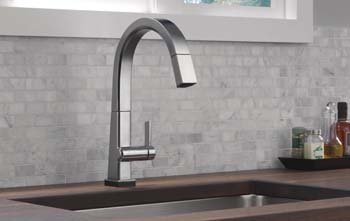 Delta Pivotal faucet with Touch20 technology
This hands-free option from Delta can be activated by tapping it anywhere on the handle or spout, and will automatically shut off after four minutes. An integreated LED light changes from blue to red as the water temperature increases. It's available in four finishes – arctic stainless, black stainless, chrome, and polished nickel.
Depart from the ordinary
Delta's Pivotal Collection brings global appeal and a striking statement to your kitchen with sleek, contemporary geometry. Shown here, the Pivotal Collection in black stainless finish combines confident, angular lines, and exclusive smart technologies to embody modern style.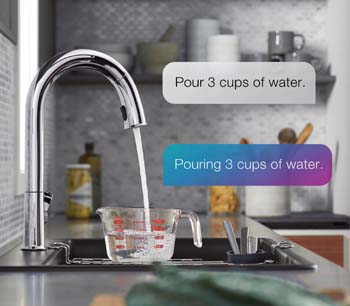 Kohler Sensate faucet
This is one smart home application that really is handy – a voice-activated faucet. Simply ask your faucet to turn itself on and off, or even dole out measured amounts of water. The faucet is also motion-activated.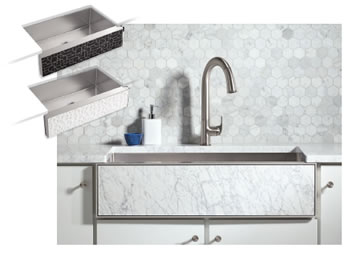 Kohler customizable sink
Earlier this year, Kohler introduced a line of single- and double-bowl farmhouse sinks with customizable apron fronts. The Tailor Sink can be finished with tile or a countertop remnant, or with one of six readymade designs, including etched stone and graphic inserts. You could say that it's tailor made for choosy clients.
Alternative Appliances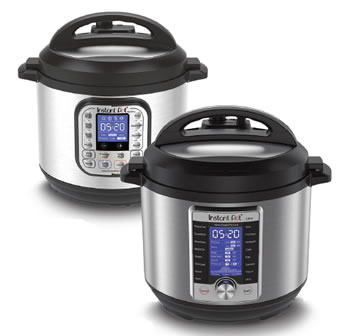 Instant Pot cooker
This Canadian-designed product combines a slow cooker and pressure cooker into one, and can also be used to used to steam, saute, and more. When the testing team at Chatelaine magazine tried one out, they found that it prepared a slow cooker dish in half the time, and lived up to the hype as a convenient option for time-pressed cooks.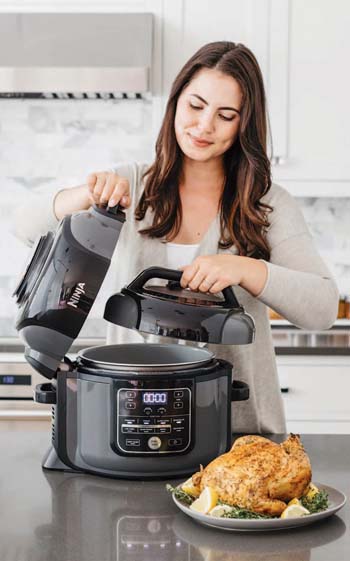 The Ninja Foodie
Jealous of your Instant Pot friends who've been cooking every meal under the sun with the same little countertop device? The Ninja Foodie can do all that – pressure cook, saute, slow cook, and steam – plus it can dehydrate and air-fry, adding a nice crispy layer to your food. The digital display on the front ensures that you never overcook your roast chicken again.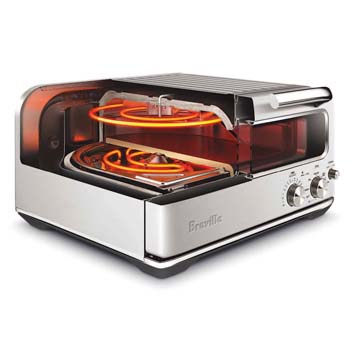 Breville pizza oven
Homemade pizza can't compare to the wood-fired stuff at a good Italian restaurant because home ovens can't reach the 750° F temperatures required to crisp the crust. Breville solves that with the Smart Oven Pizzaiolo, a domestic countertop pizza oven that'll cook a pie in two minutes flat using conductive, radiant, and convective heat all at once. Sure, $800 USD is a lot of dollars to pay for good pizza, but who can put a price on taste?
Safety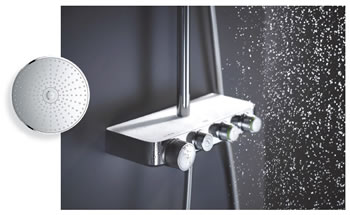 Grohe Euphoria SmartControl Shower
What makes the SmartControl shower special: it's got an exposed, wall-mounted thermostat that lets you adjust every single aspect of your shower, from the volume of water to the style of pressure and the exact right temperature, in less than a second (you can even store your preferred setting). What makes the device safe: patented CoolTouch technology to keep the chassis from getting scalding hot.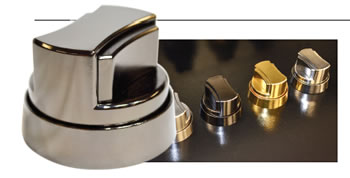 RangeSafe child-safety knobs
More than one in 10 stovetop injuries are caused by a child or a pet accidentally turning on the burner, according to the International Fire Chiefs Association. If your clients have grabby little ones at home, consider nipping the risk in the bud with RangeSafe knobs, which require a pinch before they can turn on the heat. The knobs, $50 USD a piece, come in eight colours and three finishes and can fit over any model of stove.
Small Spaces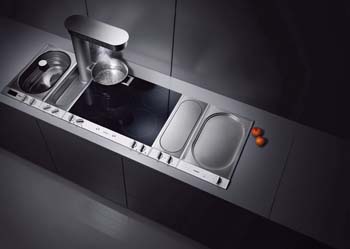 Gaggenau cooktop
Even small kitchens can be outfitted with specialized appliances. This slim, modular cooktop system allows you to pick and choose from a range of sleek countertop cooking options: gas, electric, and induction cooktops; built-in deep fryer, steamer, and electric grill; a downdraft ventilation system that pulls fumes down and out; and the Vario Teppan Yaki, which allows cooks to grill food right on its surface, no pots or pans required.
We've seen the future of kitchens, and they are: small. The average square footage of condos shrinks every year, and manufacturers are providing more options to suit. Miele's 24″ fridge is Energy Star certified, Bosch makes an 18″ dishwasher with all the same features as its larger models, and Blue Star's 24″ sealed-burner gas range still packs 21,000-BTU burners.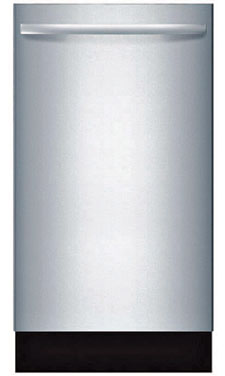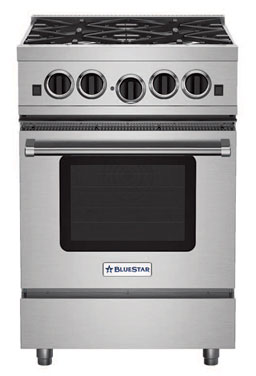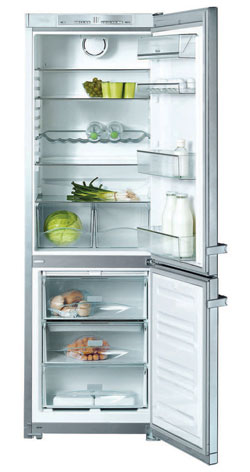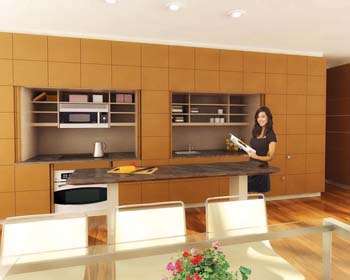 Yestertec small space kitchen
This is the Transformer of condo kitchens. The Stealth modular system is designed to hide an entire working kitchen – including a full-size dishwasher – behind a single sleek wall. Open the cupboard doors (and tuck them away into their pockets) to reveal the 29″-deep sink, fridge, freezer, stove, and oven. Close everything up, and the kitchen disappears behind a facade of your choice.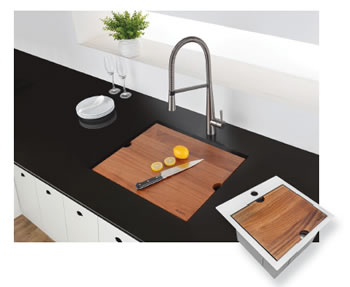 Ruvati prep sink
The smaller the kitchen, the harder the sink has to work. Ruvati's Workstation sink is built to pull triple duty: the 16-gauge premium 304 stainless steel bowl is padded and undercoated to reduce noise while washing up, a basket strainer fits inside to make space for rinsing produce, and a mahogany cutting board sits on top, converting the sink into extra counter space. It comes in two sizes: 15″ x 15″ with a 9″-deep bowl and 15″ x 20″ with a 10″-deep bowl.
Bathrooms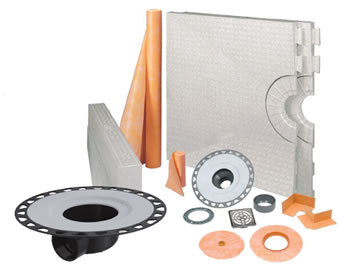 Kerdi drain
Relocating a shower drain is way less painful and expensive with Kerdi's new horizontal drain, which allows the new drain to be installed away from the existing drain pipe and P-trap. The 2″ outlet, available in PVC and ABS, sits horizontally, rather than vertically, allowing water to drain from the new location back to the original plumbing. Headache: avoided.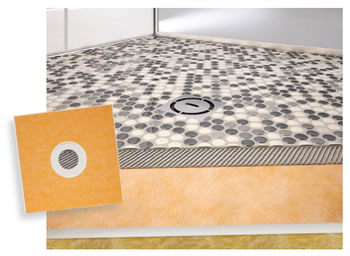 Schluter shower trays
The latest shower trays from Schluter are designed to simplify shower installation, especially in custom-tiled units. Now, 16 prefabricated sloped trays come in a variety of shapes and sizes, and each one has a waterproof membrane pre-installed. Three options are built with 1″ perimeter heights, which allow contractors to manage height changes between the bathroom floor and the shower floor in curbless showers.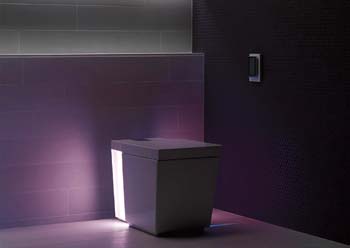 Kohler Numi 2.0 toilet
Forget the kitchen – Kohler's new smart toilet will make the bathroom the new hot spot at house parties. The lid opens automatically to reveal a heated seat and a warm water spray. Integrated with Amazon's Alexa, the toilet responds to voice commands to adjust the water pressure and temperature, and even play music and activate the lights emanating from the base. Available later this year for $7,000 USD, this toilet-of-the-future may increase bathroom wait times.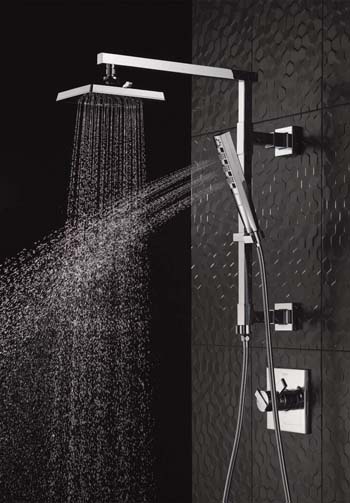 Delta Emerge shower column
If you're set on upgrading a single shower head to a more spa-like experience, the Delta Emerge Shower Column allows you to modify the shower without adjusting the plumbing. From a single water source, the Column diverts the water three ways: the shower head, the hand shower, or both at once. The system works with any Delta accessories and comes in two styles: rounded or angular.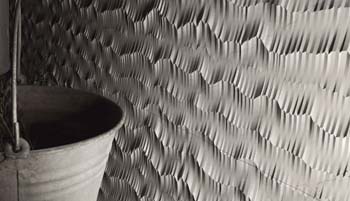 ArtisticTile
Looking to add texture to a bathroom wall? Artistic Tile's Dune option will takes walls to another dimension, with marble or limestone carved into an intricate pattern that mimics a windswept desert landscape full of subtle shadow play. For $196 USD per foot, the tiles can add drama and depth to interior walls or even shower stalls.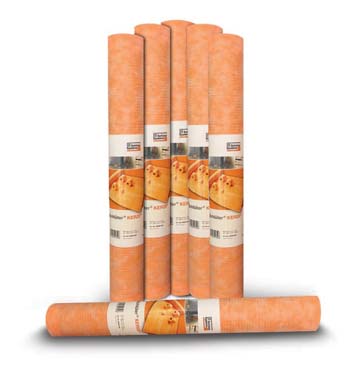 Kerdi wide waterproofing rolls
Rare is the product that can save time and increase the quality of the finished product, but Kerdi has done just that with its new 6'7″ rolls of waterproof membrane – twice the height of a standard 3'3″ roll. Not only does it save application time, but with fewer seams, the large rolls provide a better surface for tiling.
Saniflo Sanistar
The wall-hung Sanistar macerating toilet can be installed as much as nine feet below the sewer line. The dual flush unit (1.28 gpf/4.8 lpf and 1 gpf/3.8 lpf ) conserves as much as 35,000 litres of water compared to a conventional toilet and its minimal footprint makes it a great option for adding additional bathrooms.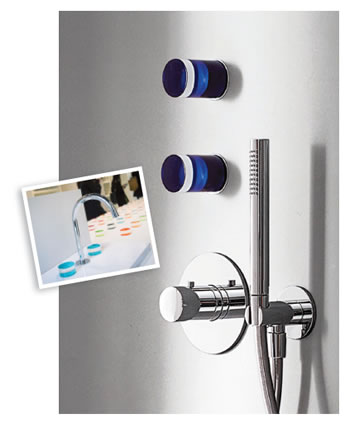 Fantini coloured faucet
The faucet is not normally the place you'd expect a pop of colour, but Fantini has managed to pull it off elegantly with their Nice collection. Slim disks of bright red, black, blue, turquoise, green, or white inside the translucent knobs transform a ho-hum appliance into something joyful.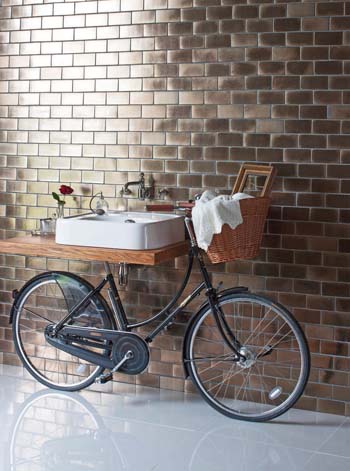 Arcade bicycle basin
Two worlds you never expected to collide: the bathroom and the bicycle. Crosswater London has managed to incorporate a vintage Pashley bicycle right into its Arcade Bicycle Basin for a result with questionable practicality but undeniable whimsy. We're guessing hand towels go inside the bike basket?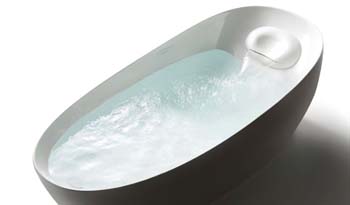 Toto Floatation tub
The difference between a typical bathtub and Toto's artificial marble Flotation Tub is astronomical. Would-be bathers lie back on the adjustable pillow while water cascades down the neck and shoulders, air jets suspend the body, and "hydrohands" massage tired muscles with streams of water – all while reclining in a position inspired by astronauts floating in space. Sounds heavenly.
---