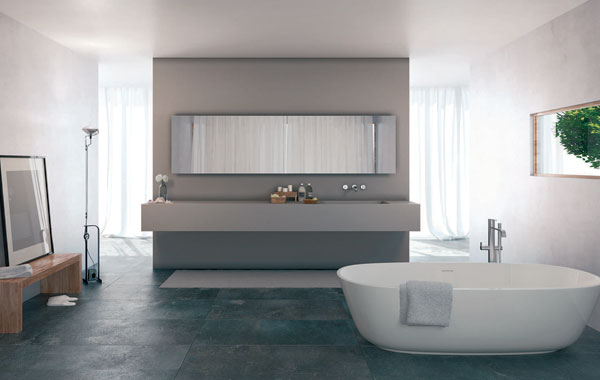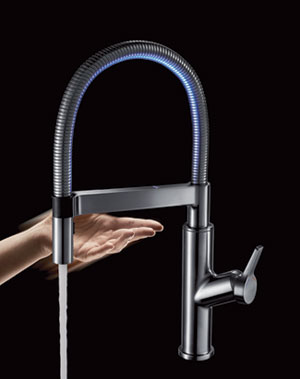 THE NEXT EVOLUTION OF SENSOR TECHNOLOGY
The BLANCO SOLENTA Senso is a new semipro faucet that provides the ultimate handsfree experience with a conveniently placed sensor control, located directly underneath the magnetic docking arm. Enjoy instant, effortless water without touching the faucet. A simple hand movement is all it takes thanks to its sophisticated start-stop technology.
SMOOTH & SLEEK
Scratch-, stain-, and heat-resistant Caesarstone quartz is not only perfect for bathroom countertops and vanities, but also wall claddings, flooring, accents, and more. Pictured here is 4003 Sleek Concrete from Caesarstone's Metropolitan Collection. This smooth surface creates a calming effect in this spa-like bathroom.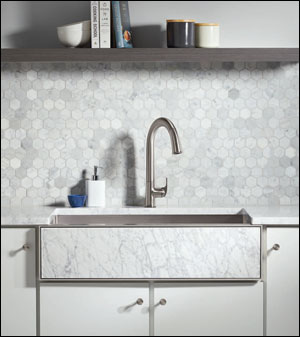 TAILOR MADE SINKS
Introducing Kohler's new Tailor customizable farmhouse sinks. The apron-front sink design can be changed to incorporate any countertop, tile, or Kohler's curated apron inserts, which allow the owner a freedom of choice to coordinate the sink with the surrounding materials and offers unlimited creativity. The apron inserts can easily be changed out to match a kitchen refresh or updated design. The Tailor kitchen sink adds innovation, design, and function to any kitchen space.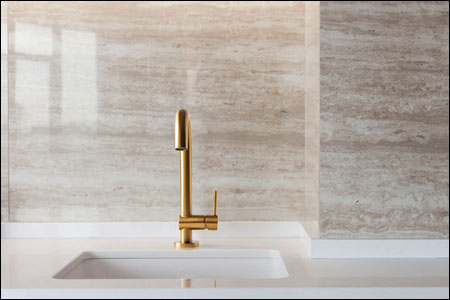 BRILLIANTLY MODERN
Riobel, a distinctive member of the The House of Rohl, invites you to discover Riu, a modern twist on the traditional setting. This simple and modern collection will complement a bathroom for years. Choose a cross or a level handle, Riu is available in five finishes to personalize the bathroom to your client's taste. Riu is also now available with a square spout.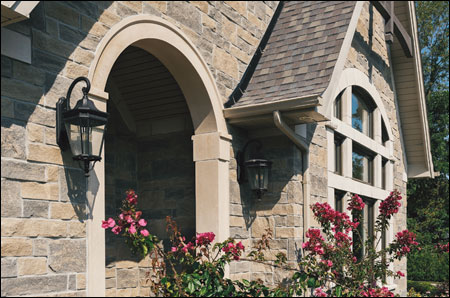 EDGE ROCK BUILDING STONE
This charming stone features a unique rugged profile with straight edges. An ideal choice for traditional home designs with a modern twist. Edge Rock is available in two gorgeous colour blends. All Arriscraft stone is made with only natural materials to deliver the beauty and durability of quarried stone.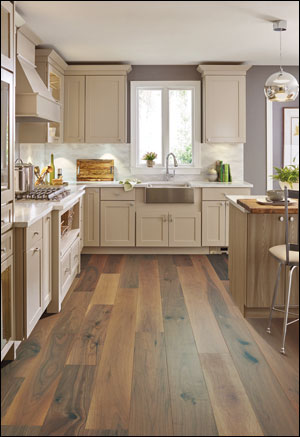 MAKE A SPLASH WITH EXCLUSIVE FLOORING
Imagine if you could get both hardwood and waterproof flooring. Today, that is possible! Resilient and dependable, Remodel Canada offers Hydrotek waterproof hardwood flooring. Designed with active homes in mind, this waterproof hardwood is engineered with a new generation core that is common in luxury vinyl floors, meaning that water does not seep through the layers into the subfloor beneath. Hydrotek has a genuine wood veneer construction that creates dimensional stability while providing an amazing presence on the surface.
---