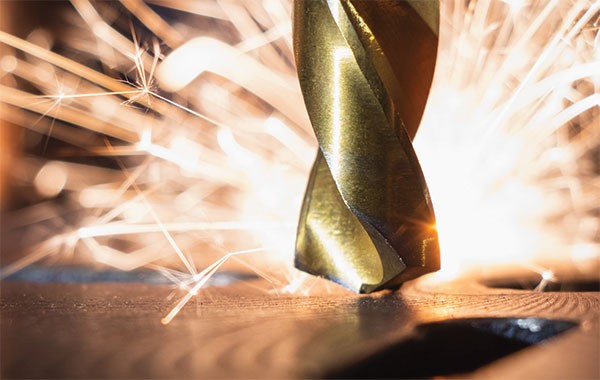 By Allan Britnell
Another item to add to the long list of things impacted by the COVID-19 outbreak: tool reviews. In a normal year we would have travelled to a number of new product launches, covered the trade show circuit, and sat down with product managers to get the hands-on details about the latest new tools coming onto the market.
Instead, this year we attended virtual events and met with our industry contacts – from a social distance – to get the lowdown on what the various manufacturers have come up with to help you get the job done more efficiently, safely, and comfortably.
On the following pages you'll find the top picks that caught our virtual eye. Here's hoping we get back on the road again in 2021!
Part 1 of 2
Our second instalment of this package will appear in the Spring 2021 issue of Building Excellence. In that, we'll look at more power tools, hand tools, safety gear, landscaping equipment, and more.
Power Saws
1 METABO MULTIVOLT 36-VOLT 10″ TABLE SAW
HPT C3610DRJQ4
Metabo-HPT.com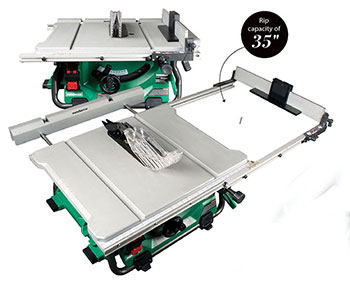 This table saw is part of Metabo's lineup of MultiVolt tools that can switch between corded power and 36-volt battery power. This 10″ saw has a 22″ x 28½" work surface and a rip capacity of 35″. It has a soft start, electric brake, and all the other features you'd expect in a quality saw. Other tools in the MultiVolt lineup of dual-powered tools include drivers, a 71/4″ circular saw, and cordless duplex nailer.
2 SKIL PWRCORE COMPACT JIGSAW
JS5833A-10
Skil.com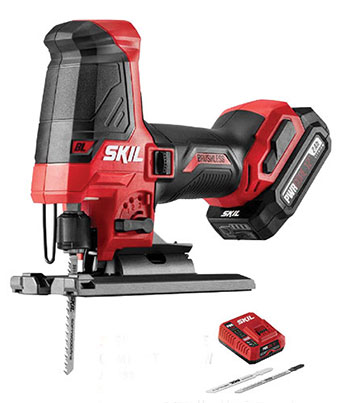 This 12-volt, five-speed brushless jigsaw produces up to 3,000 strokes per minute. The tool-free changer accepts U- or T-shanked blades. With the included Jump charger, the unit's battery charges 25 percent in 5 minutes, and completely in 45. The PWR Assist battery also has a built-in USB port so you can use it to charge your phone or tablet directly from the power pack.
3 MAKITA 40-VOLT CIRCULAR SAW
HS003GZ
Makita.ca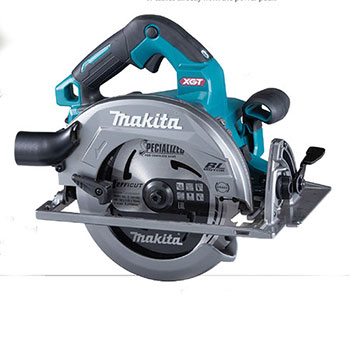 The brushless DC motor produces 6,000 no load RPM, and has a bevel range of 0o to 56o, with positive stops at 22.5o and 45o. It has dual LED lights and a blower for cut clarity, and the Bluetooth-enabled tool can be pared with a vacuum via Makita's Auto-Start Wireless System.
Nailers
1 DEWALT 20-VOLT CORDLESS ROOFING NAILER
DCN45RN
DeWalt.ca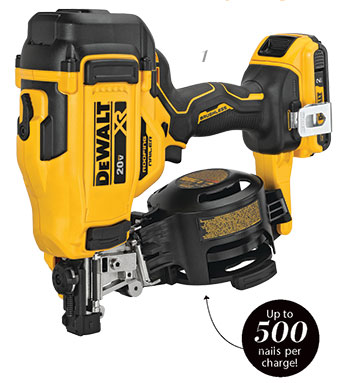 This 20-volt 15o coil roofing nailer drives up to three nails per second, and up to 500 nails per charge. It has bump-action and tool-free depth adjustment. The 210-capacity canister holds ¼" to 1 ¾" roofing coils.
2 DEWALT 20-VOLT MAX XR CORDLESS CONCRETE ELECTRIC NAILER KIT
DCN890P2
DeWalt.ca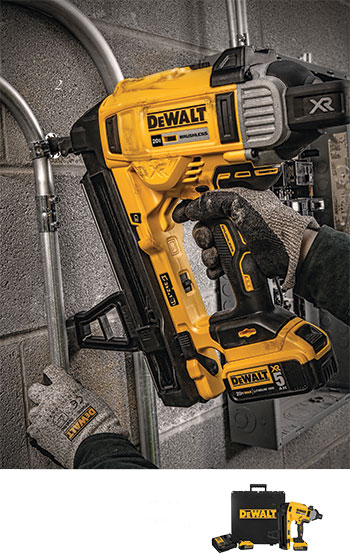 Tackle your concrete nailing without having to worry about running out of fuel cells. The magazine holds ½" to 2¼" nails with a 33-nail magazine capacity and can fire up to 600 shots per charge. The kit includes a toolbox, charger, and two 5.0-amp hour batteries. It's also available as a bare tool (DCN890B).
3 METABO MULTIVOLT 36-VOLT CORDLESS DUPLEX NAILER
HPT NR3675DD
Metabo-HPT.com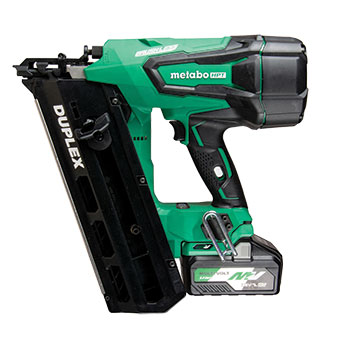 This 36-volt 3½", 21° degree nailer drives two nails per second. The manufacturer claims that it will drive up to 900 16D 3½" duplex nails on a single charge with the supplied 2.5-amp hour battery, or double that amount with a 4.0-amp hour battery. It also handles 6D and 8D nails and is equipped with a dry-fire lockout system.
Work Lights
1 MILWAUKEE MX FUEL ROCKET TOWER LIGHT
MXF041-1XC
MilwaukeeTool.ca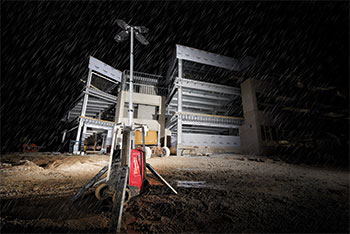 This 10′-tall light puts out a whopping 27,000 lumens of light, yet packed away it's only 44″ high. There are three settings for the four adjustable LED light heads, and it can run up to 10 hours on one charge. Or, use the A/C plug and the light can become a charger itself. It's mounted on 8″ all-terrain wheels to maneuver through jobsite conditions.
2 DEWALT 12-VOLT/20-VOLT COMPACT TASK LIGHT
DCL077
DeWalt.ca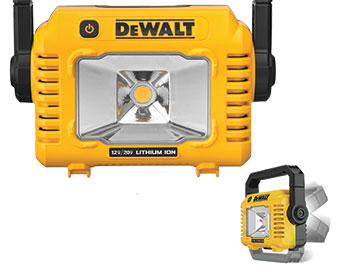 This handy, lightweight task light is compatible with any DeWalt 12- or 20-volt Max or Flexvolt batteries. Paired with a 20-volt battery the three-setting light (500, 1,000, and 2,000 lumens) runs for up to 19 hours on the low level. The handle spins 360 degrees, and also has 5/8″ and ¼" threading for mounting on a tripod.
3 BOSCH 10,000 LUMEN LED
GLI18V-10000CN
BoschTools.com/ca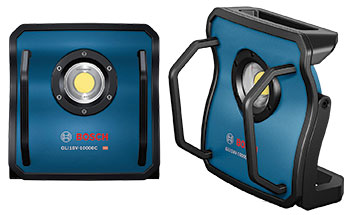 Light up the room with this 10,000-lumen, portable work light. There are actually three settings (1,000, 5,000, and 10,000 lumens) that can be toggled through using the Bosch Toolbox app. There's an adjustable stand and a 5/8″ thread mount for tripod use. There are also 2,200 and 4,000 lumen versions available.
Drills/Drivers
1 BOSCH FLEXICLICK 5-IN-1 DRILL/DRIVER
GSR18V-535FCB15
BoschTools.com/ca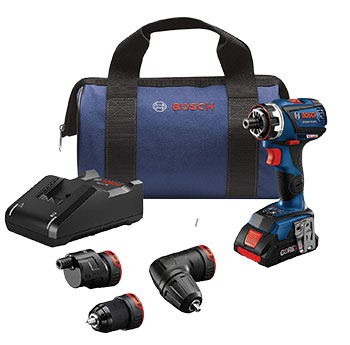 This 18-volt brushless drill/driver uses Bosch's Flexiclick Chameleon system to quick change convert from a ¼ hex bit holder to a right-angle, offset-angle, or ½" chuck tool. It provides up to 535-in. lbs. of torque, and has kickback control for user comfort. The kit includes a Core 18-volt, 4.0-amp hour battery and charger.
2 RIDGID 18-VOLT SUBCOMPACT DRILL/DRIVER
KIT R9780
HomeDepot.ca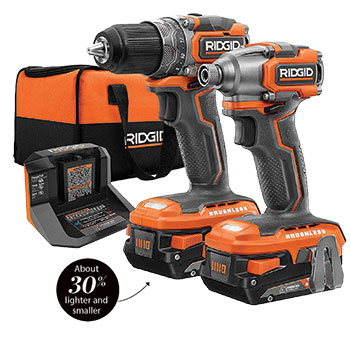 Ridgid has launched a new line of subcompact 18-volt, brushless tools. This two-speed drill/driver kit is about 30 percent lighter and smaller than the regular Ridgid 18-volt tools (R86009). The kit comes with two two-amp hour batteries, a charger, and a tool bag. Other releases in the subcompact lineup range from a bandsaw and impact driver to a blower and a vacuum. As with all Ridgid tools, the subcompact tool line is covered by the company's Limited Lifetime Warranty.
Tool Storage
1 DEWALT TOUGHSYSTEM 2.0
Various Models
DeWalt.ca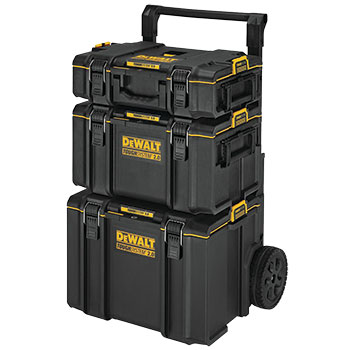 Nearly a decade after first launching the original lineup of ToughSystem tool storage boxes, DeWalt has unveiled the upgraded ToughSystem 2.0. The new system, fully compatible with older models, is more durable and, according to DeWalt, offers 20 percent more storage space than the earlier models. The lids are rated IP67 for dust- and water-resistance.
2 KNAACK TOOL STORAGE BOXES
Various Models
Knaack.com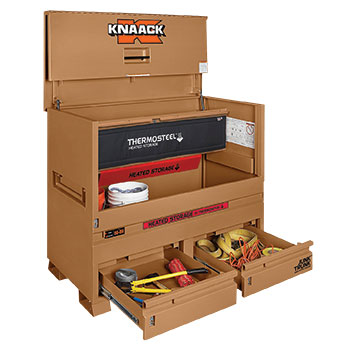 In 2020, jobsite storage manufacturer Knaack celebrated its 60th anniversary. From its modest roots – the company was founded by a milk delivery man named Howard Knaack – it has grown to become recognized as an industry leader in tool storage. Some of the company's innovations include the Safety Kage with ventilated storage for fall-arrest equipment, a quick-access first-aid kit and eye wash station, and shelving for personal protective equipment, and the independently locking, quick access Junk Trunk drawer for high use tools available on several models.
3 MILWAUKEE PACKOUT SYSTEM
Various Models
MilwaukeeTool.ca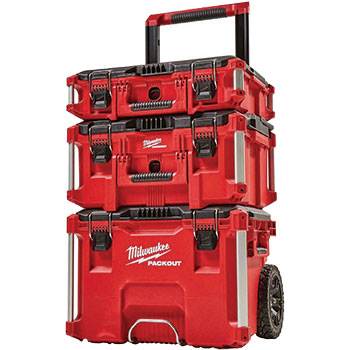 Like DeWalt, Milwaukee continues to add products to its lineup of tool storage options. New items in the Packout line include a work top (48-22-8488) made of marine-grade plywood that can be used as a jobsite desk or place to clamp a vice to, an integrated 2.5 gallon wet/dry vacuum (0970-20), and a two-wheeled cart (48-22-8415) to haul everything around in.
4 PURDY PAINTERS' BACKPACK
14S250000
Purdy.com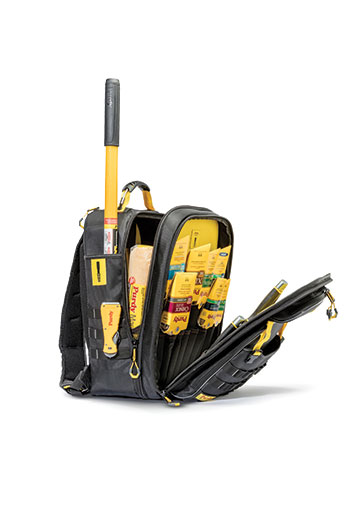 This large capacity, weather-resistant pack can hold rollers and frames up to 18″ along with pockets designed to hold various sizes of brushes and prep tools, while maintaining even weight distribution. Keeping up with a modern jobsite, there's an external USB port for charging devices. There's also a pouch for extension poles and even a removable wet brush or roller pouch that snaps onto the back of the pack.
Miscellaneous Tools
1 MILWAUKEE MX FUEL POWER SUPPLY
MXF002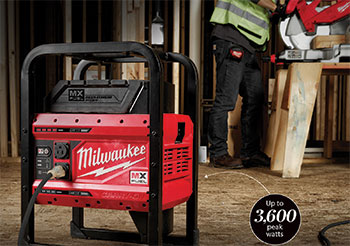 The MX Fuel Power Supply is a portable, battery powered charging and power station with no fuel to mix, no noise, and no exhaust emissions. Powered by one or two batteries it offers up to 3,600 peak watts. It has two 120-volt, 15-amp outlets on the front and can simultaneously charge up to two MX Fuel batteries. In product demos, the unit powered a 15-amp circular saw through 1,210 2x4s or heated 40 meals in a 1,000-watt microwave on a single charge. It's expected to launch in early 2021.
2 FRANKLIN SENSORS' STUD FINDER
ProSensor 710
FranklinSensors.com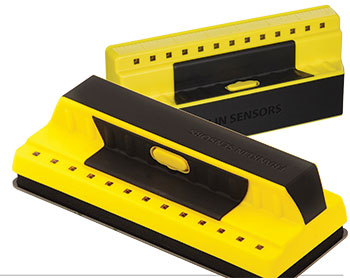 This professional-grade stud finder uses 13 sensors to peer as deep as 1.6″ behind a wall. The simple to use sensor – it just takes a single button push to operate – has a 7″-wide LED display that indicates the centre and edges of a stud. The 710+ model includes in integral bubble level. Both are powered by two AA batteries.
ATTENTION READERS AND TOOL MANUFACTURERS: If you think there's something we've overlooked we'd love to hear from you. Send your suggestions to Editor Allan Britnell: allan@nexthome.com.