Located in Toronto, North America's condo capital (where there are more cranes in the sky than any other city in North America), sits the headquarters of NEEZO Studios, an award-winning architectural visualization firm that has quickly become internationally recognized as one of the top creative studios taking the PropTech and real estate marketing industries by storm.
Since its establishment in 2005, NEEZO has garnered a large clientele from all over the world who seek their creative services. The Toronto-based studio specializes in photorealistic 3D renderings and animations, architectural scale models, interactive applications – including their breakthrough real estate sales software, LiveSite, custom software development, virtual reality, augmented reality, configurators, visualizers, virtual staging, VFX, aerial/drone photography, as well as print and digital marketing services.
The power couple who lead the company is Marvin Maalouf, founder, president, and CEO of NEEZO Studios, and Aline Maalouf, partner and executive vice-president of NEEZO Studios.
"I created NEEZO Studios because as an engineer by trade, I knew that the industry had barely scratched the surface of what was possible in creating cutting edge, innovative experiences for clients. It's thrilling to lead a talented team who are inventing new worlds of digital exploration," says Marvin Maalouf.
Under the couple's leadership, NEEZO Studios has developed into a globally respected powerhouse of unparalleled artistic, digital and technical abilities. Aline Maalouf adds, "I'm passionate about supporting our strong team and delivering outstanding work for our clients. Every project we undertake is another opportunity to create a new digital masterpiece. I'm excited by the work we're doing to usher in a new era of digital storytelling and creating journeys of imagination."
True to the company's founding principles, the couple places a high value on delighting clients with exemplary service, hiring top talent that excel in their fields and fostering innovative solutions that push creative and technical limits.
With clients such as D.R. Horton (America's number one homebuilder), Tridel, Google, Facebook, HGTV, Property Brothers, Microsoft, Brookfield Residential, Jaguar, The Home Depot, Constellation HomeBuilder Systems, and Mizrahi Developments, to name just a few, NEEZO has been able to amass a huge portfolio of thousands of projects.
Let's take a look at how NEEZO uses its services to bring every project to life.
Photorealistic renderings
Having created thousands of renderings over the years, NEEZO knows how valuable it is to tell every project's story through each rendering they produce. The company can produce renderings that are so photorealistic, they are often mistaken for actual photographs!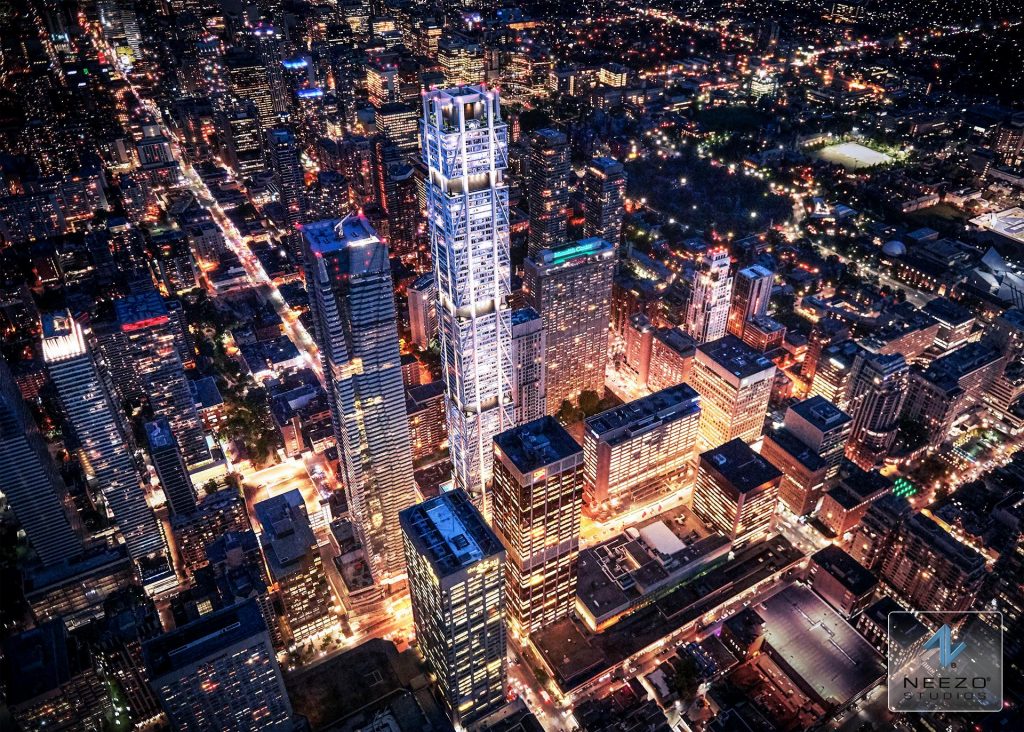 Creative animations
When it comes to creating animations, whether it be for the real estate industry or any other type of project, NEEZO Studios has developed a masterful technique that allows every project's story to be portrayed in a unique way.
Whether they are creating an animation to show off an upcoming real estate development…
The Hill on Bayview Animation | NEEZO Studios
Or using a green screen to design a world that is completely imaginary – like they did here for the TIFF Producers Ball TIFF Producers Ball Daydream Animation | NEEZO Studios there are truly no limits to what the NEEZO team can produce.
Television
Called upon by some of the hottest shows and talent in TV production, NEEZO Studios' 3D animations, photorealistic renderings, and motion graphics, have been and continue to be featured on Netflix, ABC, HGTV, W Network, CBC, CTV, and The Food Network. NEEZO Studios has been the home of the 3D animations and renderings featured on HGTV's The Property Brothers since its inception more than a decade ago, and have continued this partnership to create the 3D animations and renderings on their other shows such as: Celebrity IOU, Forever Home, Brother vs. Brother, and Property Brothers at Home.
"For most people, the hardest part about buying a home is seeing the potential in the property. NEEZO Studios has always been an invaluable tool to help us paint the picture for buyers," says Property Brothers' Drew and Jonathan Scott. Other shows include Netflix's Motel Makeover, Jimmy Kimmel Live!, Where to I Do?, Canada: The Story of Us, The Marilyn Dennis Show, and much more.
Check out NEEZO's work from the latest season of Property Brothers: Brother vs. Brother:
HGTV's Brother Vs. Brother Season 7 Animations | NEEZO Studios
Scale models
NEEZO recently acquired a building next door to its current office, expanding its footprint to 15,000 sq. ft., giving the headquarters a campus-like feel. The company's growth is all in an effort to increasingly serve the international demand for their work, which heavily includes allocating more floor space for their rapidly growing scale model division. Prior to the COVID-19 restrictions, it wasn't unusual for their model makers to hop over to Manhattan for an install in the morning, grab a bite in the Big Apple, then head back to Toronto for another scale model install in the afternoon.
By using the latest innovations in 3D printing and laser cutting technology, as well as incorporating a variety of mediums, they are able to authenticate any texture or material to produce the most realistic concepts. From producing small scale model bus stops for Walt Disney's Ant-Man Movie Premiere, to creating an 11-ft. scale model of Mizrahi Developments' The One (Canada's soon-to-be tallest highrise), NEEZO's scale model portfolio has grown to be very diverse.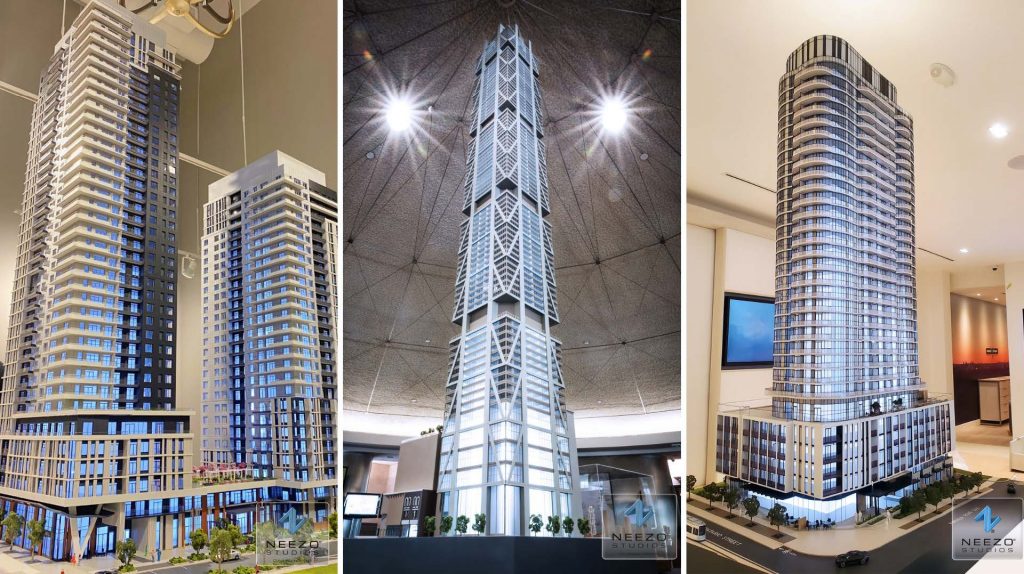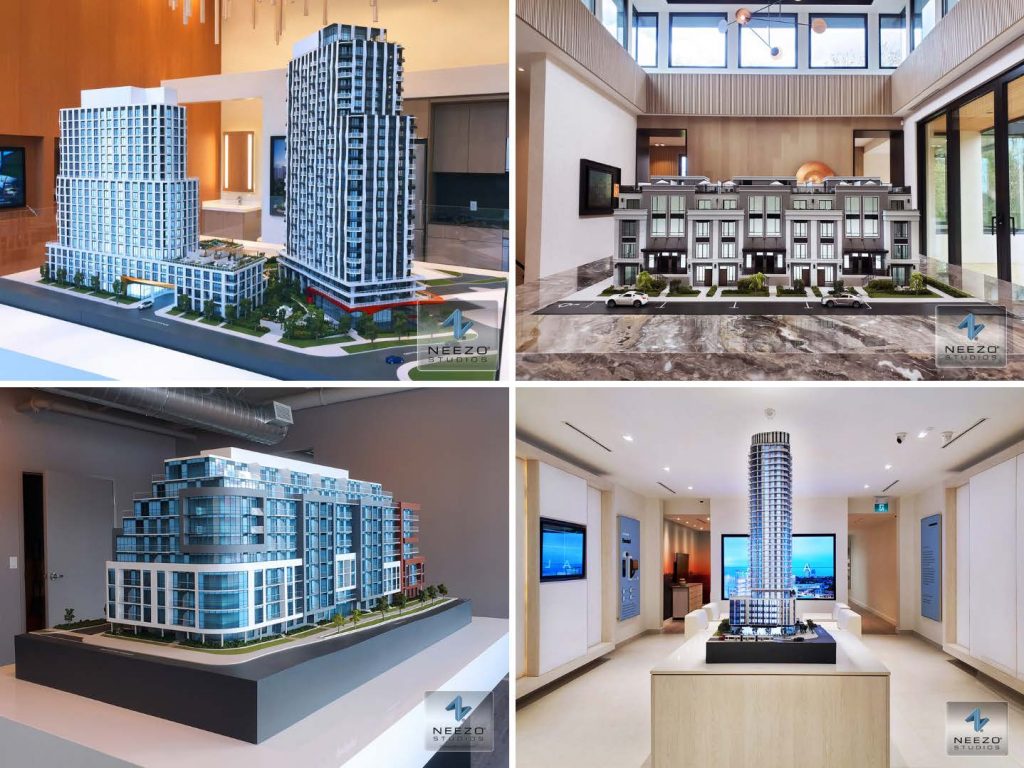 LiveSite real estate sales software
LiveSite, the company's state-of-the-art real time real estate sales center/web-based software, has helped new-home builders and developers participate in impactful and memorable sales experiences in the sales centre – and through the web and on mobile devices too! NEEZO is the first company of its kind in the PropTech industry to create a real time 3D web-based application that encompasses all the features that you would need to make your project shine. Thanks to its award-winning expertise in game engine technology, the company has the ability to customize each LiveSite project to suit the needs of every builder and their development.
Watch all that LiveSite has to offer!
Livesite Real Estate Sales Software by NEEZO Studios
Red Carpet VIP-VR
The company's new Red-Carpet VIP-VR, their latest 3D breakthrough creative product, is a virtual duplicate of a builder's sales centre experience that gets you to the proverbial front of the line – wherever you are. Homebuyers and investors can experience the sales centre 24 hours a day, 365 days a year.
"As the pandemic paralyzed business, builders had invested half a million dollars or more in these stunning sales centres that were just sitting there… empty, when they were poised to experience a successful selling season. Everything came to a grinding halt," says Marvin Maalouf. Innately skilled at reverse engineering, he thought, "How could my builder clients still make use of these showpiece sales centres and safely give homebuyers and investors that high touch sales centre experience… and that's when it hit me! Shortly after, we rolled out Red-Carpet VIP-VR, which serves as the perfect prelude to LiveSite."
For those not visiting the sales centre in-person, NEEZO implemented a series of interactive touchpoints that enable users to download, listen to or view photorealistic 3D elements of the entire sales centre. Beyond the 3D tour, though, there's an enhanced conventional VR walk-through with a myriad of interactive components, including a video-hostess who points out what you can see/do at every interactive touchpoint of the sales centre and 3D renderings of features like various kitchen combinations.
Most recently, NEEZO's Red Carpet VIP-VR won Gold at NAHB's The Nationals 2021, an award that is as prestigious in the real estate industry as the Oscars are for the film industry.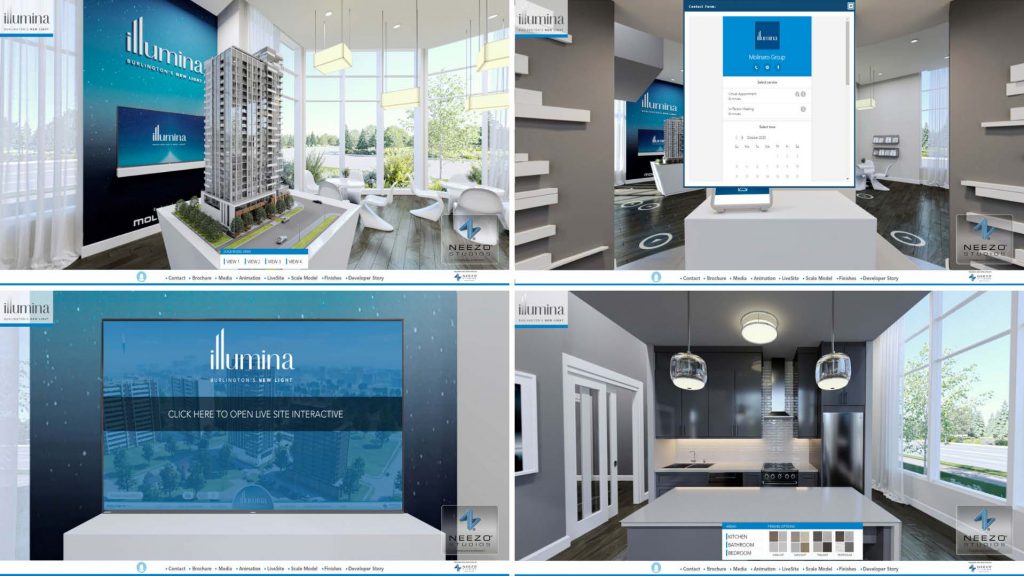 Virtual/augmented reality
Using state-of-the-art technology, coupled with their strong artistic skills and vast experience in creating video games, NEEZO also has the ability to create unparalleled and memorable virtual and augmented reality experiences. The company's virtual reality and augmented reality experiences enable users to explore new residential or commercial developments, walk through recreational parks, and even discover historic spaces.
Sifton Virtual Reality (VR) | NEEZO Studios
Sifton Augmented Reality Scale Model | NEEZO Studios
Configurators and visualizers
NEEZO has been called upon by world-renowned companies to create stunning configurators and visualizers that showcase different project types. For example, in partnership with Avery Dennison, NEEZO Studios designed and developed a photo-realistic vehicle wrapping visualizer application that allows users to choose their favorite vehicle, then select from Avery's library of 100-plus vinyl films to customize the vehicle's body, mirrors, roof and hood to your liking.
Avery Dennison 3D Car Wrap Visualizer | NEEZO Studios
NEEZO also partnered with Sears USA to create a photo-realistic kitchen finish configurator application that allows users to select from a real-world library of hundreds of cabinet finishes, door shapes, cabinet hardware, as well as backsplashes, countertops, and floor finishes.
Sears Custom Kitchen Configurator | NEEZO Studios
The studio has also partnered with The Home Depot to create a custom configurator that allows users to sift through Home Depot's product offerings, view price, and then arrange the hardware around a model garage to get an idea as to how they can design their space.
The Home Depot Configurator | NEEZO Studios
Drone/aerial photography
To add on to the wide array of services that this one stop studio offers, NEEZO has in-house certified and licensed Drone Pilots that act as your eye in the sky, meaning they are able to capture your project's site before the shovel hits the ground. After collecting the drone footage, the NEEZO drone division sends it over to the renderings and animations division in order to incorporate the footage into the project's animation and renderings.
In this animation, you can see how NEEZO was able to incorporate drone footage into the animation that they created for a development beside The University of Alabama's Bryant-Denny Stadium.
WestGate Luxury Condominiums Animation | NEEZO Studios
As a result of the extensive range of services that the award-winning studio provides, it is undeniable that the company have and will continue to take the PropTech and real estate marketing industries by storm. Being the first true one-stop creative studio of its kind, NEEZO Studios has perfected its craft and continues to be the best at what it does.
For more information on NEEZO Studios and its products and services, please visit neezostudios.com or email info@neezostudios.com.