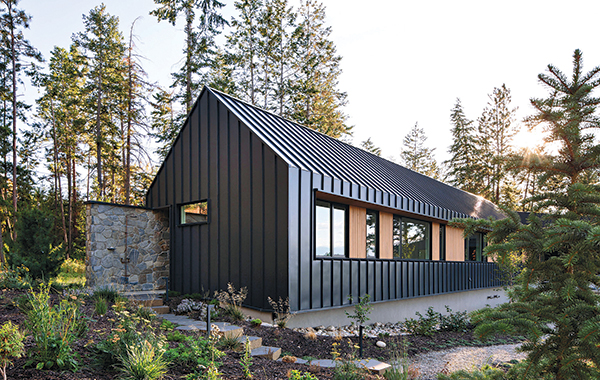 By Natash Rombough, Director of Marketing and Communications, CHBA
Photos: Jon Adrian
In our regular Builder Profile feature, we highlight 3rd Generation Homes of Kelowna, BC
Cassidy deVeer is CEO of 3rd Generation Homes in Kelowna, BC, which she started in 2010. While both her and her partner's parents and grandparents had been builders, deVeer started her company from the ground up. "We were very young when we started the company and wanted to have a name that had some age to it," she explains. With family being important to them and building in their blood, the name remains a great fit.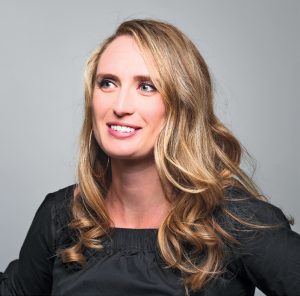 Home construction is a comfortable environment for deVeer. "As a kid, I was often on job sites," she says. "I loved it and didn't want to stay inside with my mom, so my dad would take me to work with him and I'd sweep or move lumber around or just hang out." Her parents also owned a building supply store where she spent a lot of time.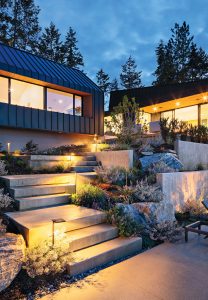 When she met her husband, he was a framer. They started a framing company and from there moved onto homebuilding, handling most of the work themselves (siding, painting, millwork, project management, interior design), and working on one house at a time.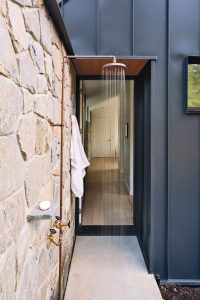 The company grew, and is now a preferred builder doing multiple projects a year in McKinley Beach, a lakefront community on 872 acres of natural Okanagan landscape. The community includes single-family homes and townhomes, as well as lakeview lots ready for custom-built homes. 3rd Generation Homes specializes in custom builds, particularly ones on cliff faces, but about half of their business is spec homes. They also occasionally undertake renovations through a separate branch of the business.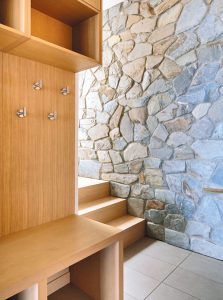 These days deVeer spends her time managing the company's team, financials and strategy. In addition, she selects land for their spec homes, oversees their land purchase, design and sales, as well as the sales on the custom side. It's a broad scope of work, but you can tell deVeer is passionate about what she does.
"I love starting new projects, meeting new clients, seeing new designs, and just about everything in the pre-construction phase at the beginning," she says animatedly. "It is an exciting design challenge when clients' wish lists don't match up with their budgets."
AN AWARD-WINNING HOME

One of 3rd Generation Homes' custom projects captured an award this year in the CHBA National Awards for Housing Excellence. "Harvard Road" won for Best Detached Custom Home 4,001 to 5,000 sq. ft. The clients wanted to feel one with nature, and the company worked with architect Randy Benz to create a truly unique home. "There are so many different features in the home, like the way the roof integrates with the siding and the cantilevered floating living room," deVeer says – a feat that was accomplished using 30-ft. steel beams welded to an embedded concrete structure. The home boasts clean lines everywhere, which she notes can be challenging to execute well during construction.
Sitting on 14 acres, the location and orientation of the home was selected to avoid direct afternoon sunlight. It was also designed to preserve the natural landscape and grades of the property, while saving specific trees. An outdoor shower off the master suite further allows the homeowners to experience the outdoors, and the home's masonry continues through onto the interior walls, blurring the line between indoor and outdoor space.
CHALLENGES AND OPPORTUNITIES
Most of the country is experiencing a shortage of skilled trades, and deVeer says her company is no exception. They do their back-framing, driveway prep and framing in-house so that they're not always on the hunt for framers for every job. To help retain employees, 3rd Generation Homes pays their trades well and has developed a work culture where all employees are treated as important long-term contributors to the company. They even help transition framers who want to stay with the company into mentorship roles and into more management positions.
Challenges aside, deVeer is excited that the community the company builds in is much more accepting of density than in the past. 3rd Generation Homes is building fourplexes now, and deVeer says the municipality of Kelowna is starting to make it easier to put those types of home types through, which she thinks will result in more in the future. When asked if they've encountered NIMBYism in their community, deVeer says, "a little bit. But I think our community knows that we're growing very fast, and that people need to live somewhere – highrises are not a good solution for everybody, especially families."
LEADING THE ASSOCIATION
While 3rd Generation Homes joined CHBA for its housing awards, deVeer is now very involved in the association at her local and provincial levels, and nationally. It began with a call from her local president at the time, who was reaching out to members to update them on association activities. When deVeer asked how she could network with fellow members, she was told to come to a few meetings and check things out.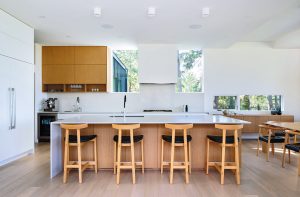 It wasn't until she joined her local Board that DeVeer gained an appreciation for what CHBA is doing at all three levels. "I thought, this is incredible and I need to be part of this," she says. "What we're doing as an association is so important, and if we don't sit with government at all three levels, no one else is going to. We need to speak up, and we're so much stronger as a group. I've seen government policies change because of our voice and explaining how those policies effect our industry."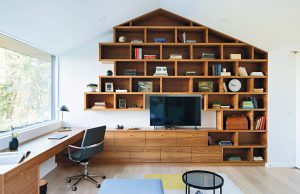 DeVeer joined CHBA-Central Okanagan's Board of Directors in 2017 and then stepped up to serve two-and-a-half years as their first female president. She's now just begun her term as president of CHBA-British Columbia. She also participates in a several committees, including Chairing CHBA-CO's Training House Committee, and participating on both CHBA-BC's Government Relations Committee as well as the Urban Council at the national level of CHBA. DeVeer enjoys the policy side of things, and names visiting the BC Legislature to have policy discussions with MLAs a highlight of her volunteer experience.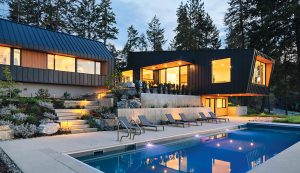 A view of the cantilevered living room from the back of the home
Under deVeer's stewardship, 3rd Generation Homes is a thriving homebuilding company. And her personal dedication to serving the industry that she's passionate about doesn't seem to be slowing down
For more images from this winning project, visit the image gallery at chba.ca/housingawards.