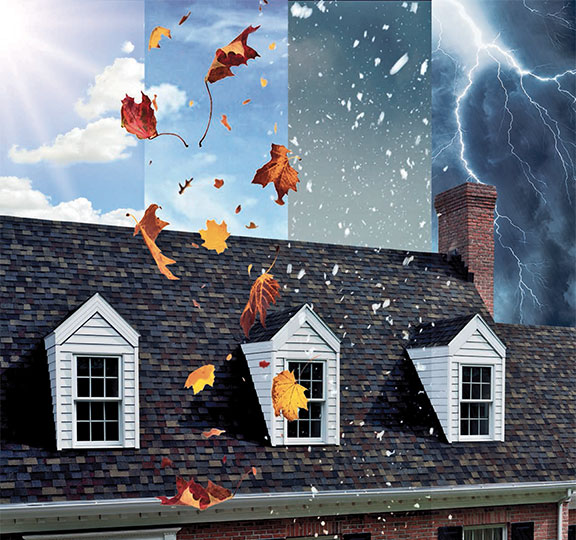 Season after season, homes' roofs are subject to unpredictable weather conditions, including high winds, storm debris, winter cold and summer heat. With these challenges in mind, Owens Corning offers TruDefinition Duration FLEX (in Alberta, Manitoba and Saskatchewan only), a shingle designed to help withstand nature's elements and protect homes in every season.
Equipping the roof to perform in all seasons
Gradual weather transitions from season to season are remarkably rare and many regions are subject to temperature swings, unpredictable winds, and abrupt changes in weather conditions. Unpredictable weather means a home's roof must be equipped to perform in each season and protect against various elements.
Spring
The spring season can change quickly and vary from snowstorms to early season heat waves. Thunderstorms cause most severe spring weather and are often accompanied by extreme rains, hail and wind that can threaten the roof. To help a home's roof weather storms and wind-driven debris, Duration FLEX features the highest impact rating possible, UL 2218 Class 4.
Summer
Excessive heat and thunderstorms can be summer weather hazards. Temperature swings can lead to expansion and contraction. The rubber-like flexibility of Duration FLEX helps the shingle withstand temperature changes, while supporting granule adhesion to protect shingles against ultraviolet light.
Fall
Wind can be a fall weather hazard. Duration FLEX has SureNail Technology, that in testing, showcased its grip with 42 per cent stronger nail-pull resistance than standard shingles, supporting confidence in intense storms and windy conditions. Designed to deliver up to 209 km/h (130 mph) wind resistance, Duration FLEX is the only SBS shingle that features the outstanding hold of SureNail Technology, which offers a reinforced nailing zone on
the face of the shingle. The SureNail triple-layer of reinforcement provides increased protection against "nail pull" from wind and features an up to 200 per cent wider bond between the shingle layers in the nailing zone over standard shingles.
Winter
Bitter cold, freezing rain, and heavy snow can also threaten a home's roof. Cold temperatures also challenge installation procedures and can allow shingles to become brittle and break more easily. Duration FLEX shingles are 10 per cent stronger than traditional shingles in tear tests. A flexible design makes them less stiff and helps avoid cracking in cold weather, supporting the installation process.
Beyond performance – curb appeal
Representing nearly 40 per cent of a home's exterior, the roof provides an opportunity in all seasons to boost curb appeal. TruDefinition Duration FLEX shingles are available in four classic colours: Brownwood, Driftwood, Estate Gray and Onyx Black. A range of vivid shingle colors allow homeowners to boost their home's curb appeal and express their personal style while defending against nature's elements season after season.