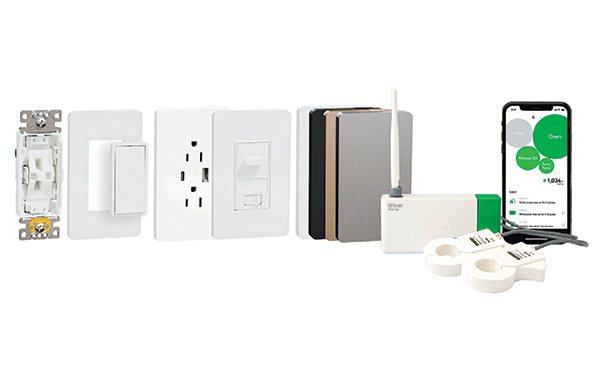 Today, sustainability is not just something we discuss at forums and events, but a reality of our everyday life that is important and essential. Take homes, for example; homes are expected to become the single largest consumers of electricity and the biggest contributor of carbon dioxide emissions. Today, homes have so much technology built into them.
As a company, Schneider Electric focuses its efforts to provide a 100-per-cent protected and connected residential ecosystem using both the grid and distributed energy resources such as solar and battery. With more than 180 years of innovation in energy management and automation solutions, Schneider Electric constantly endeavors to help builders overcome daily challenges by meeting their needs through strong collaboration.
Great fit
Today, you know Square D circuit breakers and panels but in order to measure, control and protect this ecosystem, we need to have insight all the way to the plug and that's why our connected home solutions are a great fit. This is what we call the first step in the Grid to Plug solution. We are pleased to introduce our smart and sustainable home solutions. One of our solutions called Wise Energy, an AI-powered monitor, deciphers the electrical signature of each load in the house and feeds data to the homeowner via the Wiser Energy app providing a detailed energy report, capability for setting goals, budgets, alarms and more. Studies have also shown that homeowners provided with energy data do make changes to reduce consumption.
To further help homeowners personalize their home settings, Schneider Electric has introduced a line of connected wiring devices that operate in an app called Wiser Home, allowing a unique experience for each user. This gives homeowners peace of mind, enables them to manage their energy usage, is convenient, and gives their home a modern look.
Proactive approach
These wiring devices are available in two aesthetics: X and XD series. The XD Series consists of a range of modern, sophisticated cover plates that mount easily on X Series switches and receptacles. The cover plates simply snap onto the X Series device, allowing homeowners to easily and safely update their look and colour, without changing the device or exposing the wiring. The wiring devices are available in multiple matte finish colour options to achieve a refined, minimalist elegance throughout any home. This provides flexibility to adapt to any interior decor without the need to access the wiring, while the connectivity features provide personalization and comfort and help save energy.
Schneider Electric is paving the way to a proactive approach and showing leadership towards a smart and sustainable home, something that is no longer a nice-to-have but a must-have for every homeowner.