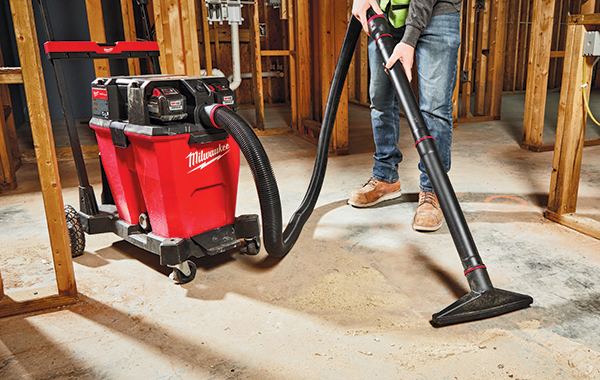 Milwaukee Tool entered the cordless jobsite cleanup space in 2010, and after countless conversations with users, discovered a significant need for medium to large capacity wet/dry vacuums that offered better mobility, durability and versatility on the jobsite.
"Cleanup with a corded shop vacuum is a headache," says James Mitchell, senior product manager at Milwaukee Tool. "You need to worry about finding a power source and running multiple extension cords, not to mention the potential tripping hazard."
Mix and match components
Milwaukee Tool's goal was to deliver a cordless wet/dry vacuum system that outperformed the corded counterparts from every angle: Cleaning speed, suction power, durability and ease of use. "What we've been able to accomplish on a cordless wet/dry vacuum hasn't been done before," says Mitchell.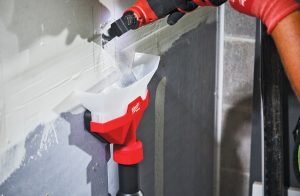 The recently launched M18 FUEL six-, nine- and 12-gallon wet/dry vacuums utilize the POWERSTATE brushless motor and optimized components to outperform 3.5 to 4.25 Peak HP corded wet/dry vacuums. Interchangeable tanks, carts and motor heads offer versatile holding capacities and mobility options, adds Mitchell. "This gives users the opportunity to mix and match the vacuum components, so they can adapt the configuration for different jobsites and trade-specific applications."
The M18 FUEL six-, nine- and 12-gallon wet/dry vacuums also feature crush and twist resistant hoses to provide more cleanup flexibility, plus reinforced casters to extend the lifespan of the wheels. "This vacuum has the durability to withstand even the harshest jobsites," says Mitchell.
Trade-focused attachments
But Milwaukee Tool's innovation didn't stop there. After doing research in the field, Mitchell says they noticed innovation was lagging with vacuum accessories. "We saw an opportunity to innovate the current standard vacuum accessories with durable, trade-focused attachments that solve common user frustrations and perform in high-demand applications," he explains.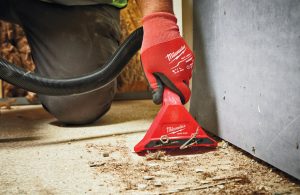 The 19 innovative AIR-TIP vacuum accessories – fully compatible with other wet/dry vacuum brands – can tackle everything from drywall dust to wood and metal shavings. Mitchell anticipates there are a few AIR-TIP vacuum accessories that will become favourites for home builders, renovators and general contractors.
"The AIR-TIP dust collector suctions to the wall and collects drywall dust before it creates a mess," says Mitchell. "For jobsites where you're dealing with nails and screws, the AIR-TIP magnetic utility nozzle catches metal hardware before it gets sucked up to prevent damage to the vacuum."
Fully compatible
Other popular accessories include the AIR-TIP non-marring utility nozzle kit to avoid marking finished surfaces during cleanup. There are also accessories with pivoting joints and right-angle designs for hard-to-reach places.
"We're excited to have a wet/dry vacuum that serves every professional tradesperson on the Milwaukee platform," says Mitchell. The M18 FUEL six-, nine- and 12-gallon wet/dry vacuums are fully compatible with the M18 system, providing more than 250 solutions on one battery platform.
To learn more, visit milwaukeetool.ca.